The Movie Lip Look Gives You A Freshly Kissed Glow, Minus The Smudging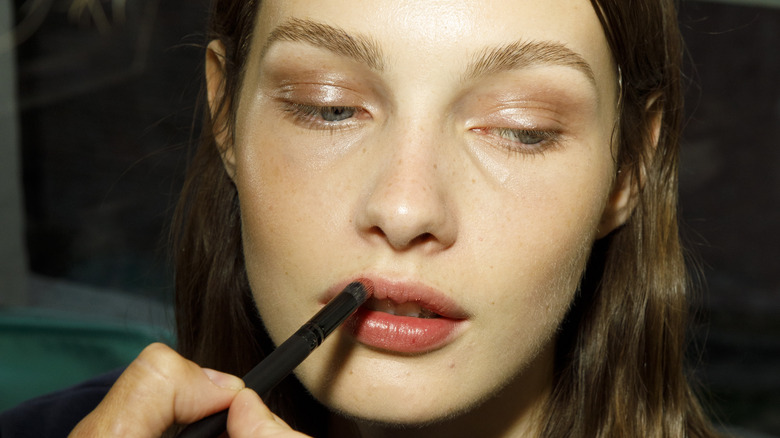 Rosdiana Ciaravolo/Getty Images
We may receive a commission on purchases made from links.
There's something wistful and enchanting about period pieces. Whether it's the lush, scenic nature in "Pride and Prejudice" or the gothic imagery in "Jane Eyre," each period is similarly captivating, despite their divergent plot lines and themes. Another thing that remains consistent within the beloved genre is the style of makeup.
While modern, more experimental media opts for glittery eyes and bold lips, period pieces have a simpler approach. Always fresh-faced and youthful, the heroine is never overly adorned. The base is soft and glowing, while the eyes and lips have a delicate, understated sheen, creating an ethereal makeup look.
In shows such as "Euphoria," makeup is used as a plot device. However, the beauty looks in period romance dramas stay the same until a pinnacle moment in the story. After the lead kisses the person courting her, the soft, neutral lip she's been rocking blooms into a blushed, slightly fuller look dubbed "movie lips." A subtle transformation, movie lips are effortlessly slightly-plump lips without the smudging of an actual kiss.
How to achieve movie lips
Created by @shinebykatjames on TikTok, movie lips refer to the effect that happens after a kiss. "Movie lips are that effortless, just-kissed, perfect kind of look," she says in her viral TikTok. Movie lips can be achieved with various types of lip products — what matters the most is the end result. In her video, James dabs on the Saie Beauty Lip Blur, and without adding too much, she pats and blends the pigment out with her fingers.
Opt for a lipstick color that matches your natural lip shade. Pick one with a soft matte finish that doesn't create too much of a shine but also won't make your lips look like they've been sucked dry. Although you don't want to color outside the lines, your application doesn't need much precision. After prepping the lips with a lip balm, place the color onto the center of the lips and blend it outward, meeting your lip line.
An ultra-defined lip isn't a part of the look, yet slightly plumper looks are. If you don't want to spring for a plumping gloss, use a lip liner that mimics your natural color or is one shade darker. Lightly trace your lip line, then blend it inwards gently to create a more plump lip.
Shop the movie lip look
The Glossier Generation G Lipstick delivers the movie lip look without much effort. Its sheer matte formula gives you a wash of color to the lips without looking too done up. The soft, delicate finish looks like you applied it in the morning, and after a day of eating, sipping, and talking, there's still a soft hint of color that's settled perfectly into your lips.
A lip stain can also provide a similar look. The Huda Beauty Lip Blush is designed to be worn on both the lips and cheeks, providing a uniform, natural look. The matte cream formula is both long-wearing and hydrating, allowing you to wear it without the usual tightness that comes from a matte lipstick. It's also transfer-proof, so it won't rub off in case you get an actual kiss.
Gently line your lips with the NYX Slim Lip Pencil. With an array of colors for every skin tone and lip color imaginable, the creamy lip pencil is long-lasting. Infused with shea butter and jojoba oil, the moisturizing pencil is great for topping up your lip color or gently applying all over the lip.