What We Know About Queer Eye Star Antoni Porowski's Relationship With Kevin Harrington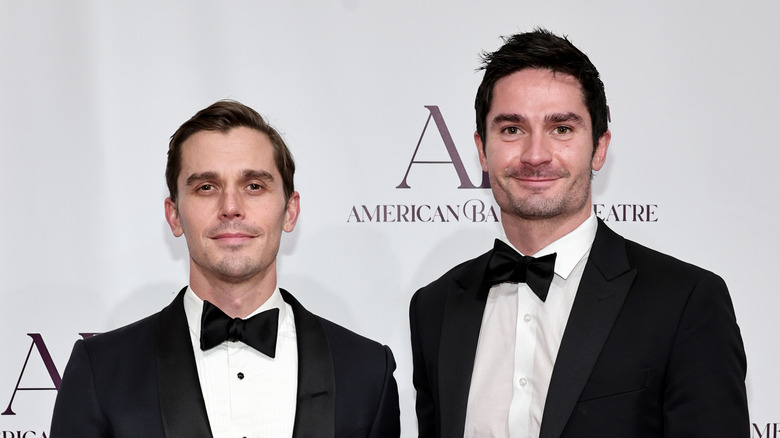 Jamie Mccarthy/Getty Images
"Queer Eye" took Netflix by storm when it debuted in 2018. Since then, it's become one of the longest-running original shows on the platform, inspiring fans with a shocking transformation each episode and teaching us how to perfect the art of the French tuck, among many other things. The show's hosts, aka "The Fab Five," include culture expert Karamo Brown, personal style coach Tan France, home design powerhouse Bobby Berk, grooming guide Jonathan Van Ness, and professional foodie Antoni Porowski. 
Over the years, the lovable quintet has traveled to Atlanta, Kansas City, Philadelphia, Austin, and New Orleans to conduct their week-long makeovers — most importantly, they've become real-life friends along the way. "I love 'Queer Eye' and I hope that we do the show for a very long time and it still brings me a lot of joy and it continues to evolve and change," Porowski gushed to the Gentleman's Journal, adding, "It is my dream job — it's constantly changing and I'm constantly learning about myself and I'm still very stimulated." 
Not only has the hunky foodie found fulfillment in his professional life as a Netflix superstar, but he's also built a very happy personal life too. Here's what we know about his relationship with Kevin Harrington  — apparently, he can make a great plate of eggs.
Their relationship got serious during the pandemic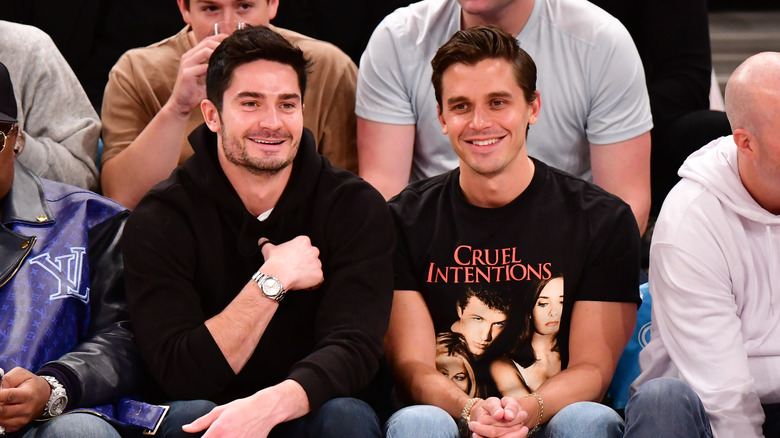 James Devaney/Getty Images
Moving in with a partner can put serious pressure on the relationship, especially when a global pandemic is raging outside. Antoni Porowski and his fiancé Kevin Harrington were first linked in July 2019. In October of that year, they made their first public appearance at Heidi Klum's annual Halloween party, dressing as zombified Blockbuster employees (via Instagram). Just a few months later, they began quarantining together in Austin, Texas. 
"It came to a shutdown in New York — there was no toilet paper — and we decided to stay in Austin and fostered a dog," Porowski later informed People. "We went from being in a relationship and each having our own apartments and not having a dog, to living in the same place with a dog." Clearly, cohabitation agreed with the couple, and they soft-launched their engagement in November 2022. 
"I really hope the wedding photos are less blurry," the food and wine expert quipped on Instagram, posting a fuzzy selfie with his new fiancé. Before making things official with Harrington, Porowski was in a long-term relationship with ​​art director Joey Krietemeyer, after which he briefly dated "Flipping Out" regular Trace Lehnhoff. At one point, he was even rumored to be seeing his "Queer Eye" co-star, Jonathan Van Ness. Both laughed off the intense fan speculation. 
The Fab Five are all lucky in love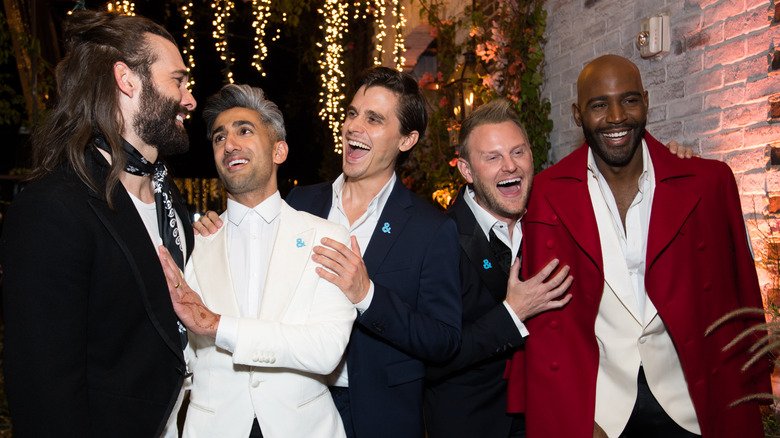 Emma Mcintyre/Getty Images
Although a date for the Porowski-Harrington wedding has yet to be announced, there's no doubt the dinner and drink options will be impressive. The rest of the Fab Five are guaranteed to be in attendance too, naturally. Whether married, engaged, or enjoying life with a long-term partner, the four other members of the "Queer Eye" team are all also in happy relationships. Style expert Tan France has been married to his husband, Rob France, since 2007, and in 2021 the pair welcomed a baby into their family. 
Not to worry — their son is already practiced in the art of the French tuck. "The French tuck, as far I'm concerned, it works for everyone, any generation. So, yes, the French tuck will be ever-present," France confirmed to PopSugar. Elsewhere, Bobby Berk's marriage to Dewey Do was made official in 2012, and Jonathan Van Ness said "I do" at the tail end of 2020. "I love you so much [Mark Peacock]," the grooming expert wrote on Instagram at the time. "Growing alongside you has taught me so much about life and I wouldn't want to live it with anyone else ma babe." 
As for Karamo Brown? Although he and his partner of 10 years broke up in 2020, he's been happily dating photographer Carlos Medel since 2021. What's more, Brown's more than ready to get married again. When it comes to love (and makeovers), the "Queer Eye" cast clearly knows what they're doing.