Tragic Details About Kristin Davis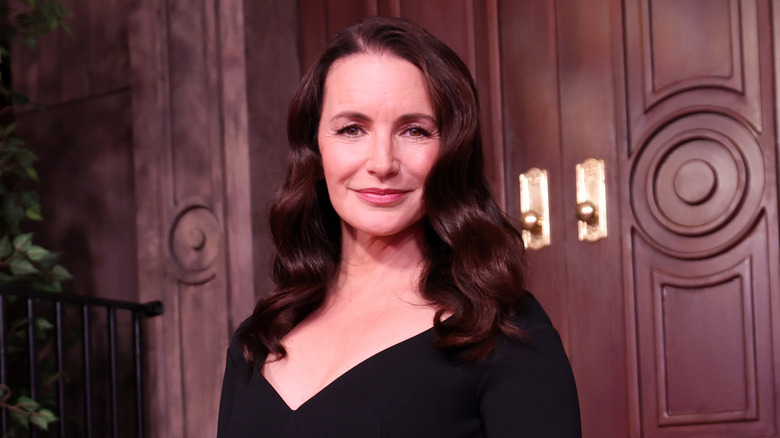 Cindy Ord/Getty Images
Kristin Davis is known for playing one of the most memorable characters on television: Charlotte York in "Sex and the City." Though the show premiered in 1998, it still has a legion of loyal fans, which has since led to films and spin-off series. While this role is an obvious highlight in Davis' career, not everything that has happened in the actress' life has been positive. She's battled addiction, public criticism, and is now navigating the notoriously ageist and misogynistic entertainment industry as an older woman.
Though her age has presented a challenge as she's continued acting, there was a time when Davis didn't think she would even live to be middle-aged. "I thought that I would never hit 40. I drank a lot as a teenager," she told Parade in a 2008 interview. "It became a real problem for me."
The actress has gained respect for her willingness to tackle tough topics and speak about her struggles. These are some of the tragic details of Davis' life and how she overcame them to become the star fans know and love. 
Kristin Davis struggled with addiction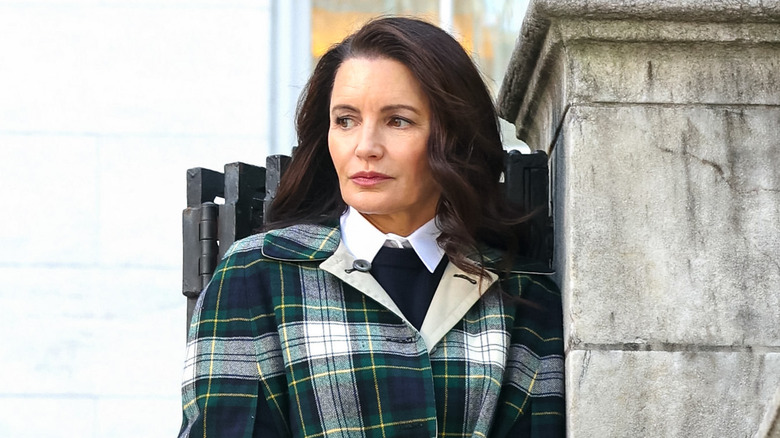 Jose Perez/bauer-griffin/Getty Images
Kristin Davis is perhaps best known for her role as Charlotte York in the hit TV series "Sex and the City" and the franchise's subsequent films. But what fans might not realize is how the show was more than a career-changing role; it also came at a major turning point in Davis' life.
In a 2018 interview with the podcast "Origins With James Andrew Miller," she shared, "I'm an addict. I'm a recovering alcoholic ... Acting is the only thing that made me want to ever get sober." Davis explained, "I didn't have anything that was that important to me other than trying to dull my senses." 
While describing her struggles with addiction, she did not specifically comment on her "SATC" role. Davis noted that her drinking problems occurred before she became a well-known star, which was largely due to her role in the series. "I started drinking very young, and luckily I quit very young, before any success happened, thank goodness," she added. Thankfully, Davis was able to recognize her problem and seek help early. 
If you or anyone you know needs help with addiction issues, help is available. Visit the Substance Abuse and Mental Health Services Administration website or contact SAMHSA's National Helpline at 1-800-662-HELP (4357).
She was heartbroken over Willie Garson's death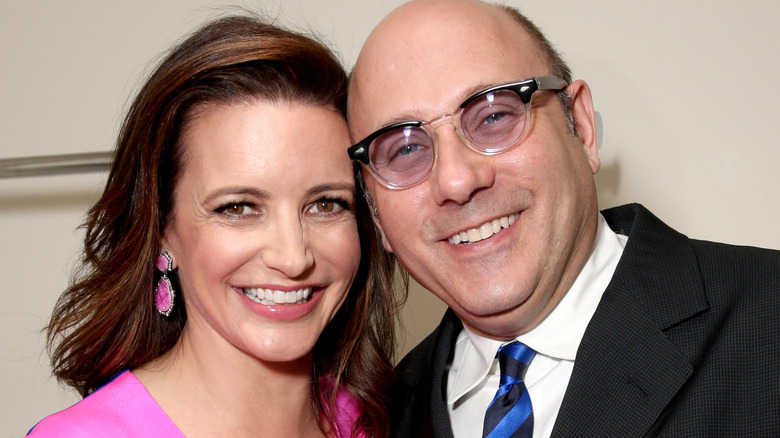 Todd Williamson/Getty Images
Kristin Davis formed deep bonds on the set of "Sex and the City," including with her co-star Willie Garson (who played Stanford Blatch). Sadly, Garson died in 2021 following a diagnosis of pancreatic cancer. The show's spin-off series "And Just Like That..." honored Garson after he passed away with a tribute at the end of an episode. The message read: "In memory of our beloved Willie Garson."
The loss profoundly affected Davis, which was evident during her 2022 appearance on "The Tamron Hall Show." The actress was in tears when speaking about Garson, saying, "I'm still not together about it, obviously." She confessed, "It's hard, because we were working the whole time, and we didn't know when we started how sick he was. He didn't want us to know." However, Davis added that Garson continued to bring joy to the cast and crew throughout their time together, calling him "the life of the set as he always has been." 
In 2023, Davis addressed Garson's death again on what would've been his 59th birthday. "I celebrate all that he has left behind," she wrote on Instagram. "His incredibly kind and whip-smart son (Nathan Garson) and so many friends with wonderful memories," she captioned the photo of herself with Garson. She also shared how much she misses the actor and how his absence is still "a painful hole" in her heart.
Her decision to get fillers was met with intense criticism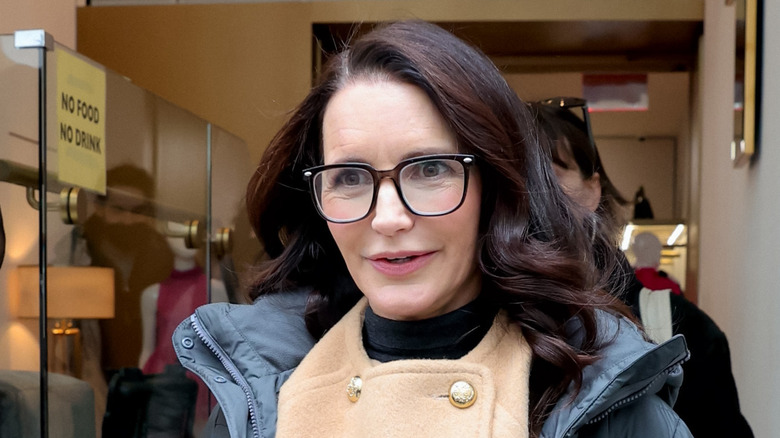 Jose Perez/bauer-griffin/Getty Images
Kristin Davis' choice to cosmetically alter her appearance can be linked to how difficult aging can be for women in the spotlight. Your photos are everywhere when you are a celebrity, and the pressure to look a certain way in Hollywood can be overwhelming. 
"I have done fillers, and it's been good, and I've done fillers, and it's been bad," Davis told The Telegraph in a 2023 interview. "I've had to get them dissolved and I've been ridiculed relentlessly. And I have shed tears about it. It's very stressful." She also commented on how the people around her had been reluctant to share how these fillers really looked, which didn't help the situation.
It wasn't just the results of facial fillers that affected Davis but also the general criticism surrounding women who decide to undergo cosmetic procedures. Shame around having cosmetic work done is something she's spoken about, telling Entertainment Tonight, "I think part of the reason that people are not more open [about it] is because there is such shaming put on you largely by other women." She added, "It's so sad. We have enough problems as it is."
Kristin Davis felt pressure to get married young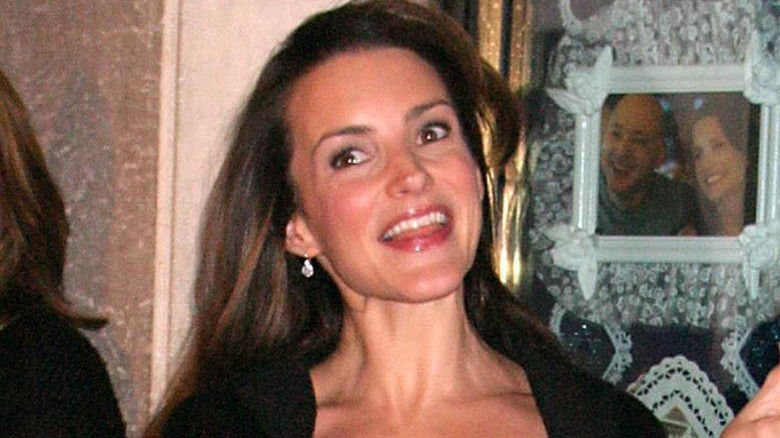 M. Von Holden/Getty Images
Some Hollywood stars like Zsa Zsa Gabor and Elizabeth Taylor have gotten married many times, while others like Kristin Davis have yet to exchange vows. Davis' comments on marriage also make it clear that she's in no hurry to put on a white dress and walk down the aisle (but never say never). Still, when she was younger, she felt the pressure of marriage looming.
"I grew up in the South where there was a lot of pressure that you marry well and that you marry relatively young," she told Parade in a 2008 interview. "If you didn't you were kind of left out." She also commented on the differences between her "Sex and the City" character, Charlotte York, and herself. "I'd love to find someone to fall in love with. I'm not as traditional as Charlotte," she admitted. "I'm not completely marriage-obsessed like Charlotte was." At present, Davis does not appear to have found that special someone, however, she remains open to finding a person to spend her life with.
She knows first-hand the struggles for aging actresses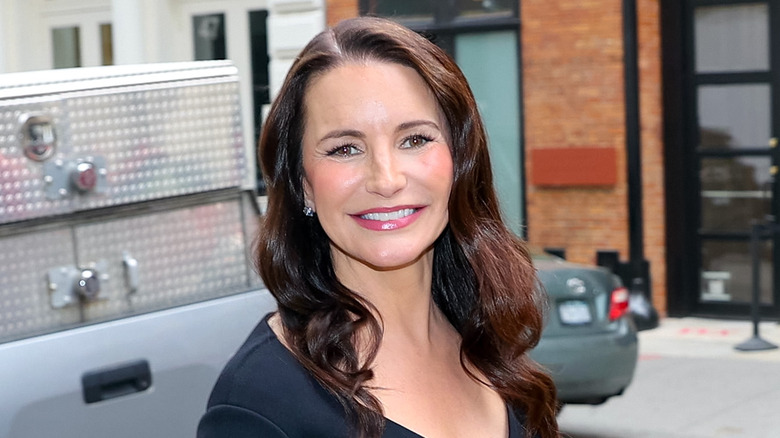 Jose Perez/bauer-griffin/Getty Images
Kristin Davis was born on February 23, 1965, and although she's remained beautiful as she's aged, this hasn't come without its challenges. The "Deck the Halls" actress is all too aware of how Hollywood treats older women, with fewer leading roles available to them after a certain age. Although attitudes appear to be slowly changing, Davis remains conscious of the realities of ageism and its effect on an actress' career. And this bias hasn't come just from industry bosses but also from members of the public.
"I think that ageism is very, very real," Davis told The Telegraph in a 2023 interview. "As much as we're lucky we're able to do ["And Just Like That..."], it doesn't mean that we're escaping that." She also explained that she and her "SATC" co-stars were not safe from ageism even while the original series aired more than 20 years ago. "There would be articles that would have body-shaming in them." She explained. "And now, there are articles that talk about our faces."
Ageism is not exclusive to the actresses who starred in "Sex and the City." — It's a common part of the entertainment business, but that doesn't make it right. Thankfully, actresses like Kristin Davis, who are willing to address this problem openly, will be the ones to facilitate an important dialogue and cultural shift. 
She's experienced hair loss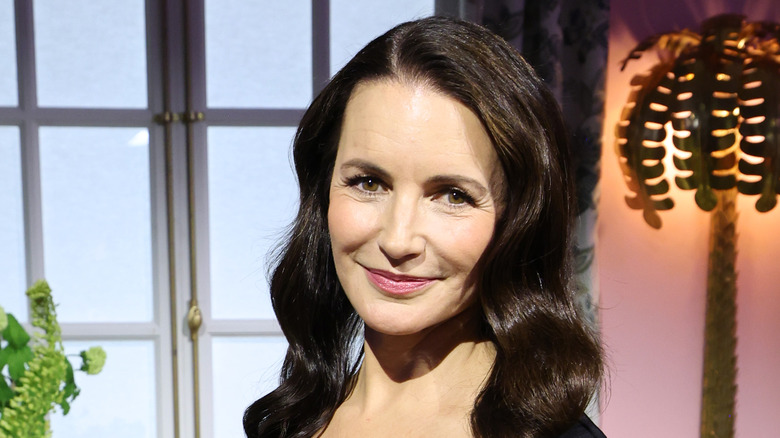 Cindy Ord/Getty Images
There are plenty of generally accepted expectations for aging, like wrinkles, fine lines, and gray hair. But one potentially unexpected side effect is hair loss, even though it's more common than you may think. More than 50% of women will report hair loss as they get older. This is especially true for women over 40 or those who have experienced menopause. 
Kristin Davis has been open about her own struggles with hair loss and thinning. "My hair just was not what it used to be," she told WWD in an interview. "When I tried to do something or had to go somewhere, I was like, 'Where is my hair?'" She credited her hairstylist with helping her achieve the gorgeous strands that fans know and love (after all these years, she still gives us serious hair envy). But despite always looking effortless to style, Davis has admitted this was never the case for her hair. "My hair was always very difficult, which no one believes when I tell them," she explained. "But because I had a lot of hair, the professionals could help me make it look nice."
Kristin Davis has received backlash about her appearance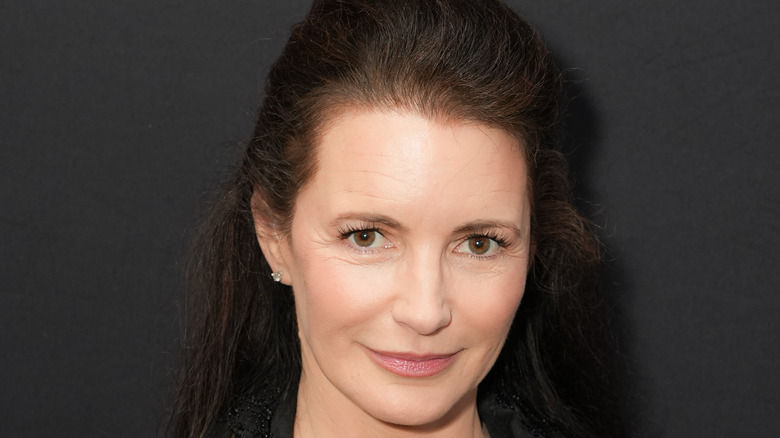 Gonzalo Marroquin/Getty Images
Living in the public eye has drawbacks, especially when people feel they have the right to comment on actors' appearances. Kristin Davis is no stranger to criticism and body shaming, but it can still be challenging for her to deal with.
She noted when she joined the cast of "And Just Like That..." that there were not just comments on the show's storylines or the acting, but also on what the stars looked like. "Everyone wants to comment, pro or nay or whatever, on our hair and our faces and our this and our that," she told The Times in 2021. "The level of intensity of it was a shock."
She continued, "I feel angry and I don't want to feel angry all the time, so I don't look at [comments], I just know [they're] there." In the interview, Davis also noted how critics would comment on her body while she was starring in the original "Sex and the City" series. And these kinds of reactions to the show caused major stress in her life.
The negativity on social media has made her angry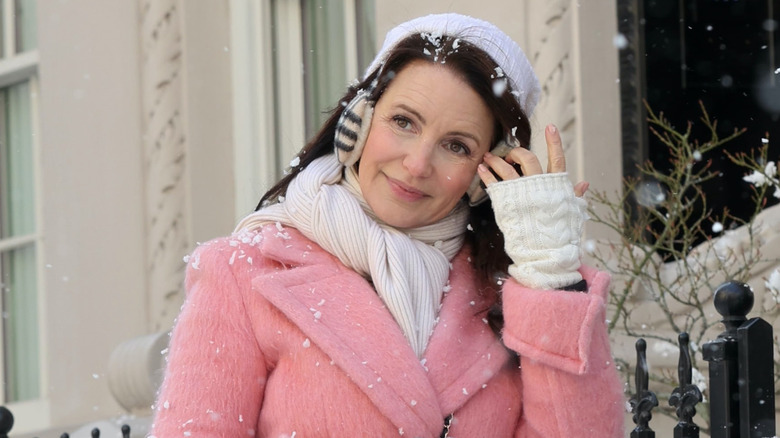 Jose Perez/bauer-griffin/Getty Images
Social media can be a brilliant tool for sharing information, and it can also be a platform to encourage change. But there is also the negative side of social media, where people make harsh comments without fear of retaliation. Unfortunately, Kristin Davis has found herself experiencing this dark side, which she discussed in an interview with The Times.
"That's the problem with social media, right?" she said. "[People are] just hurling bombs at you. It makes me angry." She discussed how critics have continued to discuss her appearance in unfavorable ways. However, now she's confident enough to tell everyone to back off.
She told the publication, "I'm going to be blunt — I feel like, 'F*** you. F*** you people, like, come over here and do it better.'" It takes a brave person to hit back at criticism, and Davis has certainly shown that she's not letting it consume her or change how she lives her life.
Kristin Davis struggled to make it big before Sex and the City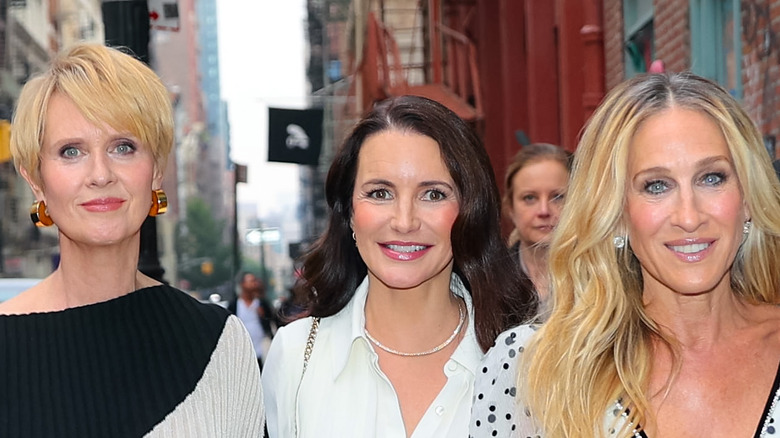 Jose Perez/bauer-griffin/Getty Images
Before landing a leading role in "Sex and the City," Kristin Davis's career was not exactly thriving, and she is the first to admit that. "I was an out-of-work actor, living in the hills in LA with my dogs, doing a lot of yoga," she told The Telegraph. "I'd been on 'Melrose Place' for a year, which was one of ["Sex and the City" creator] Darren Star's other shows, and I'd gotten killed off, which was kind of sad, kind of not. I felt like it wasn't a great fit."
Then, Davis landed the part that would change her career forever. It was also a role her manager, Dave Fleming, wholeheartedly believed she was right for. "I knew a couple of other actresses up for the 'Sex and the City' role, but she was the only one I could recommend," Fleming told New Beauty. "She was Charlotte. She still is. People love her."
There's no denying Davis' extended time starring in the "Sex and the City" franchise remains her most successful career move, and having the show associated with her name also isn't something she minds. "'Sex and the City' is, and always will be, my dream project — it's the best creative experience of my life," she told New Beauty in 2022.
Her children have faced racism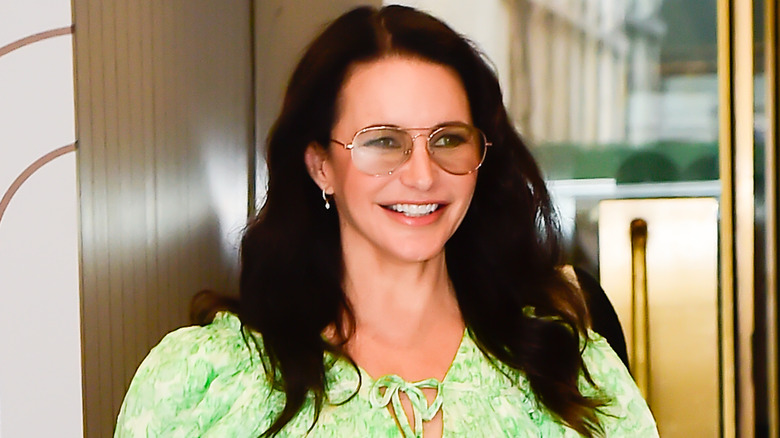 Raymond Hall/Getty Images
Kristin Davis is the mother of two children: Gemma Rose, who she adopted in 2011, and Wilson, who she adopted in 2018. Fans have since pointed out similarities between her "Sex and the City" character's life and her own. Both Davis and Charlotte York adopted a baby, but it's the actress' choice of name for her daughter that bears a striking resemblance to Charlotte's. 
One of Charlotte's children was named Rose, while the other was named Lily. So when fans heard that Davis' daughter was named Gemma Rose, the actress told Anderson Cooper, "Everyone was like, 'Oh, she named her after her 'Sex and the City' baby.' I didn't even consciously [realize it], not at all, not at all." She even added, "I almost named her Rose as a first name because I kept thinking it's such a beautiful name. Isn't it weird? I think it was lodged unconsciously." 
While this commentary on her child's name was not negative, it's also not the first time that a decision Davis made involving her children was commented on. She is a white woman who adopted Black children, and some reactions have been overwhelmingly negative. She discussed it on "Red Table Talk," owning, "It's one thing to be watching [racism] happening to other people, and it's another thing when it's your child. And you haven't personally been through it. It's a big issue."
She has no time for romantic relationships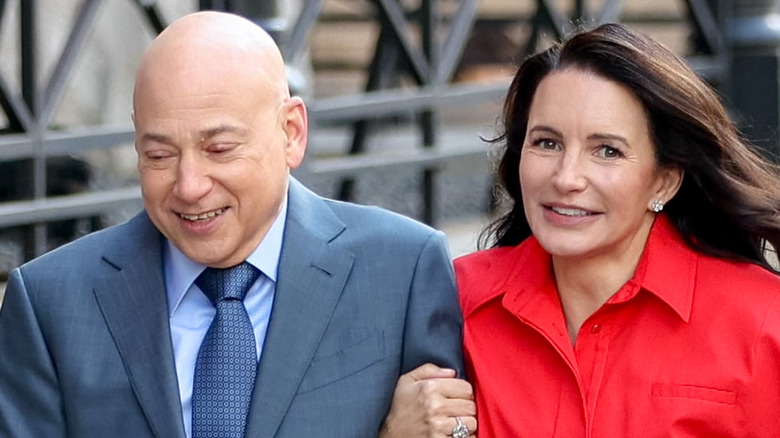 Bauer-griffin/Getty Images
We've already mentioned that Kristin Davis hasn't been married, and she's in no rush to do so, either. After becoming a mother and adopting her first child, Gemma Rose, in 2011, she noticed her life was already full. So much so, that romantic relationships would become less of a priority as she focused instead on motherhood and raising a happy little girl. Still, that's not to say that the actress doesn't crave companionship.
"I certainly intellectually feel like I'd like to have another romantic relationship, but I don't know how to make the day-to-day of it happen. I don't have time!" she told Haute Living in a 2013 interview. She expanded on her comments later in the interview, noting that if she were to settle down, it would be with someone who was "stable" and could adjust to her life — and not just anyone will do. 
"It has to be someone so awesome that I would bring him in and potentially share time [together] with Gemma," she continued. However, she admitted that this contrasts with the partners she had previously been attracted to. "It wasn't in my fantasy ... Now I have a baby and I have to put her first and think about what she needs, and stability is a huge, huge part of that."
Getting older has been extremely stressful for Kristin Davis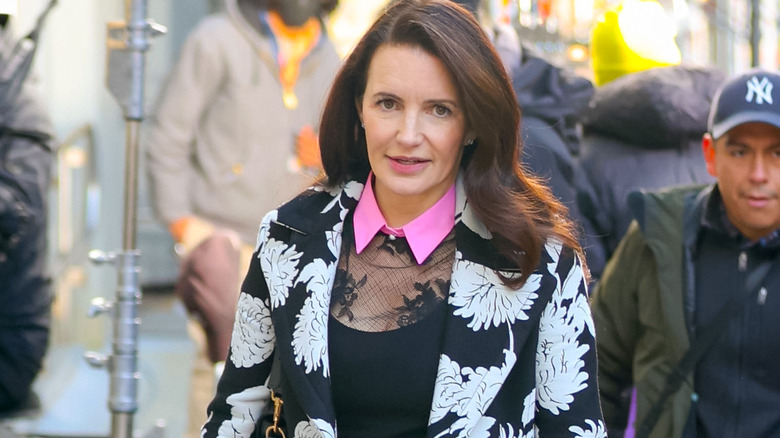 Jose Perez/bauer-griffin/Getty Images
One of the things that endear Kristin Davis to many fans is her willingness to discuss difficult topics openly and honestly, which feels refreshing in a time of PR statements and social media. Davis' openness includes admitting her fears, specifically about aging. She has acknowledged the negative commentary on her appearance and how it has made her feel, and she's also spoken about how "stressful" it is when she's compared to who she was in her younger years. Unfortunately, for actresses, this happens all too often.
In a 2022 interview with New Beauty, she discussed her feelings about unfair comparisons to her younger self. "If I was from a regular life, I would feel fine; I would feel great! I'm healthy, I'm strong ... but, no, I'm on television, where every bit of my physical being is analyzed." Though there are challenges in her path, it's clear that Davis will continue speaking out about the undue pressure the entertainment industry places on actresses as they age.