The Heartwarming Reason Rosie O'Donnell Made The Move From New York To LA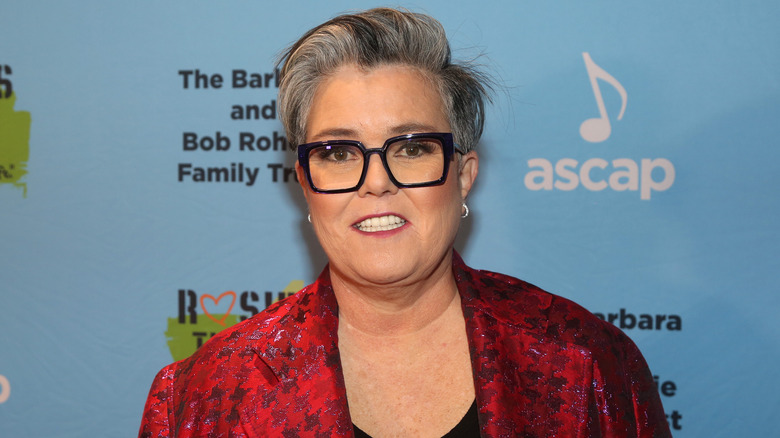 Bruce Glikas/Getty Images
When you think of the stunningly transformed Rosie O'Donnell, you'll likely think of New York. Not only is the celeb known for her thick accent, which she got while growing up in Long Island, but her professional career has also inextricably linked her to the Empire State.
She was first discovered doing stand-up in Long Island comedy clubs. Then, she went on to host "The Rosie O'Donnell Show," the '90s talk show she recently shared her thoughts about rebooting, from NYC. "Beautiful Girls," the rom-com she acted in 1996, is set in New York City, while her film "Wide Awake" and the limited series "I Know This Much Is True" are similarly based on the East Coast.
Because O'Donnell has such as history with the state, many fans were surprised when she relocated from New York to California after purchasing a $4.6 million dollar house in LA back in 2021. While the move might have partly been because of her role in the Showtime series "American Gigolo," the heartwarming truth is that she also made the change for the benefit of her young daughter, Dakota.
O'Donnell was recommended a school in California for her daughter
In an interview with The Hollywood Reporter, Rosie O'Donnell opened up about the reasoning behind her move from New York to California. The relocation was in part due to the special needs of her daughter Dakota, who was born in 2013 and diagnosed with autism in 2016.
"I once asked an expert, 'If I could choose any school in the world and the destination is not a problem, where should I send her?' And she said, 'Park Century [School] in Culver City.' When I got '[American] Gigolo,' they told me it's being shot in Culver City. And we got her in," O'Donnell shared. In this way, the talk show host made the decision to move across the country for the benefit of her daughter, who has reportedly been doing very well since the relocation.
O'Donnell explained, "When she started third grade, she couldn't read. In one year, she was reading 'Harry Potter.' It's changed her whole life — her sense of herself, her sense of confidence, her ability to know that she's smart, that she's funny."
The comedian has talked about the struggles that prompted her move
Since moving to California for Dakota's schooling, Rosie O'Donnell has also shared some insight into her daughter's personal struggles. In an essay she penned for People, the comedian explains how Dakota's diagnosis, though difficult, enabled her to meet her child's needs in a new way.
"All of a sudden, there's a child with a lot of needs and you spend a lot of time trying to connect on their level. It's not easy — but it's necessary to let them know they are seen," she writes. "She was endlessly curious. So I focused on how to enable her to learn in the way that her brain was set up to learn."
O'Donnell goes on to talk about Dakota's reading struggles and how her new school was able to address them. "I knew for her self-esteem, we had to get her reading. We found a great school in Los Angeles, and she's now reading at grade level. They have all kinds of neurodivergent kids and special-needs learners. It's a beautiful melting pot."