Times Camilla Has Worn Queen Elizabeth's Jewelry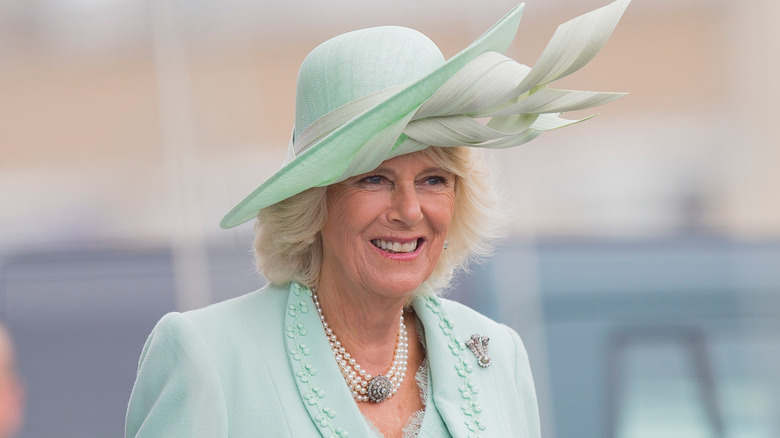 ComposedPix/Shutterstock
You don't have to be a royal watcher to appreciate the breadth of Queen Elizabeth II's impressive jewelry collection. A literal sparkling vault of treasures, these historic pieces have been celebrated, admired, and ogled by millions all over the world. For a lucky few royal family members, however, they've also been a core part of memorable outfits on special occasions both big and small throughout the years.
Among those fortunate few is the newly crowned Camilla, Queen Consort, who has attended many formal and even casual events over the years wearing an assortment of Her Majesty's stunning jewelry. She's even had the pleasure of wearing some jewelry that belonged to Queen Elizabeth The Queen Mother. No matter their origins, there's an interesting backstory behind every single piece in the vast collection.
Some were handed down from one generation to the next, while others were gifted to the monarch. Some were even custom designed during another period in history. From tiaras to necklaces to earrings, these exquisite pieces hold a rich history spanning centuries. Each gemstone and every intricate design holds a tale of royal lineage coupled with undeniable regal elegance. From her engagement ring to her collection of brooches to some of the most exquisite necklaces in the world, these pieces are cemented in the annals of jewelry history. Here are some of the most memorable moments when Camilla wore Elizabeth's exquisite jewelry. 
Shining in the Coronation Necklace at the 2023 crowning ceremony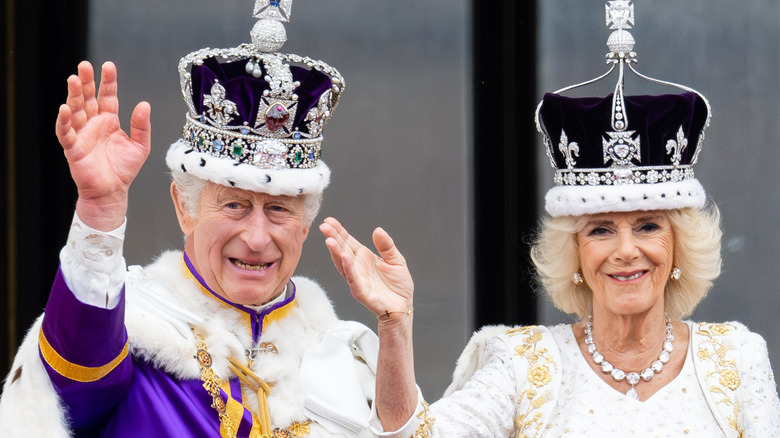 Samir Hussein/Getty Images
Camilla, Queen Consort wore the dazzling Coronation Necklace to the crowning ceremony of her husband, King Charles III, in London on May 6, 2023. Created in 1858, the necklace bears 26 diamonds and was explicitly designed for Queen Victoria by Garrard, the first Crown Jeweller ever appointed by Queen Victoria in 1843. Camilla's outfit served as a luxurious complement to the necklace, replete with rich gilded workmanship and finished with the most beautiful crown.
As a symbol of the continuation of the British monarchy, the Coronation Necklace holds incredible historical significance. Its resplendent diamonds were carefully selected to enhance the regal aura of the reigning monarch. Worn in every coronation since Queen Victoria, this magnificent piece honors the enduring legacy of the crown.
Beyond its association with Victoria, the Coronation Necklace has graced the necks of several queens throughout history. It was notably worn by Queen Elizabeth II during her own coronation in 1953. The necklace's timeless beauty transcends generations, with its cushion-cut stones and the shockingly beautiful 22.48-carat Lahore diamond that dangles front and center. Acquired by Victoria in 1851, the stone was once a part of the Lahore Treasure, which belonged to the Punjab region in modern-day Pakistan until it was claimed by the British in 1849.
Dripping in sapphires at a 2022 state banquet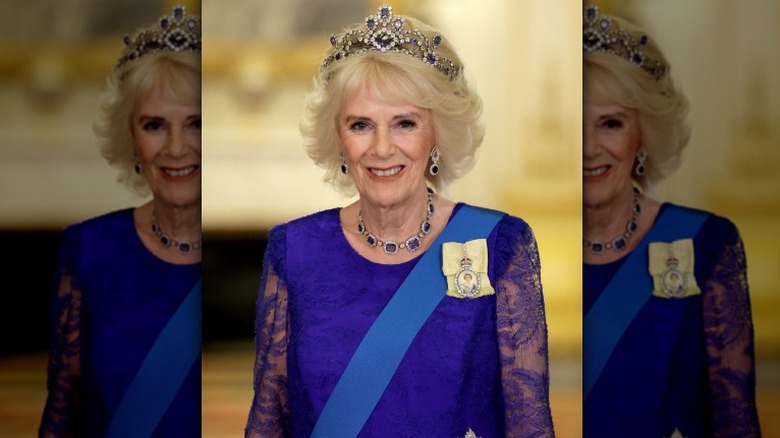 Chris Jackson/Getty Images
In November 2022, King Charles III and Camilla, Queen Consort hosted their first official state visit together. The occasion, in honor of the South African president, Cyril Ramaphosa, saw Camilla don a decadent sapphire collection of jewelry owned by her late mother-in-law. Queen Elizabeth II received the necklace and a pair of matching earrings from her father, King George VI, as a wedding gift in 1947. Interestingly, Camilla had the drop pendant from the necklace removed for the dinner, opting instead to wear it as a choker. This style of necklace has long been a favorite of Camilla's, as she's been spotted in public wearing many different choker varieties over the years.
To complete the look, Camilla also wore the matching sapphire bracelet and tiara, both of which were commissioned by Elizabeth in 1963. The tiara was crafted from a necklace made with diamonds and sapphires that once belonged to Belgium's Princess Louise. Elizabeth wore the accent for state dinners and for her Canadian portrait in 2020 (via People).
In keeping with the rich royal blue hue, Camilla coordinated her tiara, bracelet, and necklace with a regal blue evening gown designed by Bruce Oldfield. She also wore the blue Order of the Garter sash, along with the Dame Grand Cross of the Royal Victorian Order star and sash.
Displaying a delicate brooch during a German state visit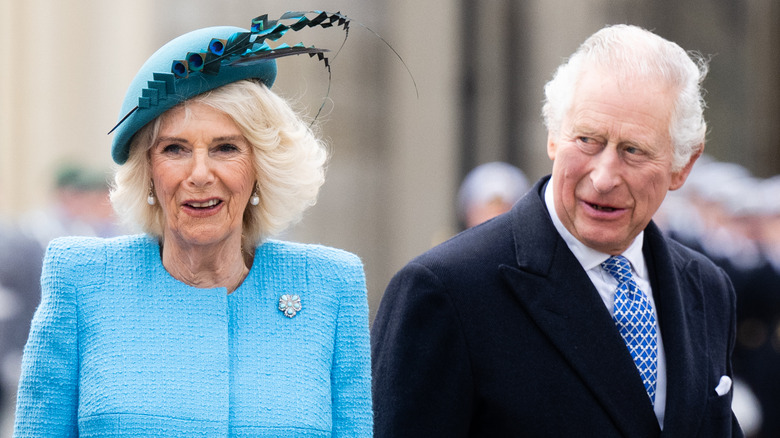 Samir Hussein/Getty Images
The turquoise brooch that Camilla, Queen Consort wore to her and King Charles III's first official state visit was not merely an elegant accent for her blue suit. The exquisite brooch is an heirloom with a lovely history, as it was gifted by Queen Mary to her granddaughter, then-Princess Elizabeth, for her confirmation in 1942. 
There's so much more to the turquoise accent than meets the eye. According to The Court Jeweller, it was tradition to give turquoise for royal confirmations within the family. Mary's own mother, Princess Mary Adelaide of Cambridge, also received a turquoise and diamond brooch set as a gift for her confirmation and wore the set when she made her first official appearance at Buckingham Palace.
Camilla sported a suitably polished ensemble for the German visit, comprised of a long, light blue coat and a matching teal hat adorned with peacock feathers. She finished the outfit with a pair of tall black boots, a pair of matching black leather gloves, and a delicate black handbag. The brooch, though delicate, added a pop of visual intrigue to the entire outfit.
Glittering in a fringe necklace at a state banquet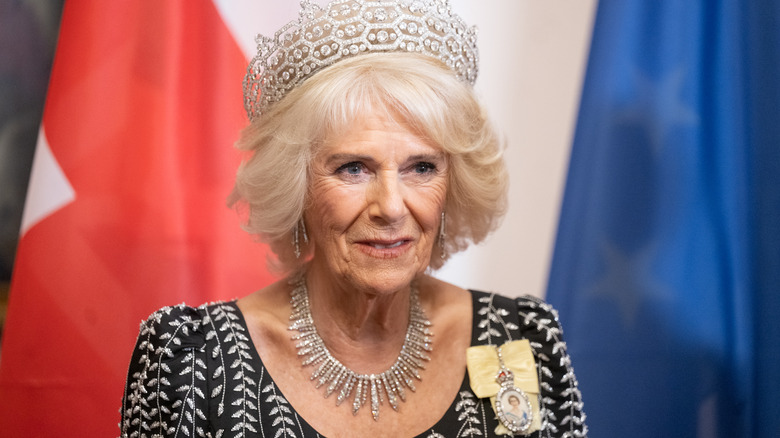 Samir Hussein/Getty Images
For their first visit overseas, King Charles III and Camilla, Queen Consort attended a dinner at Schloss Bellevue in Berlin. Camilla complemented her elegant black Bruce Oldfield gown boasting silver metallic embroidery with the City of London Fringe Necklace. Dating to the 19th century, the grey silk-threaded necklace features an array of 56 diamonds of varying sizes set in both silver and gold. Because the necklace is interwoven by silk, it cannot be remade into a headpiece, such as a tiara. 
The necklace earns its moniker from its origins. In 1947, the City of London gifted it to Queen Elizabeth II in honor of her marriage to Prince Phillip. Before the ceremony, the necklace sat as part of an exhibition in St. James' Palace, where other gifts for the couple were also on display. Until Camilla wore it to the overseas dinner in Germany in 2023, the necklace had not been worn in public since Elizabeth wore it with the Queen Mary Fringe Tiara for her Diamond Jubilee portrait in 2012.
Dazzling in The Queen Mother's tiara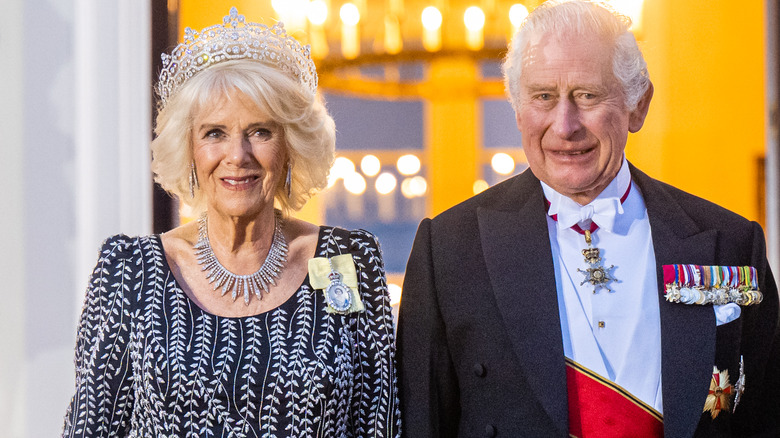 Samir Hussein/Getty Images
During their first state visit to Germany, Camilla, Queen Consort and King Charles III attended a state banquet at Bellevue Palace, the home of President Steinmeier and Frau Büdenbender. The white-tie reception was the perfect occasion to top off her stunning gown and mesmerizing City of London Fringe Necklace with the equally beguiling Greville Tiara.
This absolutely showstopping accent once belonged to Queen Elizabeth The Queen Mother, but became part of Queen Elizabeth II's jewelry collection after her mother's death. The Boucheron Honeycomb Tiara, as it is otherwise known, lives up to this moniker with its distinctive design featuring hollow honeycombs filled with sparkling diamonds. 
The tiara was originally designed for Dame Margaret Greville, who gifted it to The Queen Mother in 1942 — which she wore frequently during her life. Interestingly, Tatler states she also inherited a necklace that once belonged to the 18th-century French monarch, Marie Antoinette. Today, the Greville Tiara is one of Camilla's favorites. Over the years, she's worn it at galas, state dinners, and Parliament openings. It has continually served as a glamorous, timeless companion for her exquisite collection of evening gowns.
Elegant in a gleaming sapphire brooch at the Commonwealth Day Service
Max Mumby/indigo/Getty Images
The annual Commonwealth Day celebrations are always something to behold, especially for the royal family as it's an opportunity to honor the Commonwealth of Nations and mark the occasion with spectacularly elegant jewelry. For the 2023 festivities, Camilla, Queen Consort wore a stunning brooch featuring a large sapphire surrounded by 18 gleaming diamonds, all set in gold. 
Camilla paired the distinctive accessory with a Fiona Clare suit in royal blue, complete with a matching Philip Treacy blue hat, a pair of black leather gloves, a black clutch, and delicate pearl earrings. Given the simplicity of the rest of her jewelry, the sapphire brooch stood out magnificently against the vibrant blue fabric.
In royal circles, the piece is recognized as the Russian Sapphire Cluster Brooch. Dating from the late 19th century, the pin once belonged to the Russian Consort Maria Feodorovna. Upon her death in 1928, Feodorovna's daughters sold her jewelry — among them was this impressive brooch, which Queen Mary purchased. When Queen Mary died in 1953, her granddaughter, Queen Elizabeth II, inherited the Russian brooch but it was mostly worn in public by Queen Elizabeth The Queen Mother. However, royal watchers did witness the late monarch wearing the brooch on her visit to the Vatican in 2014 (via CNN). 
Mourning in a diamond thistle brooch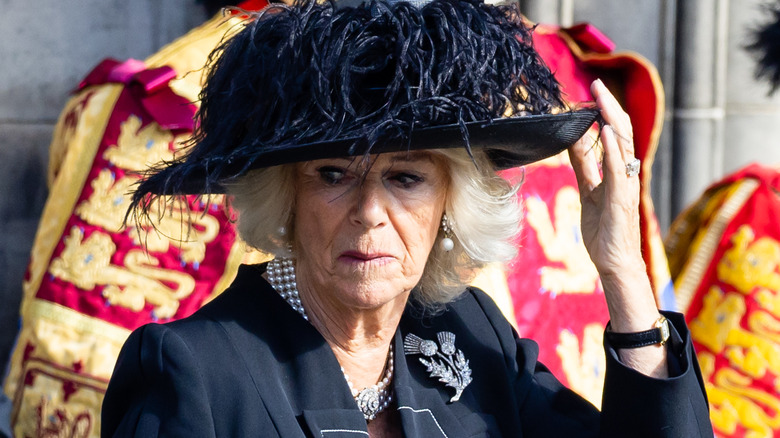 Pool/samir Hussein/Getty Images
Scotland's national flower, the thistle, made a timely appearance on Camilla, Queen Consort's coat following the death of Queen Elizabeth II in 2022. The exquisite piece was once Queen Elizabeth The Queen Mother's, and it struck an especially poignant tone as Camilla wore it during the procession of Queen Elizabeth II's coffin to St. Giles Cathedral from Holyroodhouse.
The substantial pin is a favorite of Camilla's, as she's worn it frequently through the years and most often when visiting Scotland. Though its precise origins are unknown, there is some speculation that it came from the vault of Margaret Greville. The famed socialist left her entire collection of jewelry to the royal family, evetually becoming the possession of Queen Elizabeth II, but it's assumed the diamond thistle brooch was specifically given to The Queen Mother at her request since she was seen wearing it the most (via 9Honey).
For this solemn occasion, Camilla added the diamond-encrusted brooch to her black coat and finished the look with a simple strand of pearls. She topped it off with a distinctive hat adorned with feathers. It was undeniably a fitting tribute to her brooch-loving mother-in-law.
Paying tribute in the Welsh Guards Leek Brooch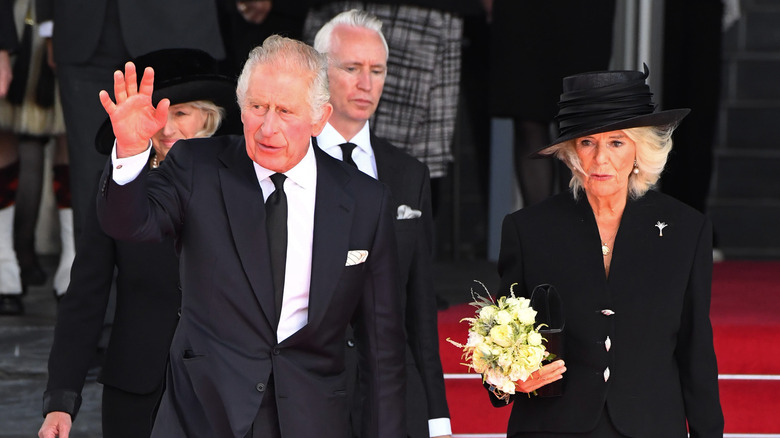 Polly Thomas/Getty Images
The elegant Welsh Guards Leek Brooch has graced the apparel of many a royal during the decades. Camilla, Queen Consort wore the delicate pin during her and King Charles III's first visit to Wales after the death of Queen Elizabeth II.
It was a simple addition to her respectfully understated black suit and matching black hat and clutch. Queen Elizabeth herself also wore this brooch at various Welsh Guards events throughout the years. The symbolic pin is coated in shimmering diamonds, bearing an understated simplicity and delicacy that makes it the ideal accent for somber occasions.
The specific brooch design has been a staple in the family for generations and the running theme has been Wales, whether it's worn by female royals on a trip to Wales or it's worn by the Wales women themselves. For example, Diana, the then-Princess of Wales, wore a version of the Welsh Guards Leek Brooch during the First Battalion of Welsh Guards parade in 1990, and Catherine, Princess of Wales, wore it during the St. David's Day Parade in Windsor in 2023.
Gracing the Waterloo Banquet in the Greville necklace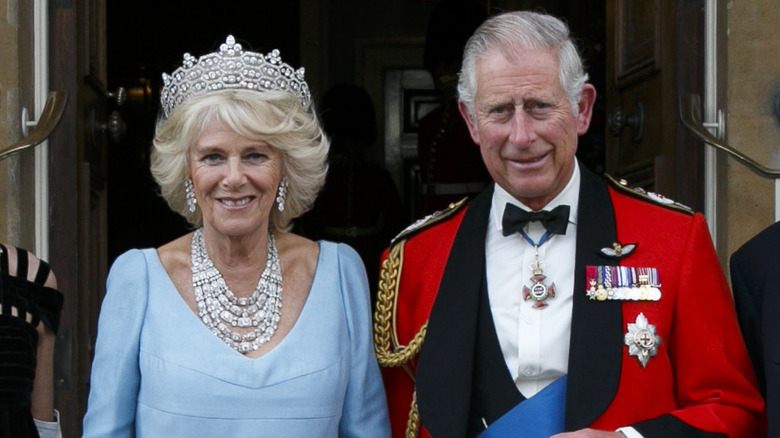 John Phillips/Getty Images
In 2015, the Duke and Duchess of Wellington honored the 200th anniversary of the Battle of Waterloo — and Camilla, Queen Consort arrived sporting her favorite Greville tiara. To match, she paired the headpiece with the Greville Festoon necklace.
This utterly dazzling showpiece is even more intricate and interesting than it appears. The diamond neckpiece actually consists of two necklaces — one with two strands and another with three strands. Camilla chose to wear both pieces, pairing the beautiful accent with a long, light blue dress. This was not just a stunning and memorable look, but also a chance for the diamonds to stand out and shine in their own right. She finished the look with a pair of equally stunning diamond pear drop earrings and a diamond bracelet.
The Greville Festoon necklace is notable not just for its obvious beauty, but for the fact that it boasts such immense history. Designed in 1929 by Cartier, it was gifted to the royal family by Margaret Greville in 1942 but was kept by Queen Elizabeth The Queen Mother. When she died, Queen Elizabeth II took ownership of these precious jewels. Interestingly, the necklace started with only two strands before Mrs. Greville returned to Cartier, seeking a grander finish. The jewelry house added the additional diamond strands, resulting in the sparkling five-strand piece that quickly became a favorite of The Queen Mother. However, she also wore the three strands separately on occasion.
Posing in a pair of delicate pearl earrings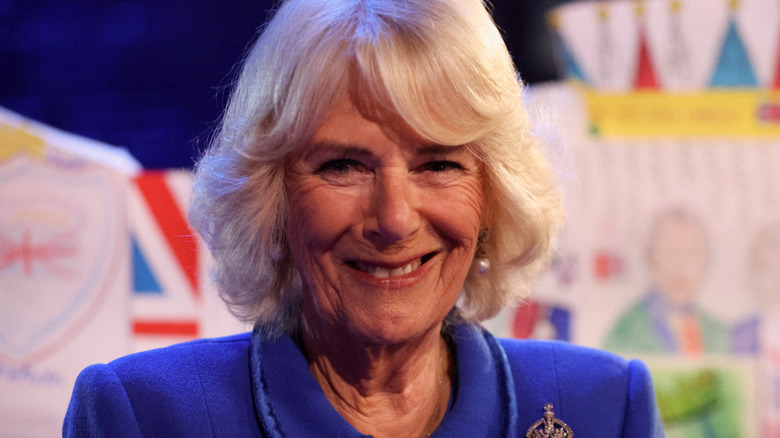 Wpa Pool/Getty Images
There are few pieces more elegant or timeless than pearls, especially when they come from the vaults of Queen Elizabeth II. For a set of portraits taken in the drawing room at Buckingham Palace, Camilla, Queen Consort opted for a royal blue wool coat dress accented by pearl details (via Tatler). In addition to a dramatic multi-strand pearl necklace, she wore a pair of delicate pearl drop earrings that once belonged to the late queen.
These are no ordinary pearls, as you might expect. They're accented by rubies and sapphires — gemstones that lend the earrings a decidedly dazzling finishing touch. The earrings are a glamorous counterpart to the many reserved pearls that served as the late monarch's benchmark for everyday style.
Indeed, Queen Elizabeth was often found wearing a simple strand of pearls around her neck and effortless pearl earrings for both daily wear and formal occasions. Pearls were a long favorite for the queen because they provided suitable contrast to the brighter colors she preferred to wear. At the same time, she also appreciated pearls because they held personal significance as she received many pearl jewelry gifts from her grandparents and parents during her formative years before taking the throne.
Paying tribute with an heirloom diamond brooch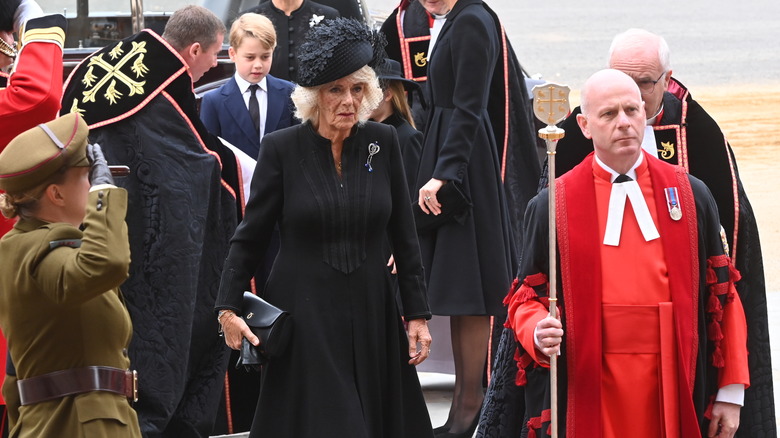 Wpa Pool/Getty Images
There's quite a history behind the eye-catching brooch that Camilla, Queen Consort wore to the funeral of Queen Elizabeth II. The Hesse Diamond Jubilee Brooch once belonged to Queen Victoria, who received the pin as a gift from her grandchildren to mark her Diamond Jubilee. 
With its heart-shaped silhouette, the brooch is at once decorative and traditional. It features a trio of blue sapphires, along with diamonds that read "60" in honor of the queen's 60-year reign. Victoria's time on the throne was the longest sovereignty at 63 years until Elizabeth surpassed her at 70 years in 2022.
It's said that the brooch was eventually inherited by Queen Elizabeth The Queen Mother but became a possession of her daughter, the late monarch. However, according to Vogue, the brooch was not seen publicly for decades before Camilla made it an integral part of her regal repertoire when she married into the family in 2005. She's worn the piece on numerous occasions, including state visits in North America and Asia. For this somber occasion, it was a fitting tribute to Her Majesty.
Getting engaged with a family heirloom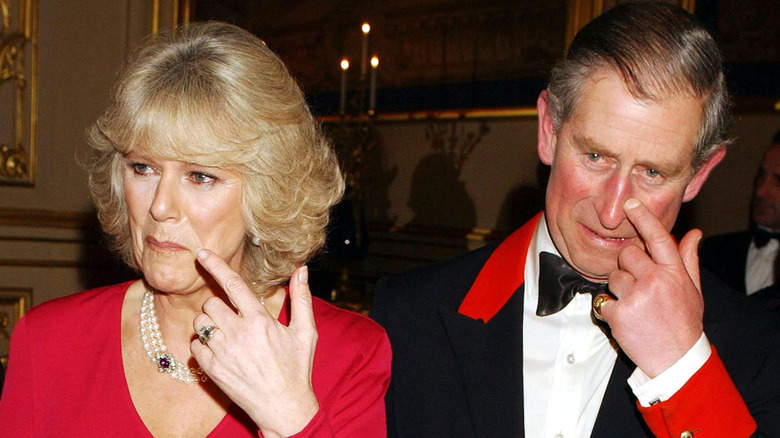 Anwar Hussein/Getty Images
King Charles III announced his engagement to Camilla, Queen Consort in 2005, cementing one of the world's most famous and widely talked about unions — and one of the most controversial. In fact, Good Housekeeping shared that one woman declared Charles should "never be king" if he chose to go through with the marriage. Naturally, fate had other plans, and through marriage, he passed down one of the most important heirloom pieces to belong to the royal family to seal the deal. The five-carat engagement ring boasted a magnificent emerald-cut diamond surrounded by a trio of diamond baguettes.
The ring is no ordinary symbol of love — it once belonged to Queen Elizabeth The Queen Mother, to whom it was bestowed in 1926 as a gift from King George VI. Her husband presented her with the ring when she gave birth to Queen Elizabeth II that year, and she wore the distinctive accent throughout the 1980s.
The ring is also so much more than an intricate piece of jewelry. Camilla's engagement ring dazzles with its art deco styling. When the couple wed at Windsor Guildhall, they exchanged Welsh gold wedding bands as per tradition. The band and the engagement ring are fitting complements for one another, with the substance of the latter providing balance for the sleek wedding ring.