Does Robin Roberts Have Plans To Marry Her Partner Amber Laign?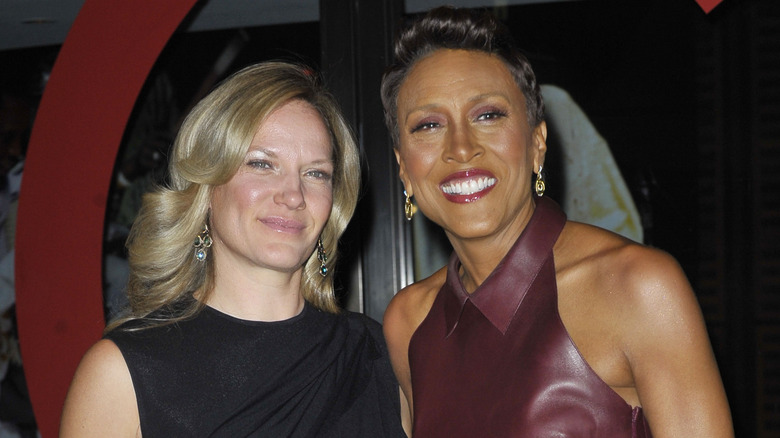 Patricia Schlein/star Max/Getty Images
Robin Roberts has spent nearly two decades with her partner Amber Laign, but has yet to tie the knot. The "Good Morning America" host has been going strong with Laign since meeting on a blind date in 2005, she revealed on "The Ellen Degeneres Show" in 2014. Roberts and Laign remained a solid unit throughout the next 18 years, with Laign sticking by her side during a breast cancer scare in 2007 and a bone marrow transplant Roberts underwent in 2013 (via USA Today). It was after the life-saving bone marrow transplant that Roberts took to Facebook to thank her "longtime girlfriend Amber." It was the first time the famed anchor acknowledged her sexuality and who she was dating.
Nearly a decade later, the couple faced another health scare when Roberts took to Twitter to announce Laign's breast cancer diagnosis. Roberts wanted her fans to know she would "be away" from "GMA" while supporting Laign during her chemotherapy treatments. Months later, Roberts shared a celebratory Instagram post announcing the end of Laign's radiation. After 18 years of dating and facing three health emergencies together, Roberts and Laign were finally ready for marriage. 
Robin Roberts is saying 'yes' to marriage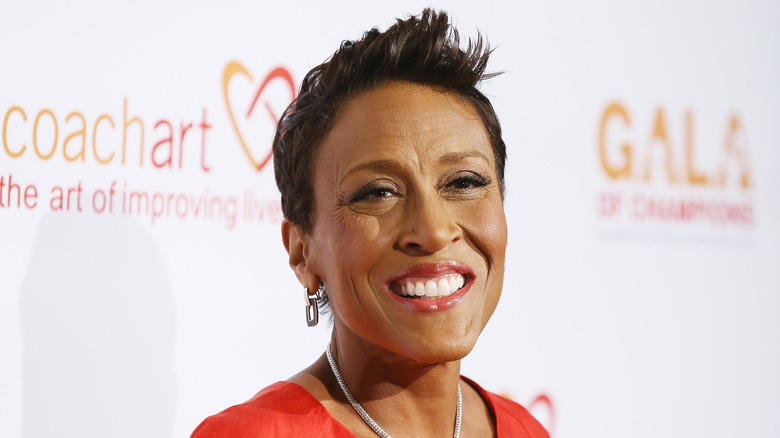 Michael Tran/Getty Images
Robin Roberts kicked off 2023 with an Instagram post announcing her plans to "say 'yes' to marriage." The "GMA" host sat down with motivational speaker and author Gabby Bernstein for an intention-setting conversation for the new year, and she didn't hold back her plans on finally marrying her longtime partner Amber Laign. Roberts was honest about how Laign's recent health scare put a pause on their wedding plans, but now that they were both healthy and well, they were determined to tie the knot in 2023. When Bernstein suggested Roberts make a vision board and manifest how she wants her wedding day to be, Roberts said she wanted to manifest having a strong marriage and not just a captivating wedding day. 
Roberts got emotional while opening up to Tommy DiDario on "Extra" about her wedding plans. While Roberts and Laign have been mostly private about their 18-year relationship, the "GMA" host shared how thrilled they are to finally tie the knot. After nearly two decades in a committed relationship, finally getting married would be a new beginning for the couple considering all of the hurdles they've overcome together. Roberts would go on to tease their wedding date and wedding day plans.
Amber Laign might be a little bridezilla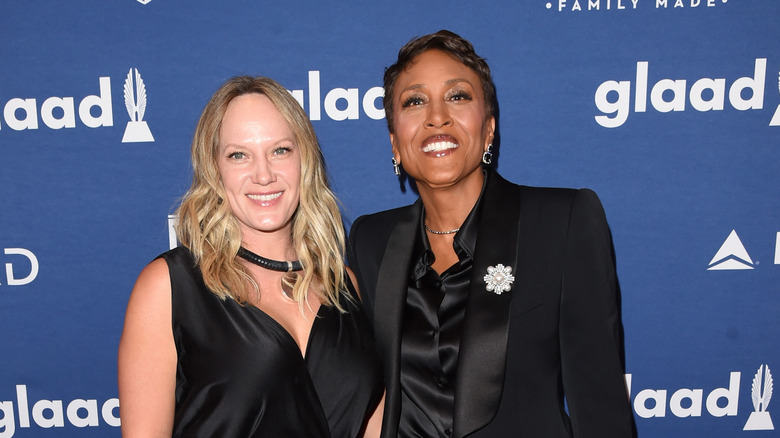 Jason Merritt/Getty Images
Robin Roberts spoke with Entertainment Tonight in March 2023, and while she didn't reveal the wedding date she and Amber Laign set, she did tease how hyped their families were for the big day, and she revealed that the save-the-dates would be sent out soon. When speaking with "Extra" anchor Tommy DiDario about their wedding plans, Roberts shared how particular Laign is being with their wedding day goals. While she wouldn't call her wife-to-be a bridezilla, she did note the "definitive ideas" Laign wanted for their big day. Roberts also opened up about her reluctance to see herself ever getting married due to her sexuality. "When you grow up and you know that you're gay — especially older — you think that's never going to happen," Roberts shared. 
Now, being able to plan a wedding and honeymoon, and share her excitement with the world, is a dream come true for Roberts. In April 2023, Roberts and Laign attended a friend's wedding in Palm Springs, California where they were able to get some inspiration ahead of their nuptials, according to Hello Magazine. The couple was all smiles in June after a "bizzay weekend" of watching Roberts play tennis, she shared on Instagram. Fans are anxiously awaiting Roberts and Laign's wedding day announcement.