The Secret To Kelly Ripa And Mark Consuelos' Marriage? They Say There Is None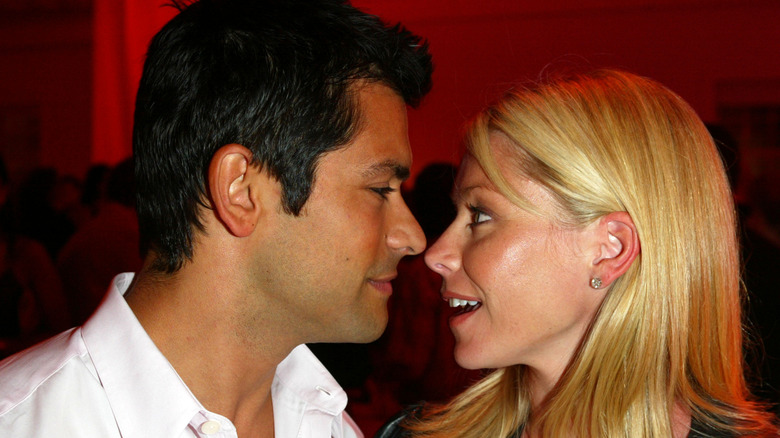 Matthew Peyton/ Getty Images
Every other week, it feels like another Hollywood marriage comes to an end. While a long-term relationship is hard to maintain on its own, it's probably twice as difficult when combined with fame and a demanding career (or two). One of the few celebrity marriages that have defied the odds of divorce is Kelly Ripa and Mark Consuelos'. The happy couple met almost three decades ago, in 1995, on the set of "All My Children." 
By 1996, they had eloped and got married at a chapel in Las Vegas. On May 1, 2023, Ripa and Consuelous celebrated an impressive 27 years of marriage. If you take just one glance at their Instagram feeds, you'll scroll through picture after picture of the two happily spending time together. It's evident that they're still completely obsessed with each other. As a result, they have the rest of the world wondering, "How? What's their secret?" 
But, while speaking with Entertainment Tonight, Ripa gave a less-than-satisfying answer for anyone seeking step-by-step instructions. "There is no secret. You're going to go through things, there are ups and downs," the TV host admitted. 
Their marriage hasn't been perfect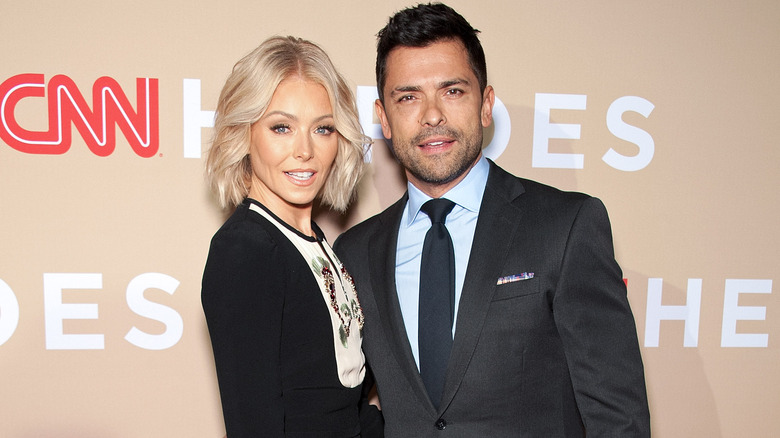 D Dipasupil/ Getty Images
You might have read Kelly Ripa's comments and, at first glance, rolled your eyes. But when the "Live with Kelly and Mark" co-host explained what she meant by "there is no secret," Ripa did, in fact, reveal something many people might not already know. The former soap star clarified to ET that the key is not to freak out during the tough times. After all, both she and her long-time husband Mark Consuelos have acknowledged that their marriage hasn't been without conflict. 
Essentially, Ripa advised that you shouldn't do anything drastic and instead stay patient when these issues crop up. During an episode of her podcast, "Let's Talk Off Camera,"  she and Consuelos discussed some of the challenges they've faced. For instance, Ripa prayed that Consuelos would lose his jealousy trait. In addition, the "Riverdale" star had major issues with Ripa's habit of hanging up the phone on him when she was upset. But rather than concluding that they were incompatible, the couple went to marriage counseling to work through it together. 
The couple swears by marriage counseling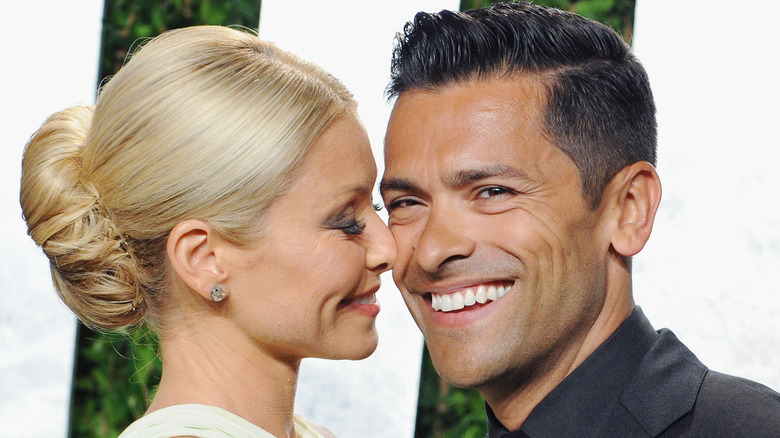 Jon Kopaloff/ Getty Images
It turns out that behind the scenes, Kelly Ripa and Mark Consuelo's relationship has not been managed all on their own. While they reflected on some of their issues on "Let's Talk Off Camera," Ripa had their own marriage counselor join the episode alongside them, to give a more rounded viewpoint. 
As Consuelos said, "One of the great benefits of going to marriage counseling — especially when things are good, and you want them to get better — is that the old habits and the old behaviors you kind of hung on to, I thought twice about doing them because ... I would be accountable to somebody."
Ultimately, Ripa has emphasized that, with her husband by her side, no problem is too big for them to overcome. On "Live with Kelly and Mark," she gave her audience a great metaphor to illustrate their approach: "You're going to fight, you're going to have disagreements. Relationships, marriages are not sprints, it's a marathon" (via People).