Why HGTV Fans Are Unimpressed By Fixer Upper And Renovation Impossible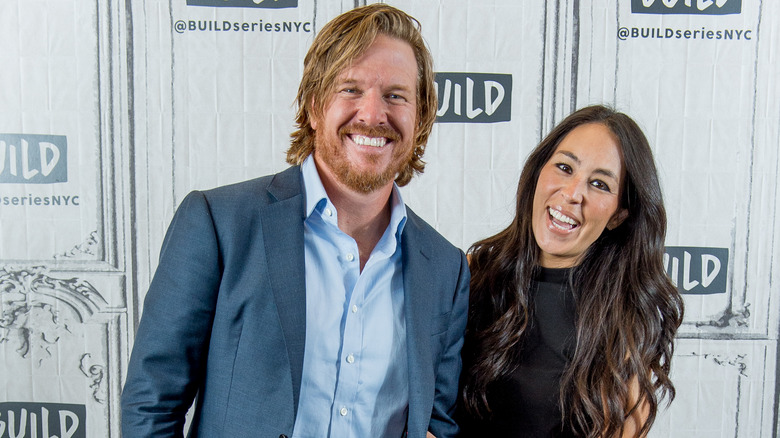 Roy Rochlin/Getty Images
There's something deeply satisfying about restoration. An old painting cleaned of ages of dirt, a rusty bike sanded and chromed, a weedy garden brought back to flowering life — these remind us that beauty lies deep within, if only we're patient enough to find it. Small wonder, then, that home renovation shows have been popping up faster than For Sale signs all over the cable and streaming world. There's a reno show for every taste: Want to see small-town homes get big-time makeovers? No prob. Historic houses that need a modern flair? Got ya covered. Homeowner drama as they decide whether to keep or sell their refurbished digs? Got that, too. Total disasters that need a rebuild from the bottom up? But of course. 
But while certain home-reno shows are bonafide hits ("Flip or Flop" and the "Property Brothers" series have loyal followings), others are getting bad reps because of claims the miraculous makeovers aren't all they seem to be. Past clients are taking to social media to reveal some uncomfortable truths about the quality of the work seen on the shows, and viewers are getting disillusioned with the rotting beams behind the fresh coat of paint.
One Renovation Impossible home redo was a disaster
As dazzling as they look on the screen, HGTV's renovations may not be as amazing as they appear. TikToker Ron Onyon has devoted most of his feed to videos showing the results of his house's appearance on "Renovation Impossible." Per the network's website, the show features a contractor and his team who take on half-done renovation projects and find "ingenious, dollar-stretching solutions" to finish the job in grand style. Onyon begs to differ.
In his series of TikToks, Onyon points out the many flaws left behind by workers. The kitchen features gouged and chipped countertops, poorly grouted backsplash, and uneven staining on the cabinets. The master bath not only has shoddy finishing, but also has serious hazards. There's no drain on the tile floor below the bath, and the wiring for the electric fireplace is incomplete. Perhaps that's just as well; the water jets in the shower spray directly into the fireplace. The renovators also replaced the front door, a change Onyon didn't request and which left him devastated; the unique piece, featuring multiple stained-glass panels, was one of the features the family loved about the house.
The show's host, Russell Holmes, has claimed Onyon used his own contractors for the shoddy work, but Onyon shows text messages backing up his allegations that the HGTV crew members were the ones who did the renovations. He also alleges there are many other dissatisfied HGTV clients, but they're afraid to speak out because of the nondisclosure agreements they signed with the network.
One Fixer Upper home now needs more fixing up
"Fixer Upper" hosts Chip and Joanna Gaines became breakout stars as much for their personalities and chemistry as a married couple as they did for their renovation work. Married 20 years and the parents of five children, the couple come across as approachable and trustworthy. Anyone would feel lucky having the Gaineses beautify their home — well, almost anyone. The hosts' credibility has taken a hit after allegations made by former guests on their HGTV show.
On TikTok, a woman named Erin who goes by the @niftynest handle warns followers that "everything is not as it seems" when it comes to the marvelous makeovers we see on TV. Erin had a house get the "Fixer Upper" treatment (hers was the house that began the "whitewashing brick" trend, she says), but she claims some of the improvements were purely cosmetic — and shoddy, at that. She showed what appeared to be a kitchen island with a stunning marble countertop, explaining that it was "in fact just plywood with contact paper over it." 
Chip and Joanna have faced other legal troubles that have some fans wondering if their fame is really warranted. Per Insider, the Gaineses were fined $40,000 by the Environmental Protection Agency for not complying with lead removal rules on older houses. And while viewers assume the owners of the flipped homes stay there, it turns out many of the Waco, Texas, homeowners opt to rent out their spaces and profit from the work the Gaineses' team has put in. No one wants to know that after these fairytale makeovers, the royals steer clear of their castles.