Did Jennifer Aniston And Justin Theroux Get Legally Married? We Revisit The Rumor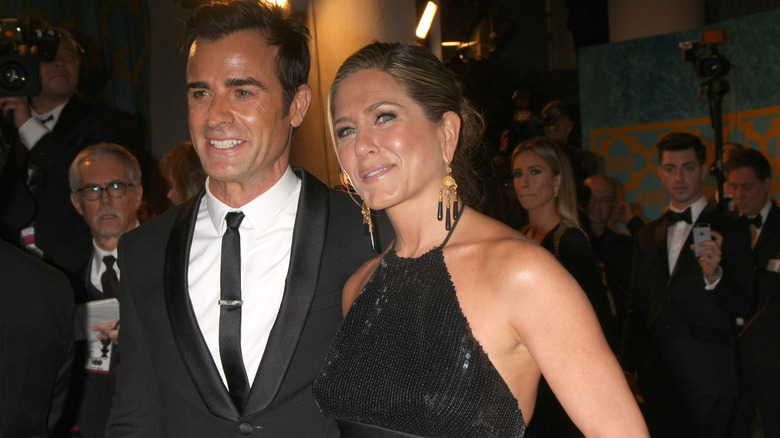 Kathy Hutchins/Shutterstock
Jennifer Aniston's love life has long been on display. Her five-year marriage to Brad Pitt dominated the tabloids. When they wed in 2000, Pitt and Aniston were one of Hollywood's biggest It-couples. However, by the time they divorced in 2005, Aniston was painted as a defenseless victim of a failed marriage, especially with rumors swirling that he'd cheated on her with co-star Angelina Jolie. 
This was only exacerbated when Pitt admitted to Parade: "It started feeling pathetic. It became very clear to me that I was intent on trying to find a movie about an interesting life, but I wasn't living an interesting life myself." He later clarified that his words were taken out of context. When Aniston began dating actor Justin Theroux in 2011, fans were happy to see the star find love again, though that too was short-lived.
The couple dated for several years before walking down the aisle in 2015 in a ceremony held at their California home attended by celebrity buddies such as Howard Stern and Chelsea Handler. Sadly, just two years later, the couple made the decision to separate. But there was only one issue with them ending their union: Many don't believe they were ever actually married, to begin with, a rumor that has plagued the exes for years.
No marriage certificate was ever located for Jennifer Aniston and Justin Theroux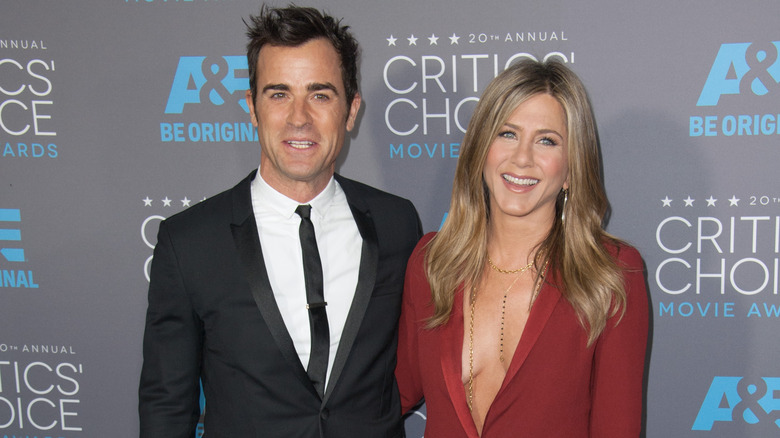 Featureflash Photo Agency/Shutterstock
In 2018, Jennifer Aniston and "American Psycho" star Justin Theroux announced they'd decided the year prior to permanently separate. Given the media's obsession with Aniston's romantic history, it's no surprise that publications began digging into their marriage, looking for any indication of what may have gone wrong in the relationship. 
During this invasive probing, TMZ reported that they could not locate the A-listers' marriage certificate. The outlet searched the Los Angeles County public records back to 2010 and was unable to verify that Aniston and Theroux actually legalized their Bel Air nuptials. TMZ also spoke with several anonymous insiders who were close to the couple. 
Allegedly, they all claimed there had been constant gossip that the former couple never bothered with the government paperwork after their wedding. Interestingly enough, neither Aniston nor Theroux has ever confirmed nor denied the site's report questioning their marriage.
Despite rumors about their marriage, the two remain great friends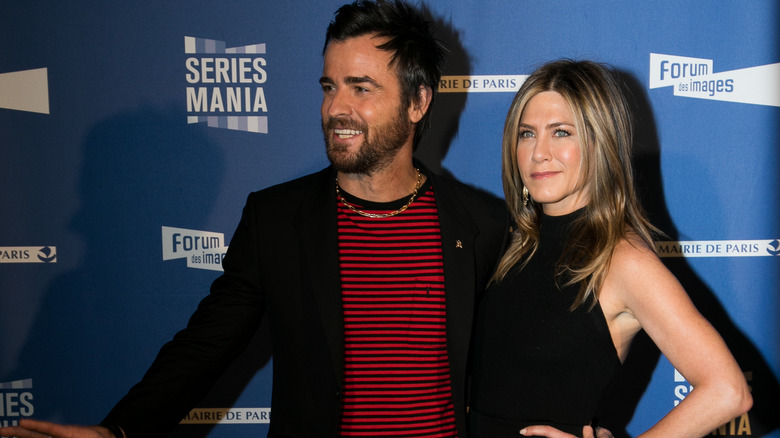 Marc Piasecki/Getty Images
With so much chatter surrounding their time together, it's surprising that Jennifer Aniston and Justin Theroux's relationship is still pretty good today. When speaking with Esquire in 2021, Theroux gushed over his former lover and praised Aniston for staying in his life platonically. He also revealed that there was no messy breakup, stating: "Like it or not, we didn't have that dramatic split, and we love each other." 
Theroux continued, "I'm sincere when I say that I cherish our friendship. We can not be together and still bring each other joy and friendship. Also, she makes me laugh very, very hard. She's a hilarious person. It would be a loss if we weren't in contact, for me personally." While many celeb couples claim to still be good friends after splitting up, Aniston and Theroux seem genuine. 
They were spotted out for lunch in New York City in April 2023 alongside Jason Bateman and his wife, Amanda Anka. With so much love still shared between them, the exes likely may never address their rumored lack of an official marriage certificate. Instead, Aniston and Theroux appear thrilled to have weathered their romantic breakdown and come out on the other side happier than ever.