The Worst-Dressed Celebrities In Oscars History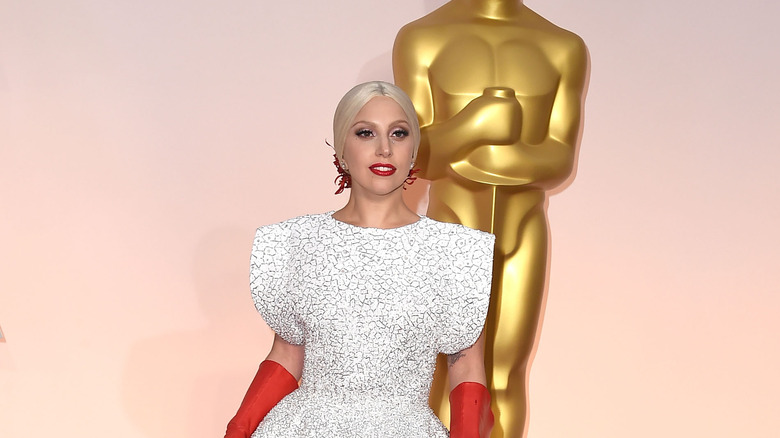 Steve Granitz/Getty Images
The Academy Awards have been an entertainment staple for 95 years, with those involved in the film industry being recognized for their work with golden Oscar statues since 1929. Tens of millions tune into the awards show hoping to see their favorite film of the year win. Fans also want to be in the loop on the off chance that something dramatic happens (say, an actor loses his cool over a joke and assaults the host). However, some prefer the Oscars red carpet pre-show, because seeing who wears what can be even more entertaining than the night's main event.
There have been some stunning red carpet looks over the years, and when the right celebrity teams up with the right designer, iconic outfits are born. That said, the red carpet — or the controversial champagne-colored carpet from the 95th Academy Awards — has also seen its fair share of looks that stole the show for all the wrong reasons.
Gossiping about celebrity fashion can be a welcome distraction from our lives. On Oscars night, hoards of the rich and famous take to the red carpet to be photographed in what they've deemed to be their best fashion in front of millions of people and, if they get it wrong, the public will be sure to let them know. However, the worst-dressed celebrities in Oscars history each took a risk, giving us all something to dish on for years to come.
Edy Williams' barely-there dress in 1986
The "Beyond the Valley of the Dolls" actress is no stranger to controversy or a worst-dressed list. Edy Williams became known for her roles as skimpily-dressed dancers and adult film stars, seemingly relying on her sex appeal to maintain her status in Hollywood. It could be argued that Williams was a trailblazer, never conforming to what others deemed "appropriate." And her awards show looks have certainly always provoked attention.
Williams' first ever appearance at the Oscars was in 1974, when she wore a leopard-print bikini and a fur coat. Over the years, she's shown off plenty of skin on the red carpet in little more than lingerie. But it was in 1986 that Williams wore perhaps her most controversial look to date. The "Nudity Required" actress adorned herself with white lace gloves, a white thong, and a brassiere made from very carefully arranged strings of pearls that (barely) covered her top half. Thankfully, Williams brought a sheer purple shawl with her, just in case she got chilly in the theater.
Following the awards show, the actress appeared on Wally George's talk show, "Hot Seat." George asked her why she always dressed so "disgracefully," to which Williams simply replied, "I have a good sense of humor about life, I have a good sense of humor about myself, and I like to have fun. And, this is an outfit that is playing it up."
Cher's revenge dress in 1986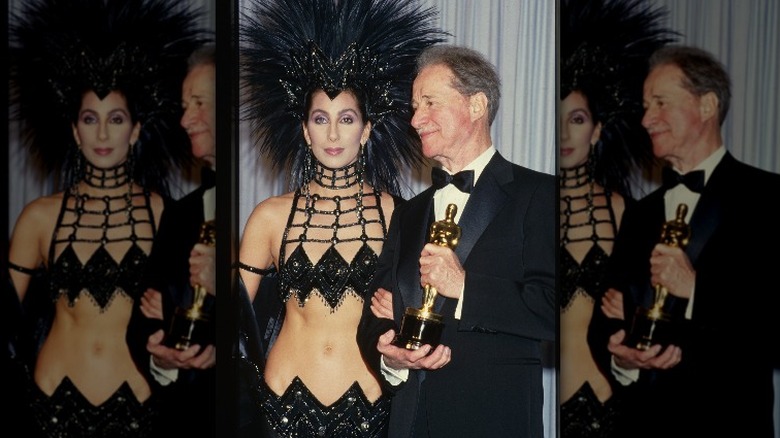 Eugene Adebari/Getty
Everybody loves a celebrity revenge dress, and what's not to love about Cher? When you combine the two, you'd think it would be an Oscars red carpet masterpiece. But this wasn't the case in 1986 when Cher walked the carpet in a black two-piece dress with large cutouts and a giant feather headdress. Is it a coincidence that she released "If I Could Turn Back Time" just three years later?
After she was passed up for a nomination for her role in Peter Bogdanovich's movie "Mask," despite winning Best Actress at the Cannes Film Festival, Cher decided to rock an edgy and over-the-top look. Her longtime friend and designer, Bob Mackie, was behind the iconic styling. Speaking with the New Yorker, he shared, "There were a lot of people who said, 'That's not fashion!' And I said, 'Of course it's not fashion. It's a crazy getup for attention.' And it did get attention — people talk about it still."
Though Cher was snubbed for an Oscar, she was still invited to present at the awards show. So when she made it over to the microphone, she quipped a one-liner that drew even more attention to the intentionally outlandish outfit she was in: "As you can see, I did receive my Academy booklet on how to dress like a serious actress."
Demi Moore's DIY dress in 1989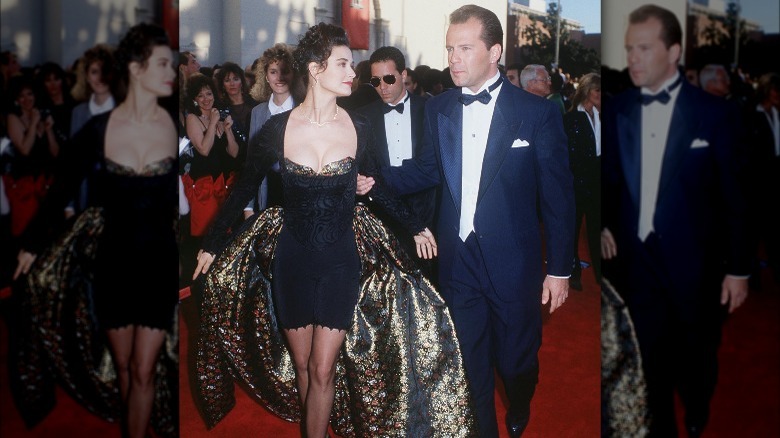 Barry King/Getty Images
The '80s saw some remarkable fashion moments, and, like many fashion eras, a few trends from the time have come back around in popularity. But when Demi Moore decided to forgo advice from a stylist and design her own outfit in 1989, the ensemble received a poor reception. From the metallic, rose-printed fabric sewn around her lace-hemmed bike shorts to the velvet, long-sleeved corset and metallic bra line, not even the '80s were ready for this DIY Oscars look (and that's saying something).
Moore paired her black and gold romper with simple gold jewelry, matching heels, and a handsome man by her side. Her then-husband Bruce Willis wore a classic tuxedo and bow tie. However, his understated outfit almost accentuated the boldness of Moore's.
While she topped several worst-dressed lists at the time, many have argued that if she had whipped this number out today, the reception would have been extremely different. The 2020s are all about taking fashion risks, and where some don't pay off, the bravery of the wearer (or in this case, designer) is often at least commended. If anything, this proves that Moore was just ahead of her time and perhaps should pull this number out of the closet for next year's Academy Awards.
Kim Basinger's one-shoulder dress in 1990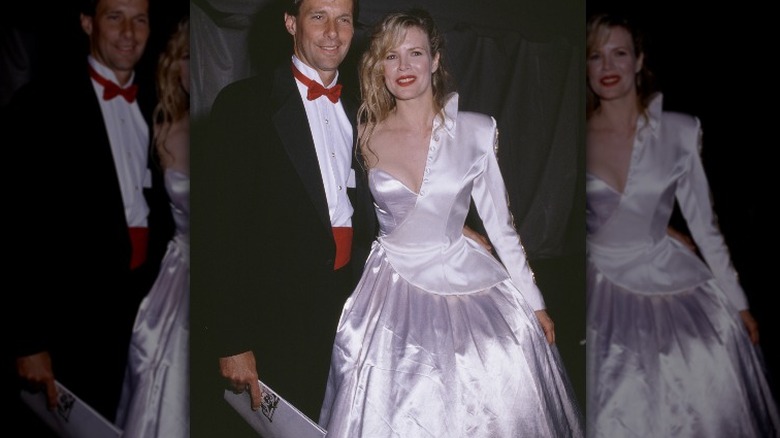 Michael Ochs Archives/Getty Images
As Demi Moore proved the previous year, a DIY dress is a risky move that doesn't always pay off. But, that didn't stop Kim Basinger from trying her hand at a self-designed dress the following year at the 62nd Academy Awards — she may have even taken inspiration from Moore's gutsy move. The princess-style ball gown was wedding-white, featuring half a jacket on one side and a sleeveless, gloved arm on the other. It was an intriguing red carpet look that fans seemed eager to forget. However, it's made a lasting impression, still showing up on plenty of worst-dressed Oscars lists.
But Basinger wasn't phased when she rocked her DIY dress onstage while presenting the Best Picture award, though she did admonish the academy for snubbing a movie that should have been included in the nominations that year. The "L.A. Confidential" actress gave a brief speech, saying, "We've got five great films here, and they're great for one reason: because they tell the truth. But there is one film missing from this list that deserves to be on it. Because, ironically, it might tell the biggest truth of all. And that's 'Do the Right Thing.'" Basinger stood up for Spike Lee's film before passing the award to "Dead Poets Society." All eyes were certainly on her that night, and it wasn't just because of the unique attire she had on.
Geena Davis' wedding dress look in 1992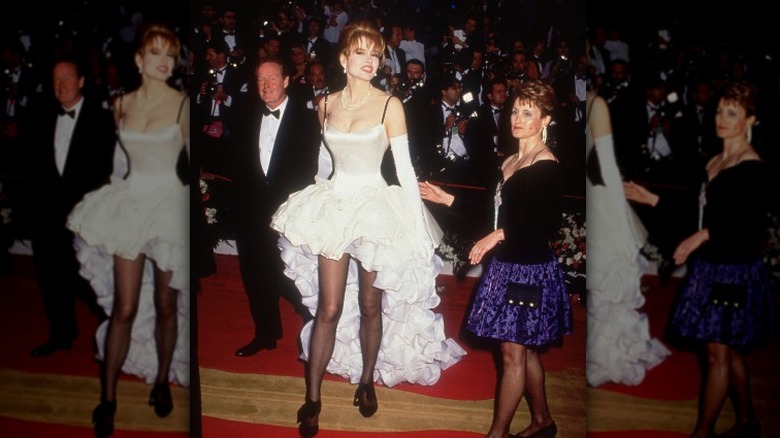 Miranda Shen/Getty
Some celebrities show up to the Oscars wearing beautiful gowns and perfectly-tailored suits, and some wear looks just to make a point. In 1992, Geena Davis showed up on the red carpet — excited to be nominated for the best actress award in "Thelma and Louise" — looking like a runaway bride. Davis wore a white gown with a ruffled, mullet skirt and black spaghetti straps. She paired the dress with thin black tights and pearl jewelry, looking like she was either headed for the altar or a costume contest.
But that was sort of the point, as Davis explained to TIME. "I want to marry the Moulin Rouge to the Black and White Ball, and I want Christo and Jean-Claude to design the bridal gown and the wedding cake," she said of the inspiration behind her iconic look. Davis, unfortunately, lost out to Jodie Foster, whose incredible performance in "Silence of the Lambs" won her the Oscar. All in all, Davis turned plenty of heads in this unfortunate dress, which will remain in the Oscars' worst-dressed history book for years to come.
Whoopi Goldberg's pantsuit dress in 1993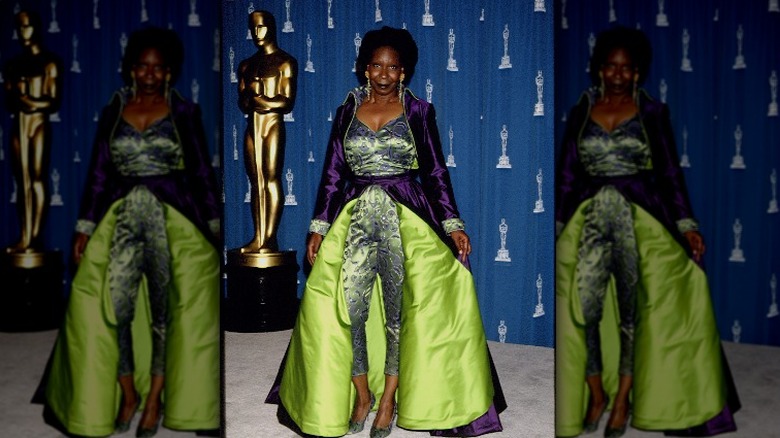 Frank Trapper/Getty
In 2018, Whoopi Goldberg absolutely slayed the red carpet in a stunning green and purple Christian Siriano gown. Paired with a purple lip, the actress had never looked so glamorous. The outfit, however, did bring back memories of the last time she donned those colors on the red carpet — and compared to her more recent clothing choices, it was pretty far from a successful outfit.
It's hard to condemn anyone for pushing against gender stereotypes and rigid beauty standards, especially back in the '90s when women attending the Oscars were largely still expected to wear dresses. However, when Golberg, who had enjoyed incredible success over the previous decade, wore a lime green and royal purple ensemble that was a pantsuit, dress, trench coat, and cape rolled into one, even she couldn't pull it off. 
Goldberg's look was apparently "inspired" by Disney. And looking at the high collar of her cape, she was definitely giving off some evil queen vibes. Underneath the cape/coat, she wore a light green pantsuit with matching shoes that would have looked killer on their own. However, it was the unfortunate decision to channel her inner Disney villain that tanked the look.
Lizzy Gardiner's American Express card dress in 1995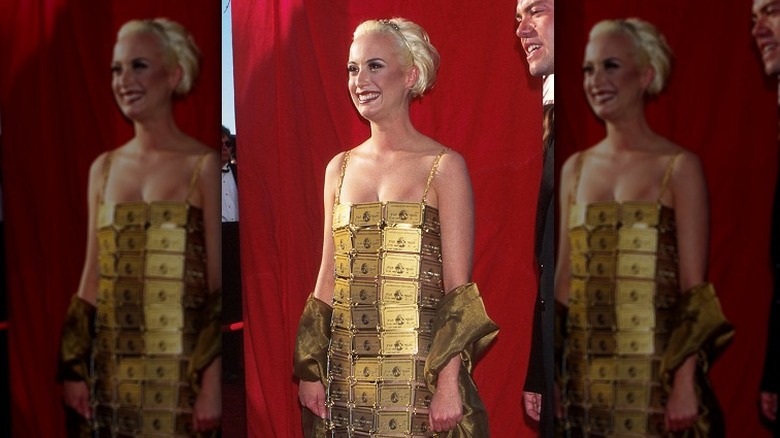 Kmazur/Getty
Lizzy Gardiner has designed costumes for several films throughout her career, including "Hacksaw Ridge" and "Ticket to Paradise." However, for her debut film as a costume designer, 1994's "The Adventures of Priscilla, Queen of the Desert," she had an unconventional idea. Gardiner contacted American Express asking permission to design a dress made from their cards. The dress was originally meant to be worn by a character in the movie, but the company denied her request.
Then in 1995, when Gardiner was nominated for the costumes she designed for the movie, American Express changed its tune. The designer got to see her vision come to life when it supplied her with 254 gold cards, which she made into the dress she wore on the red carpet. Gardiner looked like a walking ad for the company, which wasn't the prettiest sight to behold. But when Gardiner won the Oscar for Best Costume Design, her golden dress and shimmering spaghetti straps became iconic. 
A spokesperson for American Express told the Los Angeles Times why the company allowed her to use the cards for her Oscars dress and not for a character's costume in "The Adventures of Priscilla." "It's different. She's not dressing a character. She's dressing herself." Not long after, American Express bought the dress from Gardiner with the intention of displaying it in travel offices.
Björk's infamous goose dress in 2001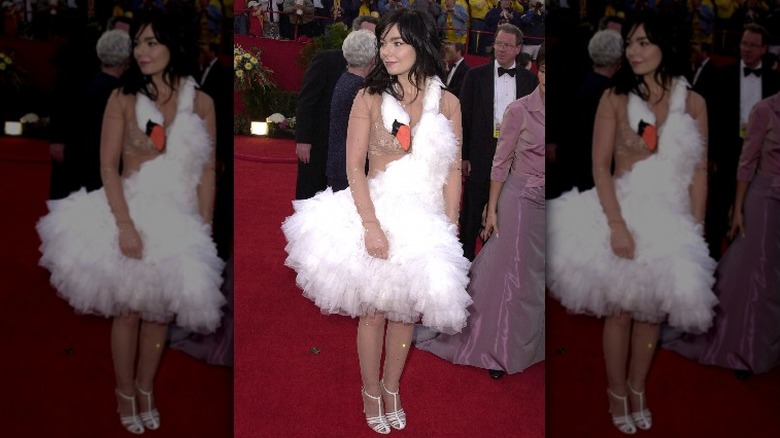 Steve Granitz/Getty
For decades, awards shows have been a melting pot of incredible fashion moments, and the Oscars have certainly played host to some of the most iconic dresses of the last 20 years. Keep in mind that iconic doesn't always mean good — after all, Icelandic singer and actress Björk wore arguably the event's most iconic dress in 2001. After starring in and writing a song for "Dancer in the Dark," she received a nomination for Best Original Song. Then, Björk arrived at the Oscars decked out in a handmade swan dress by Marjan Pejoski. She wore a rhinestoned, nude-colored bodysuit, adorned with a fluffy white skirt mean to look like the body of the swan, with the bird's neck wrapped around Björk's. The singer also spent some of her time on the red carpet pretending to lay eggs. Suffice it to say, the whole thing was pretty weird.
The dress' reception was predictably unkind, but it became a mega pop culture moment, with Ellen DeGeneres spoofing it at the Emmys later that year. Afterward, Björk explained that the dress was inspired by director Busby Berkeley's 1930s musicals, telling the BBC, "I thought it'd be very appropriate to wear a swan. I guess they don't do those things anymore, right?" Apparently not, as the dress is still regarded as one of the worst in Oscars history.
Gwyneth Paltrow's goth dress in 2002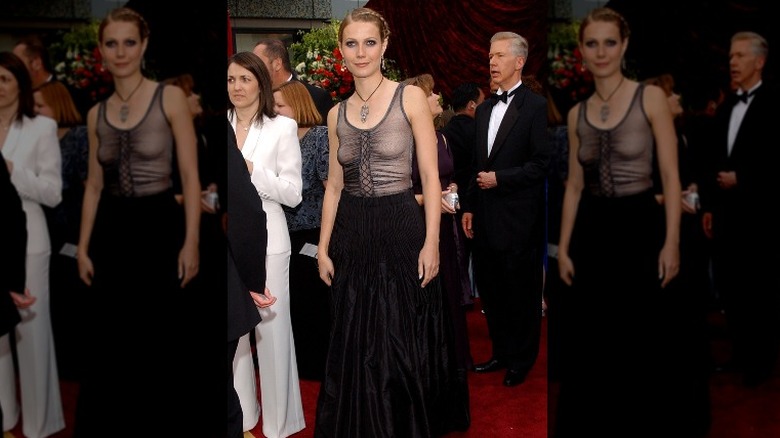 Kmazur/Getty
Celebrities make fashion faux pas all the time, but it's refreshing when they're later able to admit where they went wrong. In 2002, goth fashion was big and Gwyneth Paltrow was ready to show off her new look at the Oscars. She wore a floor-length black dress with a ruched top half that was more than a little sheer. It was a brave look, but unfortunately, critics just couldn't see past the fact that the actress' breasts were on show. 
Paltrow later commented on the Alexander McQueen look in a Q&A for GOOP. "There were a few issues; I still love the dress itself but I should have worn a bra and I should have just had simple beachy hair and less makeup." She explained, "Then, it would have worked as I wanted it to — a little bit of punk at the Oscars." The punk aesthetic definitely didn't work for the "Iron Man" actress back then, but in June 2023, her daughter Apple Martin brought the dress out of hiding and tried it on. It looked great on her, which just goes to show that it's not always about the dress: The right time period, accessories, and bra can do wonders for a look.
John Travolta's blue jeans in 2010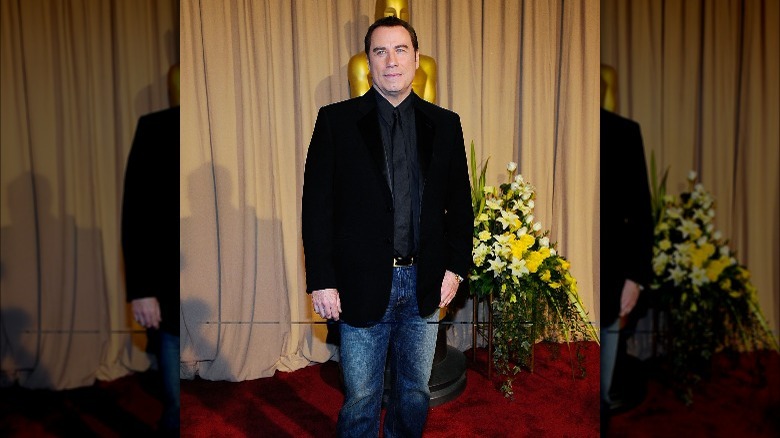 Kevork Djansezian/Getty
This one seems kind of seems like a no-brainer, right? If you're on your way to a black tie event and, as you're walking out the door, you notice that you're wearing blue jeans, it's best practice to go change. The Oscars have never been a denim-friendly event, and when John Travolta attended the 82nd Academy Awards, he probably should have known better than to wear jeans.
As it turns out, the outfit may not have been all Travolta's fault. His then-wife, Kelly Preston, told Access Hollywood that she actually encouraged the look that would go down in infamy. "I told him that he should do it ... He's John Travolta. He can wear jeans with his tux," she said. Apparently, Travolta has explained that his original suit pants didn't fit well, which is what led to the denim decision. The Armani jacket fit the "Grease" actor well, but in blue jeans, he looked more like he was hosting a smart-casual get-together with friends than attending the Oscars.
Lady Gaga's dishwashing gloves in 2015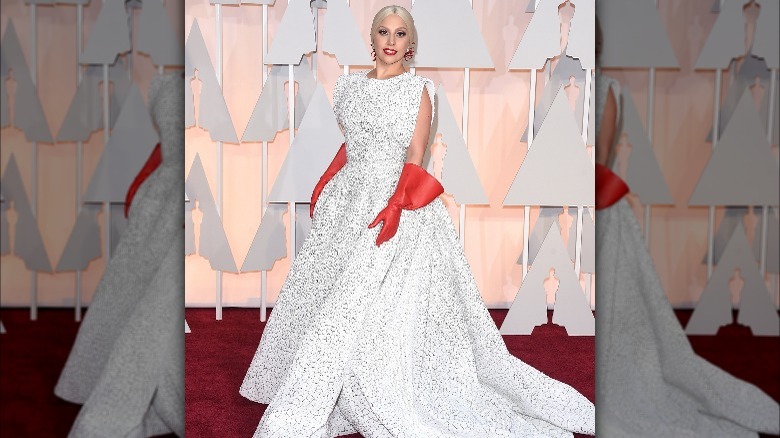 Jason Merritt/Getty
When Lady Gaga's invited to an event, nobody knows what outfit to expect from the pop star. Will she be wearing a dress made of meat? A bra that shoots flames? The singer-turned-actress has been a fashion icon from day one of her superstardom, but more than a few of her ensembles have turned heads (and not in a good way). Since Gaga transitioned into her film career, she's seemingly toned down her wild looks quite a bit. But when she attended the Oscars in 2015, the singer chose a look that set the internet ablaze, and a viral meme was born.
Lady Gaga rocked a long, white gown designed by Azzedine Alaïa. The textured dress featured a boxy top frame with wide arm holes and a cinched waist. But it wasn't the gown that had everybody talking: It was that her wide red gloves were akin to the kind you would wear when washing dishes. All memes aside, Gaga walked the carpet with purpose and later performed a tribute to "The Sound of Music" after making a wardrobe change. On stage, the "Bad Romance" singer opted for a stunning white gown and left her hands glove-free while she sang — a look she should have considered arriving in.
Dwayne The Rock Johnson's ballet pink jacket in 2023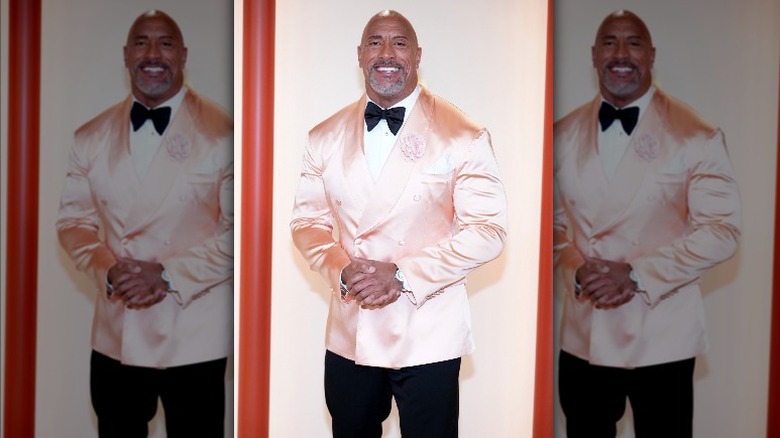 Kevin Mazur/Getty
It brings us no pleasure to say this, but one of the worst-dressed celebrities at the 2023 Oscars ceremony was Dwayne "The Rock" Johnson. The former wrestler arrived in black trousers, a satin, double-breasted Dolce & Gabbana suit jacket that you could practically see your reflection in, and a black bow tie. Although Johnson took a risk with this look, it just didn't have that wow factor he was looking for. And it's safe to say that his stylist Ilaria Urbinati let him down when she put this ensemble together.
Johnson was also insistent that he was wearing "ballet pink" and not "peach" — he even corrected one of the evening's presenters. The "Black Adam" actor's boutonnière of the same color was this look's only saving grace, as he told Entertainment Tonight that it had sentimental meaning. "This flower, in Polynesian there's a term we have, 'puamana,' it means 'strength of a flower.' So this represents my daughters." We can't fault the tributary flower, but the rest of the outfit was quick to top the worst-dressed list at the 95th Academy Awards.