The Warning Robin Roberts Once Gave Amy Robach And T.J. Holmes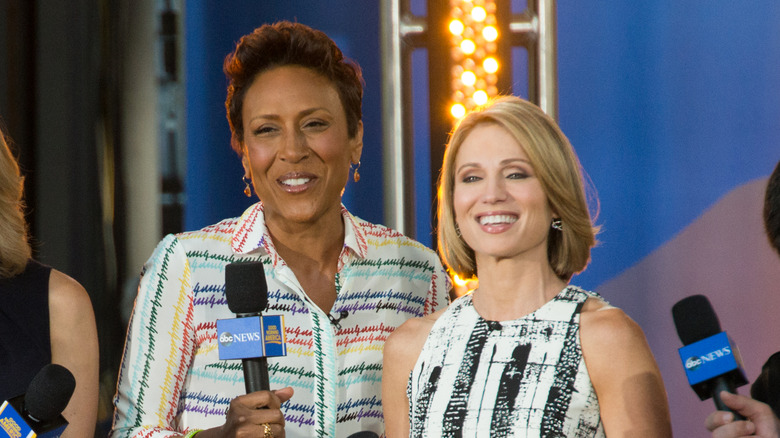 Noam Galai/Getty Images
The scandal between Amy Robach and T.J. Holmes dominated headlines last year when it was revealed that the "Good Morning America" hosts were having an affair, despite both being married to other people. The hosts often shared smiley photographs and content on social media with one another, and appeared to have great chemistry on camera. Fans had no idea that the pair were engulfed in the relationship that was publicly exposed in 2022, though people behind the scenes had caught wind of the romance years before and were not pleased. One of their biggest critics was fellow "GMA" host Robin Roberts.
Roberts is said to have learned of their relationship and confronted the pair about it. This came after Holmes and Robach were spotted cuddled up nearby the set at different bars. The affair might've come to light in 2022, but there was reportedly speculation about their relationship as early as 2017. As a colleague on the morning show with them, Roberts felt especially disturbed by it all, even warning the couple before things hit the fan.
Robin Roberts asked T.J. Holmes and Amy Robach to stop seeing one another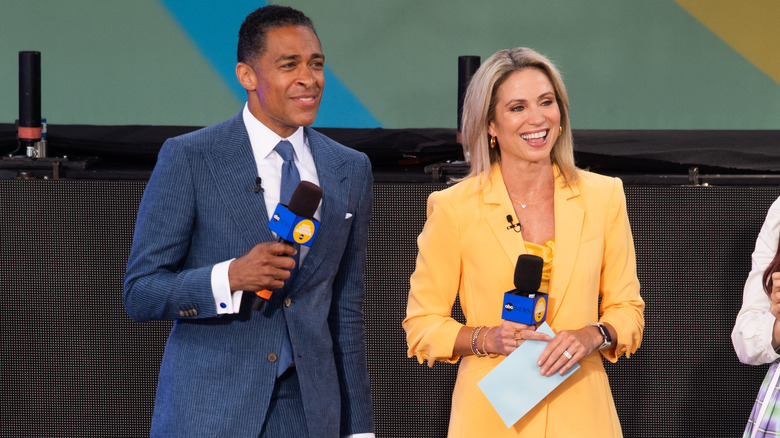 Noam Galai/Getty Images
Before the fallout over their extramarital relationship, TV correspondents Amy Robach and Robin Roberts were very close. In fact, it was Robins who convinced Robach to undergo her first mammogram, having beat cancer years earlier. This urging from her friend helped Robach learn that she had breast cancer, for which she underwent treatment. Thankfully, she is now in remission, and this life-saving advice drove the women closer together. Unfortunately, once Roberts began suspecting that Robach and T.J. Holmes were behaving inappropriately, this drove a wedge between them as she immediately warned the couple to knock it off, Page Six reported.
"[Robin] pulled them both aside and basically said, 'Stop it,'" one source told the publication. Holmes responded by denying the allegations and even went to ABC higher-ups in an attempt to clear his name. "He was a correspondent at the time, and he didn't want Robin thinking that about him," the insider added.
Roberts felt that the relationship harmed Good Morning America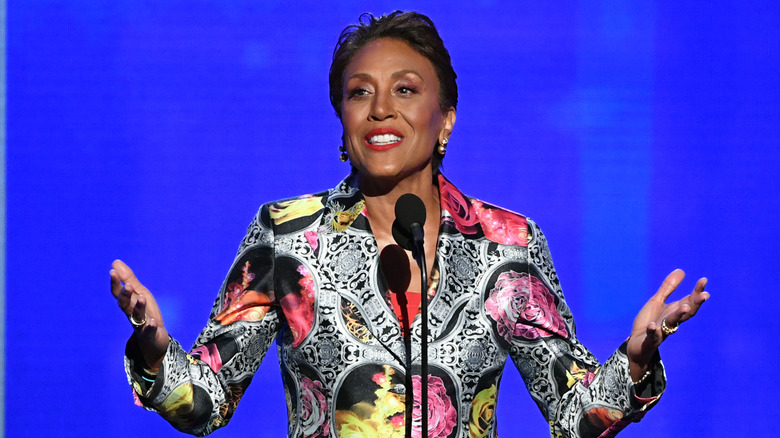 Kevin Winter/Getty Images
Once the relationship between "GMA" hosts T.J. Holmes and Amy Robach was unveiled, longtime host Robin Roberts was not pleased about it. The show has a history of showcasing strong family values, so when the scandal hit the news, Roberts felt that it was a complete slap in the face to everything the morning program represented. Co-host George Stephanopoulos also shared in these feelings.
"George and Robin do not like this. This is very messy," a source close to the situation told The U.S. Sun, before adding, "They prided themselves on not having a sex scandal like 'Today' once did with Matt Lauer." If you recall, Lauer was terminated from NBC's "Today" show in 2017 after multiple allegations of sexual misconduct on and around the set of the show.
Now that the dust has somewhat settled on the messy scandal, both Holmes and Robach have been fired from ABC. They are continuing their relationship and have been spotted out multiple times, seemingly enjoying their time away from the spotlight. Roberts seems also to be moving beyond the work drama as she plans her wedding to longtime partner, Amber Laign.