Vanna White's Wheel Of Fortune Future Is Next Up For Negotiation After Pat Sajak's Retirement News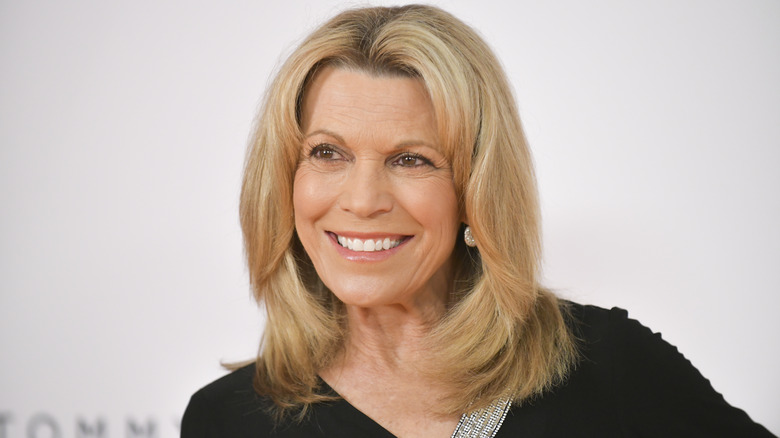 Rodin Eckenroth/Getty Images
The "Wheel of Fortune" that many have grown up with will be undergoing a serious revamping as longtime host Pat Sajak prepares to retire. The iconic host, who has been on the game show since 1981, recently announced that he would be stepping down from his role in 2024. And as execs get underway searching for the perfect replacement, the future of Sajak's glamorous co-host, Vanna White, hangs in the balance.
White has been a popular fixture on the show for four decades and has become well-known for turning the wheel in her beautiful gowns. Even after the show switched to a new game board that no longer required her spinning capabilities in 1997, she remained on "Wheel of Fortune" as a presenter, as well as helping Sajak run the game on the celebrity edition. However, now that news of Sajak's departure has broken, that could put White and her career in limbo.
Production insiders say there is no talk about eliminating Vanna White's role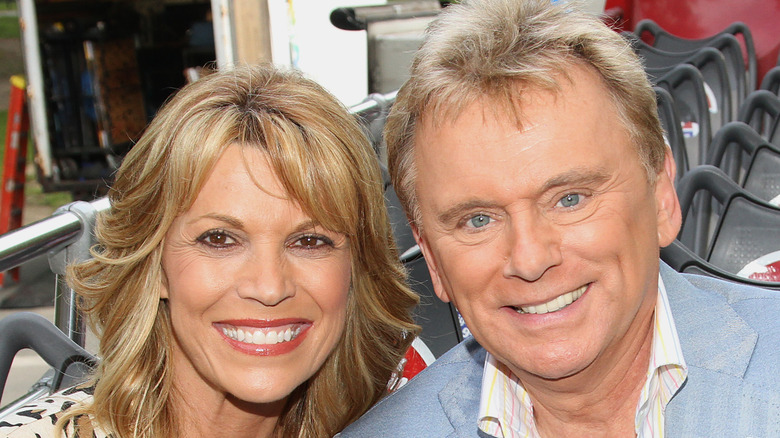 Rob Kim/Getty Images
In early June 2023, rumors began to swirl that Vanna White may be out of a job once Pat Sajak makes his exit from "Wheel of Fortune." Sajak announced his retirement news in a tweet and was immediately bombarded with well-wishes from fans, though some were eager to know where that would leave White. Shortly after Sajak's announcement, Puck reported that several Sony executives were considering getting rid of White's role too.
There are several factors that may come into play. If "Wheel of Fortune" acquires a high-powered name such as Whoopi Goldberg or Ryan Seacrest to run the show, there may no longer be a need for White to tap the letters on the digital game board. And given that much of the magic of the series was based on the pairing of Sajak and White, it might make sense for them both to bow out at the same time. 
With so much speculation surrounding White staying on the program, Sony decided to speak out. Despite the rumors online, those close to the company shot down any notion that White is getting the boot. "There's no truth to the rumors that with Pat's retirement, Wheel of Fortune plans on eliminating Vanna in any way, shape, or form. They're currently in negotiations with Vanna," a production insider told Us Weekly. 
Vanna White has been fearful of her termination for a while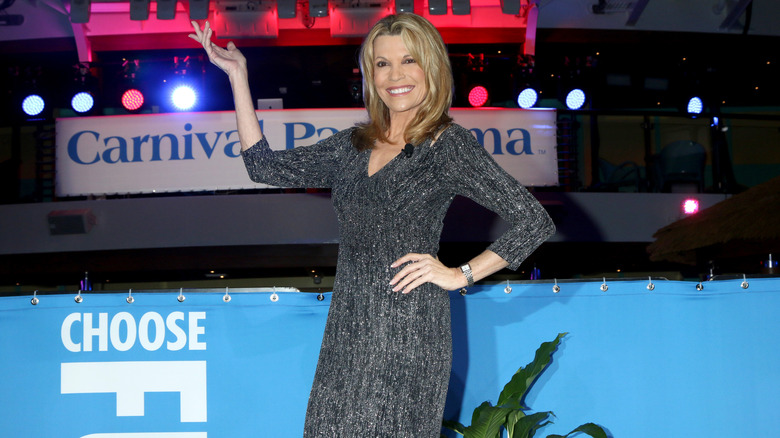 Kathy Hutchins/Shutterstock
Despite a source shutting down talks that Vanna White will be fired when her longtime colleague Pat Sajak leaves "Wheel of Fortune," White has reportedly has been fearful of losing her job for quite some time. Before Sajak announced he was hanging up his letters for good after the 41st season, he had hinted that his end was near. White spoke with People about this and confessed she was not ready to leave her post.
"I don't even want to think about that. I mean, we're a team. That's depressing. I don't even want to think about it," she said in an exclusive statement to the site. She would later point out that most viewers only know the show with herself and Sajak, so having others in their places would not feel right.
Sajak will remain behind the scenes of "Wheel of Fortune" as a consultant for three years after his last season. If White is taken off the air, there will hopefully be a similar opportunity for her. White's future on the program will only become clear with time, but as of right now, Sony doesn't appear to be planning to let her go anytime soon.