Britney Spears Gives Stamp Of Approval To New Broadway Musical Based On Her Tunes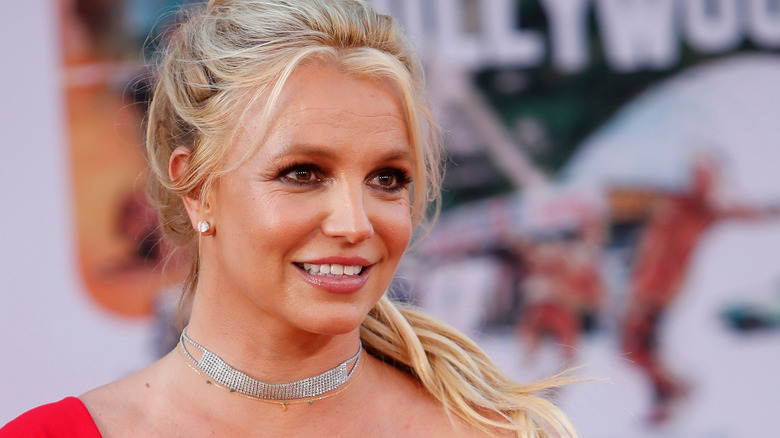 Kathy Hutchins/Shutterstock
Britney Spears' hit songs are coming to life on Broadway — the Marquis Theatre stage, to be exact. "Once Upon a One More Time" is a musical comedy where beloved fairytale princesses are drunk off women's empowerment. Cinderella, Rapunzel, Snow White, and other royalty are enlightened after reading "The Feminine Mystique" — critical literature to the second wave of feminism.
The Princess of Pop posted the musical's poster on Instagram with the caption, "Good luck to the hardworking cast and crew of "Once Upon a One More Time" on opening night tonight!!! I've seen the show and it is so funny, smart and brilliant!!!" Although Spears does not make a cameo appearance, she is a fan of the theatrical twist, and her music speaks for itself.
You can hear classic Spear tracks throughout the show like "Oops! ... I Did It Again," "Toxic," "Baby One More Time," and "Circus" — the song "Womanizer" appropriately marks the princesses' discovery that the prince was sneaking into another castle. While Spear's music was a big inspiration for the musical, so was her bubbly personality.
How Britney Spears inspired Once Upon a One More Time
The musical was written by Jon Hartmere and fitted for the stage by husband-and-wife team Keone and Mari Madrid, the directors and choreographers. Britney Spears and her storied career were a large part of their inspiration for creating a story with which the audience could connect. It wasn't just the production heads, but the whole crew who channeled the pop icon. As Keone told The Hollywood Reporter, "We're very grateful to this cast, this company that has just taken this project head on and said, we really want to not just be a part of this, that we want to embody everything that Britney has stood for."
Since Spears symbolizes femininity and strength for many, it makes her an ideal muse for this musical. It's even better that it is happening as the pop star is free from her conservatorship. Keone added, "We're so happy that we're able to get the confirmation that she was supporting the show post-conservatorship so that we can support her fully by creating this work wholeheartedly and stand for the things that she directly stood for."
You can bask in the two hours of fairytale princesses and the princess of pop while "Once Upon a One More Time" is on Broadway. Tickets cost around $60 to $215 plus applicable fees.