DAYS' Paul Telfer Teases A Brand-New Xander Cook Is On The Way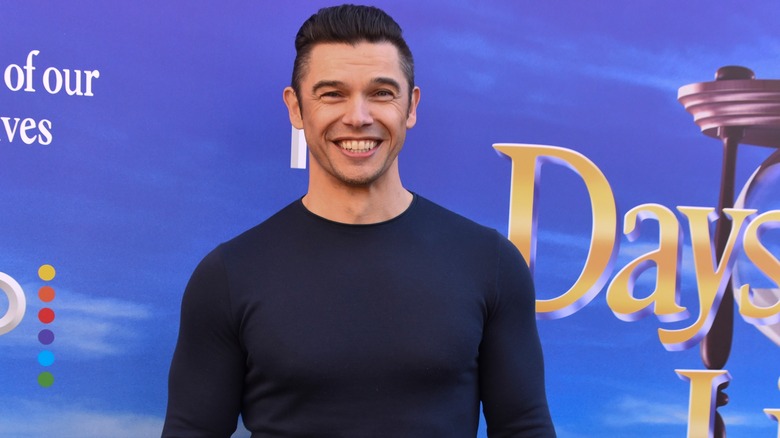 Michael Mattes/Shutterstock
While Xander Cook (Paul Telfer) is one of the baddest of bad boys in Salem, he's recently been turning his life around on "Days of Our Lives." Over the years he's taken part in many jaw-dropping crimes but truly tried to change his ways when he and Sarah Horton (Linsey Godfrey) became romantically entangled. In an effort to provide for Sarah, a destitute Xander reluctantly took on a job that involved kidnapping a few people and resulted in the death of Susan Banks (Stacy Haiduk). Although he wasn't directly responsible for her death, Sarah couldn't take that he would constantly revert to his criminal ways, and the two were back and forth about getting divorced. But when she realized she was pregnant, she waited for the divorce to be completed, and left town.
Since then, Xander and Chloe Lane (Nadia Bjorlin) moved in together for financial convenience and subsequently gave in to their mutual attraction. In a recent episode, Xander and Chloe snuggled together on a couch watching TV. His thoughts are of the last time he saw Sarah, and her thoughts are of her former love, Brady Black (Eric Martsolf) — implying that those relationships are moving into the past. For now, the two appear to be content in each other's arms as their new romance blossoms.
In March, Telfer speculated that Xander's next love interest would be Chloe. Now that it's come to pass, he recently opened up about how Xander has changed over time.
The women in Xander's life have helped him mature
Soap Opera Digest interviewed "Days of Our Lives" star Paul Telfer in the latest issue, discussing all aspects of his character Xander Cook's life on the show. When asked whether or not Xander has evolved over the years, Telfer's answer was, "A lot and also not very much. He's changed a lot, but at the same time he's still that same insecure, ostracized, can't get out of his own way, own worst enemy." Telfer explained that Xander's experiences have helped shape the character's growth and fuel his potential. "He still tends to revert back to these core qualities of insecurity and being a self-sabotager in a lot of ways," he said, adding that the consequences of how his past relationships have turned out helped Xander become more mature. 
Since "Days" records episodes months in advance of their airing, Telfer said, "By the time all the stuff that I've shot recently airs, I do feel that the audience will be ready to receive a more considerate and mature Xander." He explained that while Victor Kiriakis (John Aniston) was technically a role model for Xander, the women in his life have shaped his evolution more so, such as Maggie Horton (Suzanne Rogers), Sarah Horton (Linsey Godfrey), Gwen Rizczech (Emily O'Brien), and now Chloe Lane (Nadia Bjorlin). He cited Sarah as the love of Xander's life, remarking, "Who knows if those crazy kids will ever work it out?"