Britney Spears Waited Months To Pursue Her Husband Sam Asghari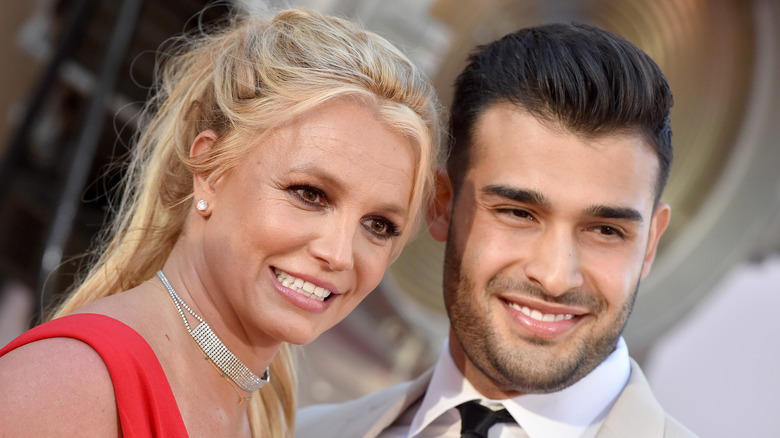 Axelle/bauer-griffin/Getty Images
Britney Spears began dating Sam Asghari after meeting on the set of the music video for her single "Slumber Party," in which Asghari starred. While the two had never met before Asghari landed the gig in October 2016, there was an obvious and immediate attraction between them. "I was excited that I [would] get to meet one of the biggest artists of all time. I had butterflies," Asghari told Men's Health in 2018. He said that Spears introduced herself during a break and he tried to make her laugh. "I said, 'I'm sorry. What's your name again?' I tried to be funny. I don't think anybody got it," he admitted. 
From Spears' perspective, she thought Asghari was really cool. "We started talking about sushi and the things we like. [I said,] 'We should go to sushi one day...yeah, yeah, yeah, let's just do this and let's do this,' and he goes, 'Okay, I'll give you my number after the [shoot].' So it wasn't even like a serious thing; it was just one of those things where we were having a conversation to get through the experience, you know?" she said during a radio interview with AMP 103.7, according to People magazine. And while it seemed as though sparks were flying, Spears and Asghari didn't actually start dating right away.
After they wrapped filming, Spears and Asghari went their separate ways. It wasn't until about five months later that Spears found Asghari's phone number in her bag and decided to call him.
Britney Spears was attracted to Sam Asghari's sense of humor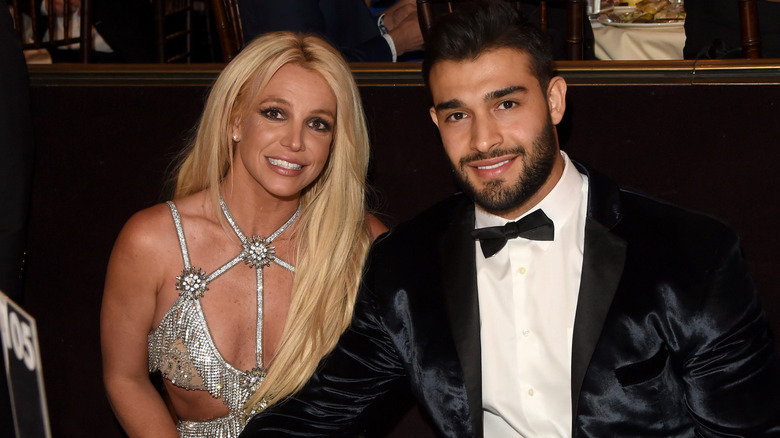 J. Merritt/Getty Images
Sam Asghari was more than just on-screen eye candy, which Britney Spears found out when she decided to call him. "I was like, 'He was really cute, this guy was really cute,' so I called him. He's just a really fun, funny person," she told AMP 103.7. It didn't take long for the pair to reconnect, and romance blossomed quickly. They began making appearances together, eventually confirming their romance by going Instagram official in January 2017, according to Us Weekly. Spears, who was still under conservatorship during the first few years of her relationship, brought Asghari as her date to several big events, including Clive Davis' annual pre-Grammy gala and the 2019 GLAAD Media Awards. Asghari was also a staple in the crowd during Spears' shows at Planet Hollywood in Las Vegas. 
Over the next few years, the couple enjoyed plenty of downtime, going for bike rides and hikes and traveling to various resorts, and sharing photos of their adventures on social media. Finally, in September 2021, Asghari proposed to Spears. "I can't f***ing believe it," she captioned an Instagram video in which she showed off her stunning diamond engagement ring.
Britney Spears & Sam Asghari got married in 2022
Britney Spears and Sam Asghari exchanged vows in a super-intimate wedding ceremony held at their home in California. "We really wanted to make this a small and beautiful moment with family and friends. We wanted warm and feminine colors including blush, white, cream, and gold, and a lot of various shades of pinks, blush, and reds," Spears told Vogue. There were only a few dozen people at the wedding, including Madonna, Paris Hilton, and Drew Barrymore, and none of Spears' family members attended.
These days, things appear to be going well for the couple, as evidenced by some photos that Spears shared of them on Instagram on June 22. Days earlier, a source told Us Weekly that the pop star is really "determined" to make things work with her third husband (she was briefly married to her childhood pal Jason Alexander in 2004 and then to Kevin Federline later that same year). "Britney and Sam have their ups and downs, but nobody can deny they love each other very much," a source shared. We hope that Spears has found her happily ever after.