Everything We Know About Britney Spears And Sam Asghari's Reported Wedding Plans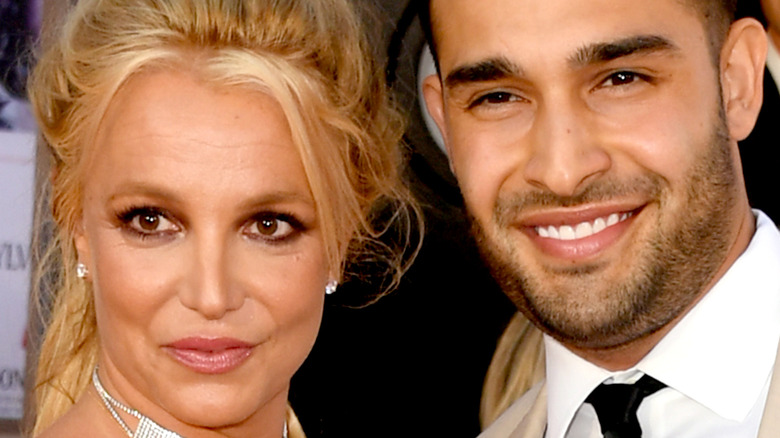 Kevin Winter/Getty Images
It has been almost two decades since Britney Spears walked down the aisle. The pop princess married Kevin Federline in 2004 of course, but we all know how that ended (via People). Of course, the singer also wed Jason Alexander that same year, but that too was a quicky relationship. Here's hoping the embattled star's marriage to Sam Asghari will last forever — and speaking of which, we hear Spears is set to say "I do" to her longtime love, whom she got engaged to in September of last year.
As TMZ reports, Thursday, June 9, 2022, Spears will become Mrs. Asghari when she marries the model in what's being described as an "intimate" wedding. The famously formerly-oppressed pop star is said to be getting hitched for a third time in front of no more than 100 close family members and friends.
Of course, the natural question would be who in Spears' family will be there? We know her relationship with her sister, Jamie Lynn, her mom, Lynn and her father, Jamie, is difficult at best following the conservatorship that saw every aspect of the singer's life being controlled (via Newsweek and Us Weekly).
But one member of Spears' family is reportedly on the wedding guest list.
Britney Spears' sons are rumored to also be skipping the ceremony
According to TMZ, Britney Spears' brother Bryan is going to see his little sister say "I do" to Sam Asghari on Thursday, June 9, 2022. But other details about the nuptials, including who else will attend, exactly where the ceremony is set to take place — although it's somewhere in Los Angeles underneath a tent — and who will give the star away in the absence of her dad, are not known at time of writing (via Page Six).
A quick peek at Spears' Instagram Story may offer more clues about the wedding, with the star showing off a manicure fitting of a bride, while she drinks Champagne in a Rolls Royce. Could she and her soon-to-be husband be headed to their wedding destination? We don't know for sure, but another tidbit that is being reported about the event is that the star's sons, Jayden and Preston, are not going to see their mom marry Asghari.
Kevin Federline's attorney told TMZ about the decision, "Although the boys will not be in attendance, Kevin and the boys are happy for Britney and wish her and Sam all the best going forward."