Hoda Kotb Almost Left The Today Show For A Much Different Career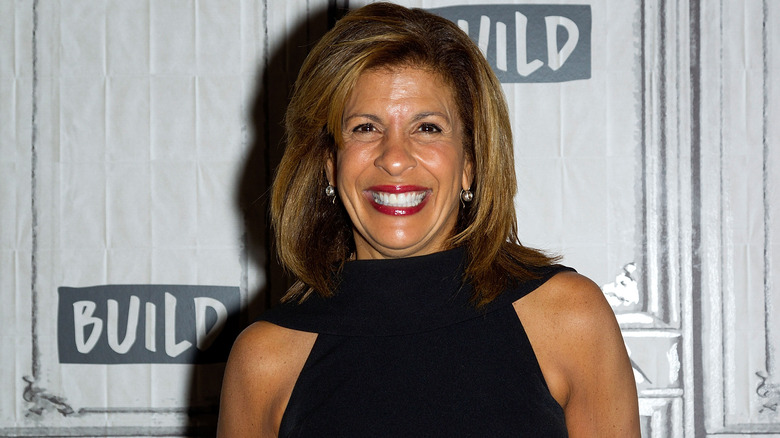 SD Mack/Shutterstock
Hoda Kotb studied broadcast journalism at Virginia Tech before heading out into the world to land her first job in the field she was passionate about. Her ideal gig was to work at a local television station, but she didn't have much luck. Many people told her she'd never make it in journalism, and she almost believed that would be the case. "I was in that car driving around for 10 days. I got rejected everywhere. Anywhere you can think of in the Southeast, I got rejected. Birmingham, Alabama, three times, Dothan, all the way down. All the way down to the bottom of the Panhandle. And finally, my mom needed the car and I had to go home," Kotb recalled of her early career days in an interview with Savannah Guthrie on SiriusXM. 
She did eventually land small on-air roles, though she was hardly fulfilling her dream. Throughout the '90s, Kotb bounced around at a few different stations before eventually landing a job at NBC as a correspondent for "Dateline" in 1998. The rest, as they say, is history — in April 2023, Kotb celebrated 25 years with the network. 
"When I first got hired, I felt unworthy of that job and I remembered them saying, 'Change your hair, change your clothes, change this, change that,'" she recalled. "Nothing was right about me. I felt like I was putting a circle in a square trying to fit," she recalled during an interview on "Today," a show that she has been a part of since 2007. Interestingly, however, Kotb had a backup plan that would have put her on a completely different career path if journalism didn't work out: She wanted to be a school teacher.
Hoda Kotb has always loved kids
On the June 8 episode of Bethenny Frankel's "Just B" podcast, Hoda Kotb admitted that she had often thought about becoming a teacher. "I always said I wanted to be a teacher, but I think I really wanted to be a teacher because I wanted kids," Kotb told Frankel. "I always said that when I'm done at NBC, I'm going to go be a teacher. And then one day I was like, I think being a teacher is amazing, but I think there was a need to do that because I couldn't get close enough," she explained. 
It seems once Kotb became a mother, her desire to become a teacher was fulfilled in a big way. In 2017, at the age of 52, Kotb adopted her daughter, Hayley Joy. "She is the love of my life," Kotb said on "Today," announcing the arrival of her baby girl. Two years later, Kotb welcomed another daughter into her life when she adopted Hope Catherine. "Family to me is everything — and having one of my own is something I never thought I'd have. I always imagined family as my mom, my dad, my brother, my sister. I envisioned it that way until I was 50. Imagine someone saying, 'Hey, guess what? You're actually going to have a whole other family.' It still surprises me! It delights me to know that I have Haley and Hope," she told People magazine in 2022.
Hoda Kotb co-parents her kids with her ex, Joel Schiffman
When Hoda Kotb adopted her girls, she was set to marry financier Joel Schiffman, but the two never made it down the aisle. They split in January 2022 after eight years together. "Joel and I have had a lot of prayerful and meaningful conversations over the holidays and we decided that we're better as friends and parents than we are as an engaged couple, so we decided we are going to start on our new path as loving parents to our adorable, delightful children, and as friends," Kotb shared on "Today."
In an interview with People magazine seven months after confirming the split, Kotb said that she and Schiffman were doing a great job co-parenting. "He'll have a Saturday, and I'll do the Sunday. We switch each week. He'll take the girls and do some fun things, and I'll take some quiet time. It's a healthy mix, and the kids love it. He's a great dad," she said. On Father's Day, Kotb shared a sweet snap of her ex with their two girls on Instagram. "Happy Father's Day to a great dad!!" she captioned the post.