Kris Jenner Found A Way To Cope With Being A Girl Mom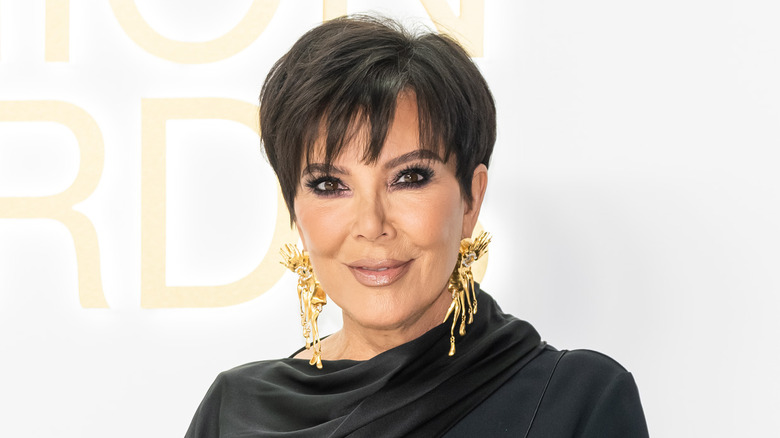 Gotham/Getty Images
The Kardashians are some of the most famous faces in the entertainment business. The reality TV family, led by Kris Jenner, are bonafide superstars with several successful businesses of their own. However, with fame comes a price, and there has been plenty of drama surrounding the family over the years. Momager Kris has had to navigate it all using the skills she's obtained by being a girl mom. 
Although she has one son, Rob Kardashian, her family is predominantly comprised of women thanks to her five daughters; Kourtney, Kim, and Khloé Kardashian, and Kendall and Kylie Jenner. With that many siblings in one family, there are bound to be disagreements from time to time, whether they're petty or serious. Even now that all of her kids are grown adults, the family drama continues regardless. 
Kris has had to navigate numerous public scandals including Kim's sex tape, Kylie's plastic surgery rumors, Kourtney's volatile relationship with Scott Disick, Khloé's divorce from Lamar Odom, Kendall's controversial Pepsi commercial, Khloe's tumultuous relationship with Tristan Thompson, and so much more. However, some of the biggest drama to impact the Kardashian-Jenner clan has come from within the family itself.
Kris Jenner tries to remain neutral with family drama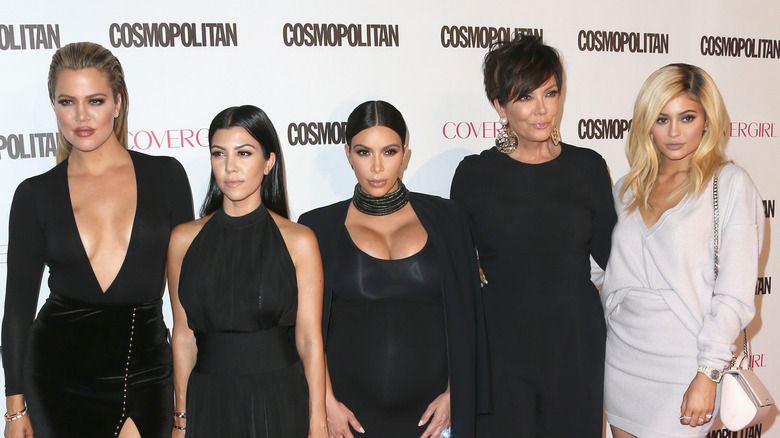 Frederick M. Brown/Getty Images
After decades of raising her five daughters, Kris Jenner considers herself the ultimate girl mom. As the years have gone by, the business mogul has figured out the key to coping with the drama that her daughters can cause within the confines of the family. During an episode of their reality TV series, "The Kardashians," some bad blood brewed between Kourtney Kardashian and her younger sister, Kim Kardashian, leaving Kris stuck in the middle yet again. 
Kourtney was livid after Kim co-designed her own collection with Dolce & Gabbana not long after Kourtney planned her wedding to Travis Barker with the designers, per Us Weekly. Khloe Kardashian talked to her mother about the situation, arguing that Kris needed to reach out to Kourtney and acknowledge her feelings. Later, Kris told cameras that she tries to stay out of the drama between them as much as possible.
"As a mom, when my girls see things differently, I try to stay really neutral," she explained (via People). "I think it's really my job to kind of see and hear both sides and help a conversation happen when things get out of hand." However, Kim didn't see things the same way, calling Kourtney the "diva of all divas" and listing all the ways she had tried to approach the business deal in a manner that was considerate of her sister's feelings.
Reality TV often escalates Kardashian family drama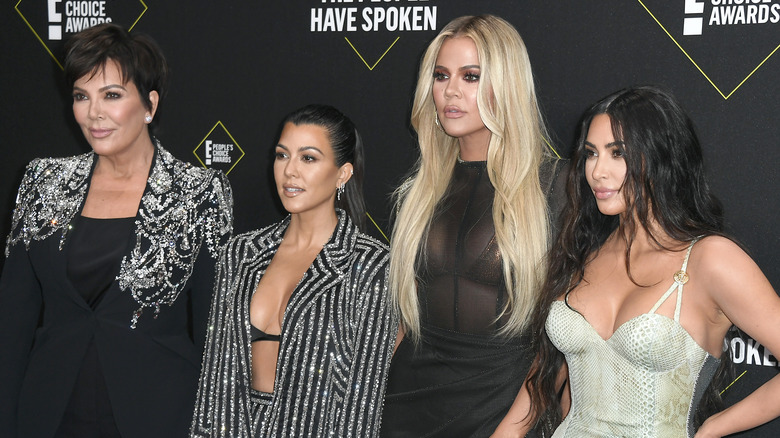 Frazer Harrison/Getty Images
Over the years, Kris Jenner has opened up about her family many times, confirming that being a mother has been a great source of pride. "I never thought I would be in this place where all your kids are taken care of and settled down and have a home, and that's such a joy for a mom," she told People. The following year, Kris gushed about her children on Instagram in a Mother's Day tribute, describing them as her "most precious gifts." 
Kris added that she's proud of all of them and encouraged other mothers to spend their day with those that they hold most dear. Although Kris is obviously thankful for her children, the drama never seems to end for their famous family. During a May 2023 interview on "Today," Kim Kardashian opened up about the ongoing issues between herself and Kourtney Kardashian, following her sister's wedding. 
Kim acknowledged that the fact that they show so much of their lives on TV has often led to bigger problems. "It gets really tricky, and it gets really emotional. We've been there before, and we'll always be okay. We're always family. That's how we were raised," she noted. Unfortunately, their bickering may create more work for matriarch Kris, who is often tasked with keeping her family's business and personal lives in order.