Of All Of Kendall Jenner's Blunders - This Stands Above The Rest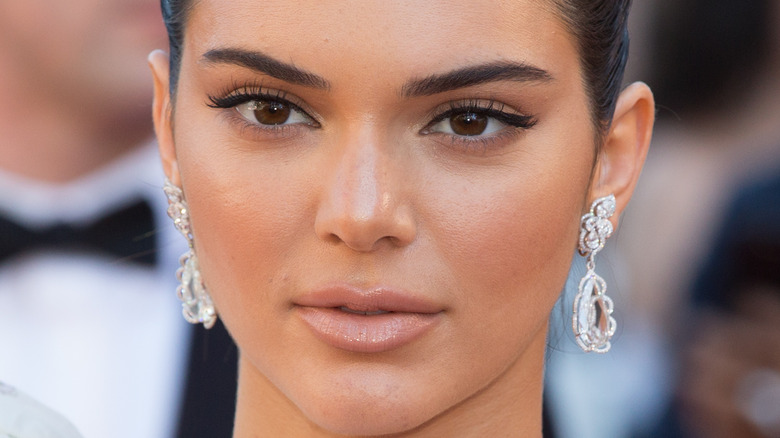 magicinfoto/Shutterstock
As one of the most famous families in the world, the Kar-Jenner gang is used to having their every move analyzed. Though they are widely beloved by hundreds of millions of fans, the group also faces an extreme amount of criticism. From accusations of cultural appropriation to criticism for setting unrealistic beauty standards by sharing photoshopped images to backlash for lying about plastic surgeries and face alterations, these ladies have heard it all. While each Kar-Jenner has her fair share of scandals, Kendall Jenner in particular has found herself in the midst of many unforgettable controversies. The supermodel has most recently come under fire for her foray into the liquor business.
Upon launching her tequila brand 818 this past spring, Jenner was accused of cultural appropriation (via Today). The model shared a campaign for the brand that featured images of the 25-year-old riding around Mexico in a straw hat and raising a toast to the farmers who help produce her Tequila. After viewing the campaign many critics took to Twitter to express their disdain for Jenner's images. One person explained that the model appears to be "using Mexican people as props" and "playing dress up as a less fortunate person." This campaign also stirred up memories of her infamous Pepsi commercial, which is undoubtedly the worst blunder of the influencer's entire career.
Kendall Jenner's Pepsi Ad was immediately pulled
After many years of booking campaigns with top fashion and beauty brands, Kendall Jenner landed a job working with one of the biggest companies in the world. Following in the footsteps of Cindy Crawford, Beyoncé, and Madonna, Jenner joined a long list of superstars to become the face of the famous beverage brand Pepsi (via Pop Crush). While these legends produced iconic campaigns, Jenner's Pepsi partnership resulted in a great deal of controversy (via Time). Jenner's ad featured the model joining a protest and calming tensions between the protestors and police by handing an officer a can of Pepsi.
The commercial exploits the Black Lives Matter movement in an attempt to increase sales for Pepsi. It also places an extremely privileged white woman as the solution to ending police brutality. This resulted in Pepsi taking down the ad less than a day after its debut. The company also issued an apology stating, "Pepsi was trying to project a global message of unity, peace and understanding. Clearly, we missed the mark and apologize." Not only was this major misstep was a big blow to the corporation, but it also landed the reality star in some hot water.
Kendall Jenner tearfully apologized on KUWTK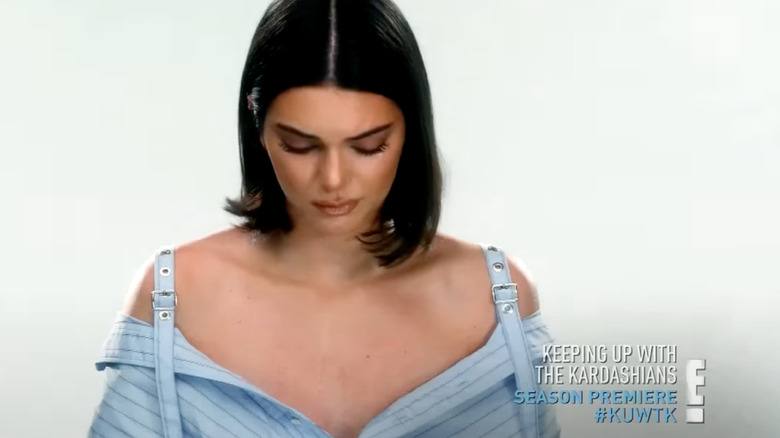 YouTube// Entertainment Tonight
Following the release of the Pepsi ad, Kendall Jenner couldn't separate herself from the scandal, as many Twitter users criticized her for the role she played in the campaign. Interestingly enough, she waited until six months after the scandal to finally address her critics (via Washington Post). During the "Keeping Up With the Kardashians" Season 14 premiere, the supermodel can be seen crying to her sisters and wishing that she never filmed the commercial at all. She said, "I really don't even know what to do at this point. It's really depressing, and it bothers me every single day." Jenner added that she would never intentionally hurt anyone and that she didn't realize the commercial would be offensive.
She explained, "I just felt so f****** stupid. The fact that I would offend other people or hurt other people was definitely not the intent. And that's what got me the most, is that I would have ever made anyone else upset." Though the Pepsi ad will remain a mark on her career, Jenner was eventually able to continue with her life as if nothing had ever happened. She continues to walk runways around the world, partner with elite fashion houses and makes millions selling her tequila (via Vogue).