Kate Middleton's Favorite Hobby Puts Her In Competition With Prince William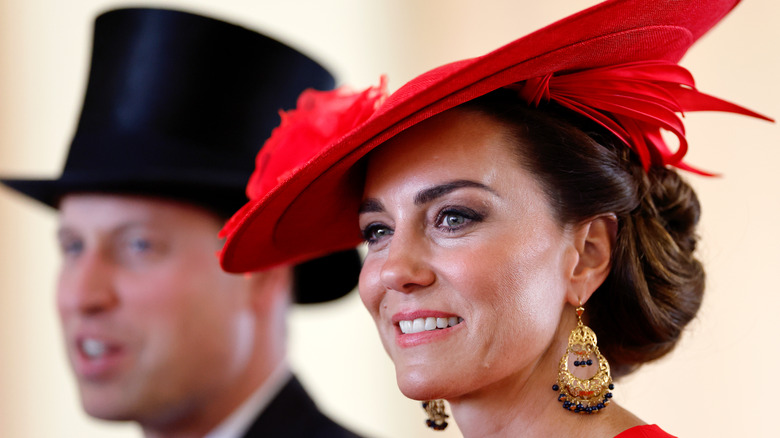 Max Mumby/indigo/Getty Images
Barring divorce or a tragic event, Catherine, Princess of Wales will someday be the wife of the king of England. She'll then be the queen consort, though, similarly to King Charles III's wife, she'll likely be referred to as queen. 
Kate reportedly already knows what her first move as queen will be, and it all connects to her current charity work with children. We've seen Kate visit and support a number of children's charities over the years, and she launched the Royal Foundation Centre for Early Childhood in 2021 to help promote education and action on early childhood education and development.
But while Kate is busy with charity work, royal engagements, and raising three kids, she does take some time for herself. One favorite hobby is padel, sometimes called padel tennis, a sport that's basically a combination of tennis and squash. Kate apparently loves the game, and she plays with her husband.
Kate Middleton plays padel to win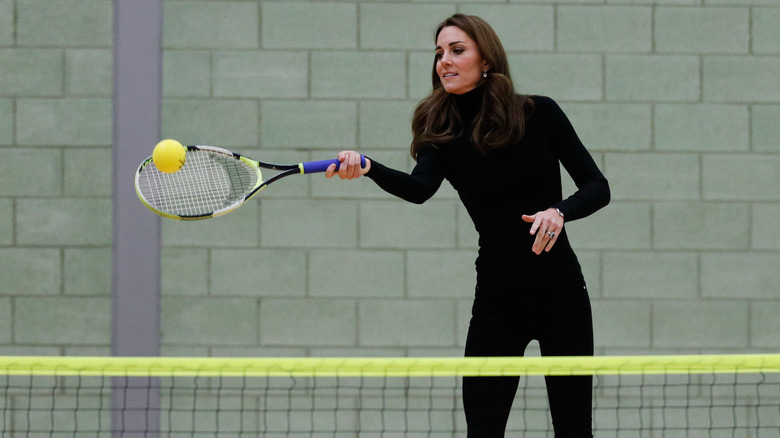 Wpa Pool/Getty Images
It might be more accurate to say that when Catherine, Princess of Wales plays padel, she may not always play with William, Prince of Wales so much as she plays against him. One royal fan spotted the couple playing padel, which is played in pairs, according to The Sun. William and Kate were on opposing teams, and they were clearly both determined to win. And it's something they seem to play a lot; the observer told The Sun, that the royal couple, "looked good at [playing padel] and did not come across as beginners."
It's hardly the first time that Kate and William have shown off both their sporty and competitive sides. The two competed on spin bikes on a visit to Wales where Kate came out as the winner — and she did it in heels! In the Bahamas, they competed in a sailing race; that time, William was the winner. But in comparison to those other activities, padel is more about strategy as compared to overall strength and speed. So when Kate and William play, it's as much a match of wits as much as anything else.
Kate Middleton has a number of different hobbies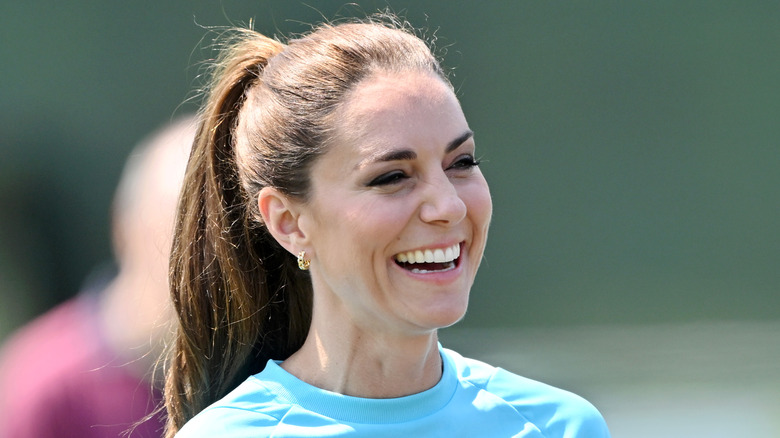 Samir Hussein/Getty Images
If you've been inspired by Catherine, Princess of Wales and her love of padel and you want to try it yourself, keep in mind that padel should not be confused with pickleball, another racket sport that has become particularly popular in the U.S. — pickleball is more like ping-pong and badminton while padel is more like tennis. If you do pick up a padel racket, you'll be in good company. Along with the Prince and Princess of Wales, celebs like David Beckham, Serena Williams, and Elle Macpherson are all padel fans.
Kate can still be an inspiration for those looking for a less athletic and competitive hobby than padel. Kate's an avid photographer and she's shared a number of beautiful portraits of her family over the years. She's also a talented pianist. She's played publicly a couple of times since becoming a part of the royal family, including a quick cameo during the finale of the 2023 Eurovision Song Contest and accompanying singer Tom Walker at a Christmas concert in 2021. And Kate's also a fan of getting her hands dirty in the kitchen — her cooking even got the stamp of approval from none other than Mary Berry from "The Great British Baking Show."