What We Know About Tori Spelling's Romantic Past With Her 90210 Co-Stars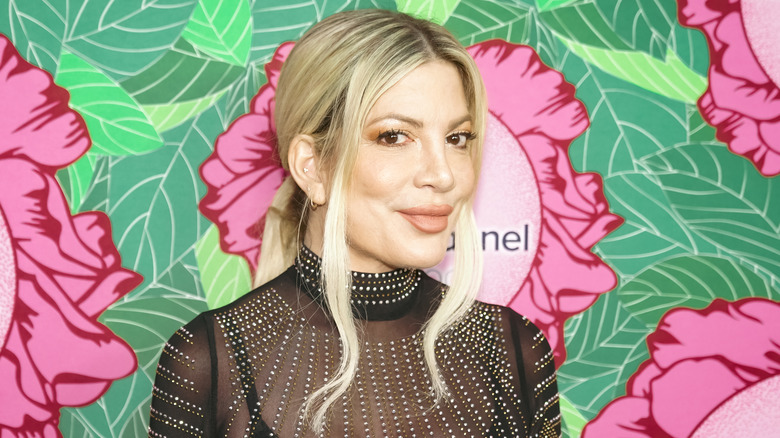 Andrew J Cunningham/Getty Images
Tori Spelling is known for being one of the most famous faces of the 1990s. The actor is the daughter of TV icon Aaron Spelling and had roles on huge hit shows such as "Saved By The Bell" and "Beverly Hills 90210" during her early days in Hollywood. Over the years, Spelling also made headlines for her love life, which has included several big names, including some of her "90210" co-stars.
Spelling has also been romantically linked to stars like Ryan Ozar, Julian Lennon, Vince Neil, Nick Savalas, and "Days of Our Lives" stars Patrick Muldoon and Greg Vaughan. In 2004 the "Mystery Girls" star married Charlie Shahnaian, who wrote and starred in "Maybe, Baby, It's You" alongside Spelling on stage. The two were married for two years before calling it quits in 2006. That same year, the actor tied the knot with her "Mind Over Murder" co-star Dean McDermott. The couple went on to have five children together: Liam, Stella, Hattie, Finn, and Beau. McDermott also has a son named Jack from a previous relationship.
The pair were married for 18 years before announcing their split in 2023. However, rumors of the couple's marriage being on the rocks have played out in the media for the past decade. Still, many fans have been most interested in Spelling's romances with her "90210" co-stars.
Tori Spelling had flings with Luke Perry and Jason Priestley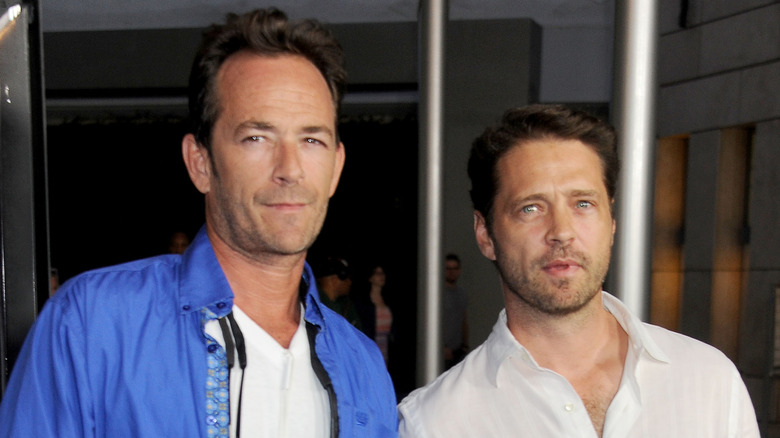 Gregg Deguire/Getty Images
Tori Spelling has grown up in the spotlight. After starring in some of the biggest teen TV shows of her time, the actor moved on to reality TV. In 2015, Spelling took a lie detector test on Lifetime's "Tori Spelling: Celebrity Lie Detector" where she was asked a series of personal questions, which led her to come clean about her past romances with her former "Beverly Hills 90210" co-stars. 
Spelling admitted that she had one romantic moment with Luke Perry, who played the fan-favorite character of Dylan McKay on the series. Spelling says that she and Perry shared one kiss on her 18th birthday, but nothing more. "It was like for a second, but it was like for a young girl that was everything, but no, we never had sex," she said (via People). However, that wasn't the case with some of her other co-stars.
Spelling went on to confess that she and Jason Priestley had a summer romance of their own that not many people knew about. "Half my friends don't even know this," Spelling stated before giving some details of her short-lived romance with the actor, who played Brandon Walsh on the show. "It was a summer fling, it was off set, It was our version of, like, a summer romance, the '90210' version and that was it. You know, we stayed great friends for the rest of the run, and beyond that, but yeah, we had that one summer fling."
Tori Spelling also dated 90210 co-stars Vincent Young and Brian Austin Green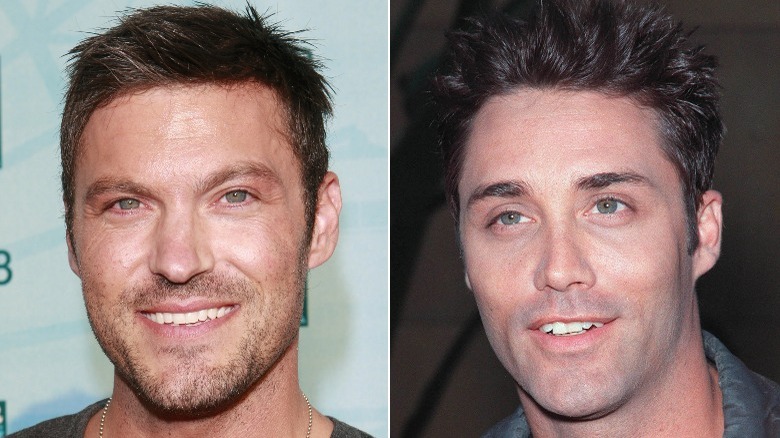 Featureflash Photo Agency & Joe Seer/Shutterstock
In addition to flings with her co-stars Luke Perry and Jason Priestley, Tori Spelling also had relationships with two more "Beverly Hills 90210" actors, including Vincent Young, who portrayed the character of Noah Hunter in later seasons of the series. The pair dated for two years before calling it quits in 2001. Spelling also confessed to sleeping with Brian Austin Green, who played her character Donna Martin's longtime love, David Silver, on the show. However, the actor says that she and Green have different recollections of their time together.
"[Brian] and I have different perspectives of what that was. There's the young girl version and the young boy version, so two different versions," she told the "Women on Top" podcast in 2020 (via Entertainment Tonight). "It's so funny, because to me, I was like, 'Remember that summer we were together? You said 'I love you' and I said 'I love you.' And he remembers none of that. He was like, 'No, we hooked up. We were friends.' And I was like, 'Cool, OK.' Even now I'm like, 'OK, cool.'"
Like many celebs, Spelling has a history of getting romantic with her co-stars, but something about the men she worked with on "90210" appears to be very special to her.