Did Jennifer Aniston Change Her Last Name To Brad Pitt's When They Wed?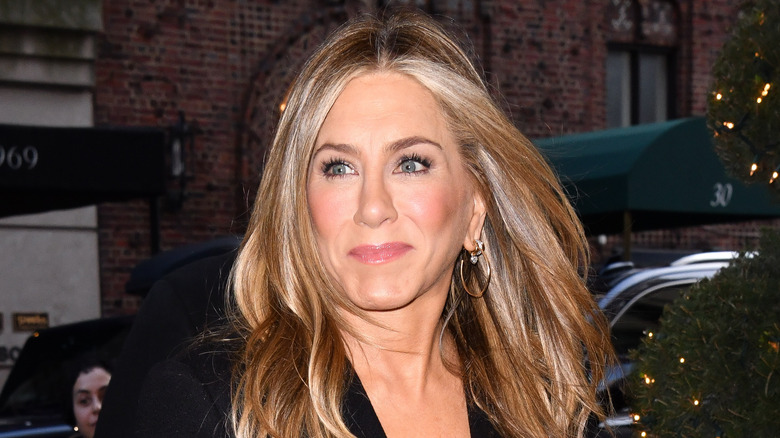 James Devaney/Getty Images
Jennifer Aniston and Brad Pitt are often remembered as one of Hollywood's most beloved couples. The duo had a wild relationship ride that played out in the media, with seemingly every detail of their lives from their courtship to Aniston's marital name change, and rumors about their divorce being reported on. Aniston first met Pitt in 1994 through their managers. However, nothing romantic began to spark between the pair until 1998 when they were set up by their agents. The couple dated for about a year before getting engaged and in 2000 they tied the knot in a Malibu ceremony.
Aniston and Pitt became a Hollywood golden couple, and fans couldn't get enough of their public appearances. The duo even appeared on "Friends" together when Pitt guest starred in his wife's iconic television series. Sadly, in early 2005, the pair announced their split, and fans were devastated to learn that the couple had gone their separate ways. "We happily remain committed and caring friends with great love and admiration for one another," the couple said in a joint statement at the time via Us Weekly.
Following the couple's divorce, Aniston may have learned some major life lessons, including one about taking her husband's last name.
Jennifer Aniston changed her last name after her first marriage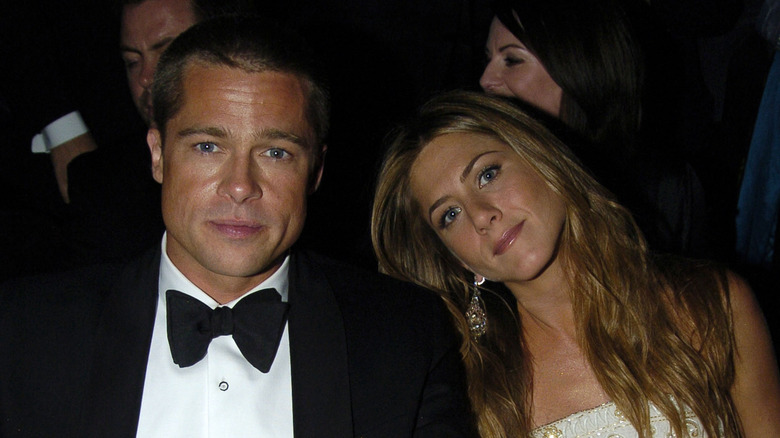 Jeff Kravitz/Getty Images
When Jennifer Aniston married Brad Pitt in 2000, she decided to take his last name. Although legally her name was Jennifer Pitt, the "Friends" star continued to use her maiden name professionally, which many famous women have done in the past. However, once Aniston and Pitt divorced in 2005, she filed papers to end the marriage, citing irreconcilable differences, and also requested that her last name be restored so that she could drop Pitt and return to Aniston in the eyes of the law, per People Magazine.
Years after splitting with Pitt, Aniston went on to find love again with actor Justin Theroux. The couple got married in 2015. However, it seems that Aniston decided against taking her husband's last name the second time around, perhaps remembering the hassle of changing her name the first time around with Pitt. When asked about whether or not his wife took his last name, Theroux joked that he made her change both of her names before revealing that he and Aniston never even discussed changing her last name. "I don't think it would be great if she did," he told Extra TV at the time. "I think 'Aniston' is going to stick with her if she likes it or not."
Aniston and Theroux were married for three years before calling it quits in 2018, leaving Aniston without the task of changing her name back yet again.
Jennifer Aniston is no stranger to name changes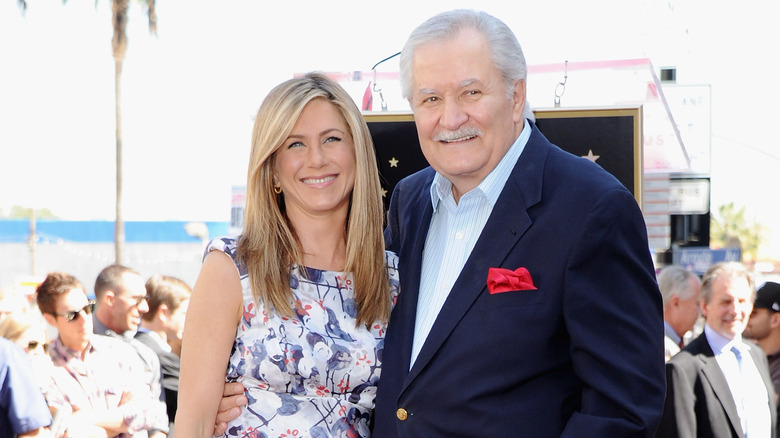 Jon Kopaloff/Getty Images
Although Jennifer Aniston changed her name following her marriage to Brad Pitt, her true name was already changed before she was even born. Aniston's father was "Days of Our Lives" legend John Aniston, who was born in Greece. However, when he was just 10 years old, his father moved their entire family to the United States and decided to give the family a more Americanized name by changing their surname from Anastassakis to Aniston. Of course, when he began to work in Hollywood he kept the changed name and went on to star in shows like "Search for Tomorrow," "Journeyman," and "The West Wing" before landing the iconic role of Victor Kiriakis on the long-running soap opera. After having children of his own, he eventually passed the altered moniker down to them.
While many Hollywood A-listers have changed their names over the years, Aniston's was already done for her many years before she was even born. As for her married names, it appears that the actor has decided that she's best sticking with Aniston, a name that she and her father have both added so much value to when it comes to the entertainment business.