Tom Hanks And Rita Wilson Love Being Grandparents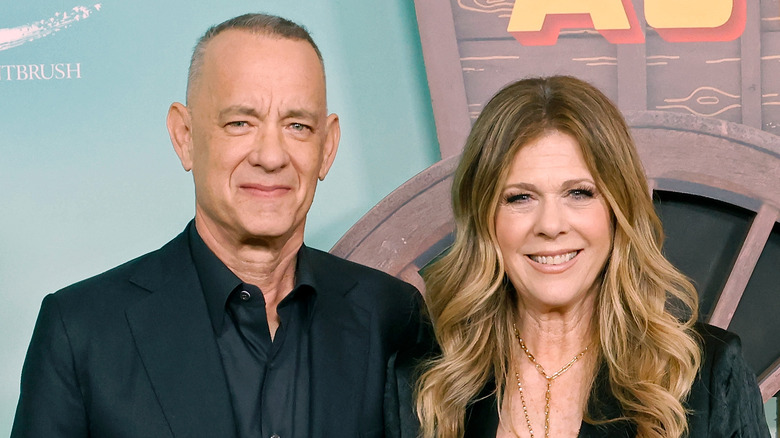 Taylor Hill/Getty Images
Tom Hanks and Rita Wilson are one of Hollywood's most beloved couples. The two have been side by side for decades, and even share a large, blended family. Tom shares his oldest two children Colin and Elizabeth Ann Hanks with his former wife Samantha Lewes. However, after the couple divorced in 1987, the "Sleepless in Seattle" star went on to marry Wilson, and the two welcomed two children of their own, sons Chet and Truman Hanks. However, now that all of their kids are grown, Tom and Rita get to enjoy being grandparents in every way possible.
Tom told The New York Times in 2019 that his oldest children remember when he was struggling to pay the bills and get established in his acting career. However, he claims his younger two children were born during a time when he had already hit it big, revealing that the two sets of kids grew up in very different ways. "They remember when their dad was just a guy trying to, you know, make the rent. My other kids, they were born after I had established a beachhead in every way. And so their lives were just different," Tom said.
Despite changing parental situations during his children's lives, Tom and his wife are now getting to reap all of the benefits of grandparenthood, although they have different ideas of what it takes to win over their grandkids.
Tom Hanks and Rita Wilson love to be active with their grandkids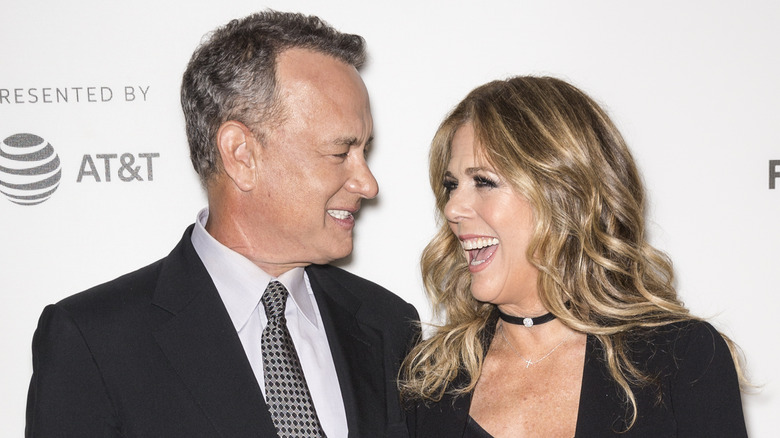 Ovidiu Hrubaru/Shutterstock
Tom Hanks has four children and he and his wife, Rita Wilson, get to dote on three grandchildren. Tom's son Colin Hanks has two daughters named Olivia and Charlotte, and he and Wilson's son Chet Hanks also has a little one named Michaiah. During an interview with Entertainment Tonight, Wilson revealed her approach to winning over her grandkids, which includes spending a lot of time with them and doing the activities that they enjoy. "You got to get on the trampoline with them, you got to get in the pool with them, you got to get on the tennis court, you got to do all the sports," she stated. "You just got to hang out." Meanwhile, Tom says the secret to being a good grandparent is in his culinary skills. "You have to make their macaroni and cheese just perfectly," the actor claims.
As for giving their grandkids sweets, Colin claims that his father and stepmother can sometimes go a bit overboard and tend to make up the rules as they go along whenever they're watching his children. "It would be great if they paid attention to the kids' bedtime," Colin joked during an appearance on "The Today Show," adding that his kids tend to "get a lot of sugar" while at their grandparents' house.
Tom Hanks' grandchildren don't care about their family's fame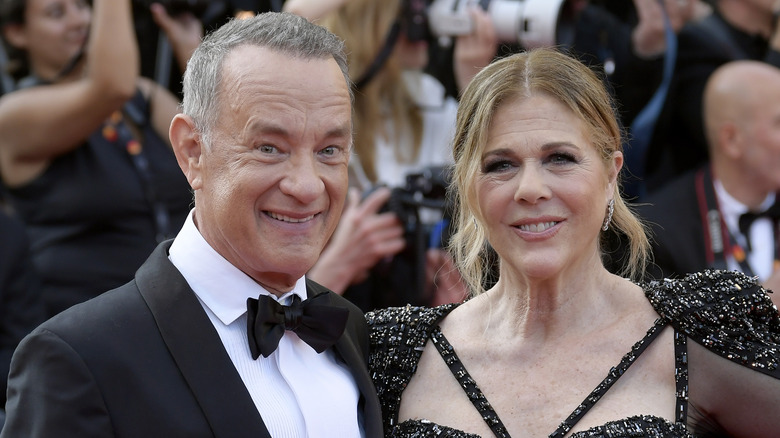 Kristy Sparow/Getty Images
In addition to hanging out with their grandkids by the pool and letting them eat junk food, Tom Hanks and Rita Wilson don't hesitate to share other parts of their lives with their grandchildren. Tom even joked that he once took his granddaughter to Disneyland while he was filming at the famed park and was excited to allow her to ride the Winnie the Pooh ride, believing that she was going to love it. However, the tables were turned when she got terrified of the ride and began to panic, joking that she'll be "haunted for the rest of her life" (via AmoMama).
Meanwhile, Colin Hanks, who is also an actor, says his daughters don't care about the famous aspect of their family or the fact that their grandfather is considered an A-list star. "They're aware of what he does for sure," Colin told Us Weekly in 2021. "It's just the same way they're aware of what their father does for a living, but they don't have really much interest in it. ... I mean, I wasn't on 'Hannah Montana,' so they don't really have any interest in what I do," he said.
It appears that Tom and his wife look to make as much time as they can for their family, especially their grandchildren, in between their busy schedules.