Tom Hanks Has 4 Kids. Here's What We Know About Them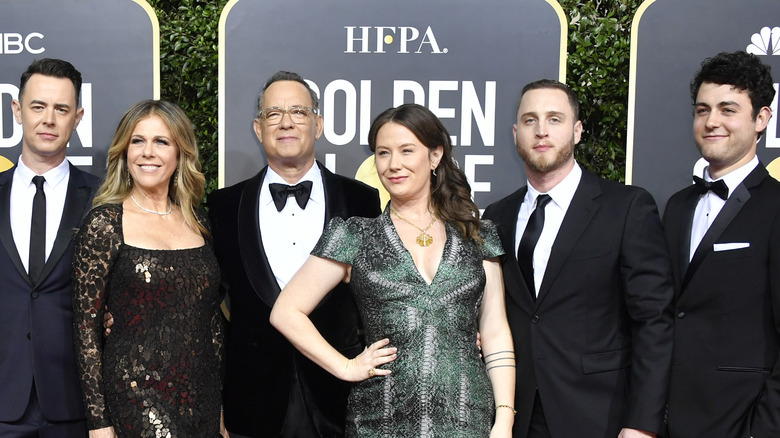 Frazer Harrison/Getty Images
Tom Hanks has been a beloved star for decades, having worked on over 80 movies, including hits like "Cast Away," "Saving Private Ryan," "Big," and of course, lending his voice to "Toy Story" as Woody. We've all seen him on the big screen, but his private life is less known. Hanks met his first wife, Samantha Lewes, while studying theater in college. They were married in 1979 and had two children, but divorced in 1987.
Hanks had better luck when he met his second wife, Rita Wilson, in 1981 on the set of "Bosom Buddies." Technically, Hanks was still married to Lewes at the time, but he was supposedly just friends with Wilson until his marriage ended. Hanks and Wilson came out as a couple in 1986, married a couple of years later, and had two children. More than thirty years of marriage later, and the couple are as happy as ever.
Now with 45 years of parenting under his belt, Hanks has had some time to reflect. In an interview with the New York Times, he said, "The only thing ... a parent can do is say I love you, there's nothing you can do wrong, you cannot hurt my feelings, I hope you will forgive me on occasion, and what do you need me to do? ... Offer that up and then just love them." So, who are Tom Hanks' four children, and what do we know about them?
Colin Hanks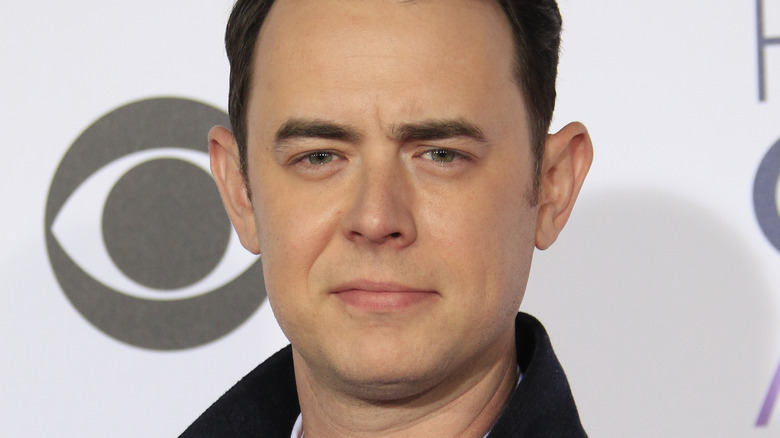 Kathy Hutchins/Shutterstock
Tom Hanks' and Samantha Lewes' eldest son, Colin Hanks, was born on November 24, 1977, when Tom Hanks was only 21. The first quality everybody immediately notices when they see Colin Hanks is how much he looks like his father, and secondly, how indistinguishable their voices are. Despite their similarities, Colin faced a lot of misconceptions around his childhood, growing up as Tom Hanks' son — and his life wasn't as easy as some people would assume.
After his parents split, he spent every other weekend and summers in Los Angeles with his dad. He spoke about his childhood on the Armchair Expert podcast in 2018, where he said, "We definitely grew up with money, for sure, but it's nowhere near the amount of money that people would assume." Colin said he remembered being told by his mom that she didn't have money for a lot of things, but that his dad did. Colin remarked, "It was never like money is no object. It was, money is the biggest object." He also said that his dad's monumental success came after he'd already moved out, saying, "What my experience was like growing up, that ceased to exist for my siblings because it became a different kind of existence for them."
Colin met his wife, Samantha Bryant, a publicist, through mutual friends. The couple married in 2010 and had two daughters together, Olivia and Charlotte. The family now lives in a beautiful home in Studio City, California.
Colin Hanks followed in his father's footsteps
Colin Hanks was the first of the Hanks children to follow his father into Hollywood, with a filmography that spans more than 25 years. His first big breakout role was in "Roswell," and he's since had recurring roles on other television series like "Dexter," "Mad Men," and "Fargo." He was also in several "NCIS" episodes. While he's primarily focused on television, Colin has stepped into the film industry with roles in "Orange County" and "The House Bunny."
Given his reputation and family name, you'd think Colin would be the most confident guy on set. However, during his appearance on Off Camera with Sam Jones, he spoke about how he struggled with imposter syndrome for some time. "I've been in a lot of rooms where it's very clear I'm not supposed to be there," he said. There were points where Colin had to tell himself, "Alright, let's not do the full geek out. Act like you've been here before."
And after all of this time and more than 60 acting credits to his name, he said, "I'm just now getting to a point where I've found a way to be able to be comfortable with myself ... and be comfortable with myself and my work." It's clear that while being Tom Hanks' son might have helped Colin a little bit in getting his name out there, he's had to do all of the hard work himself.
Elizabeth Ann Hanks
The second child of Tom Hanks and Samantha Lewes (and Tom's only daughter), Elizabeth Ann Hanks was born on May 17, 1982. If she doesn't sound familiar, that's probably because she's fiercely private and didn't follow the same path as her father and older brother into Hollywood. In fact, Elizabeth Ann became a writer and editor, going by E.A. Hanks in her bylines. Throughout her career, she has worked for such highly regarded publications as the Huffington Post, TIME, The Guardian, the New York Times, and Los Angeles Review of Books.
Elizabeth Ann went to school at Vassar College after a year abroad at the University of St. Andrews in Scotland, and graduated with a bachelor's degree in English and literature in 2005. Her dad, who was well recognized at the time, even gave the commencement address at her graduation, telling the graduating class, "Life outside of college is just like life in it: one nutty thing after another, some of them horrible, but all interspersed with enough beauty and goodness to keep you going. That's your job – to keep going ... You must always be able to help. So do it. Make peace where it is precious. Help plant trees. Help embrace diversity and celebrate differences. Help stop gridlock."
Although she's kept a relatively low profile, Elizabeth Ann has often been seen with her father, along with the rest of the Hanks clan, on the red carpet in support of him.
Elizabeth Ann Hanks appeared in some of her dad's movies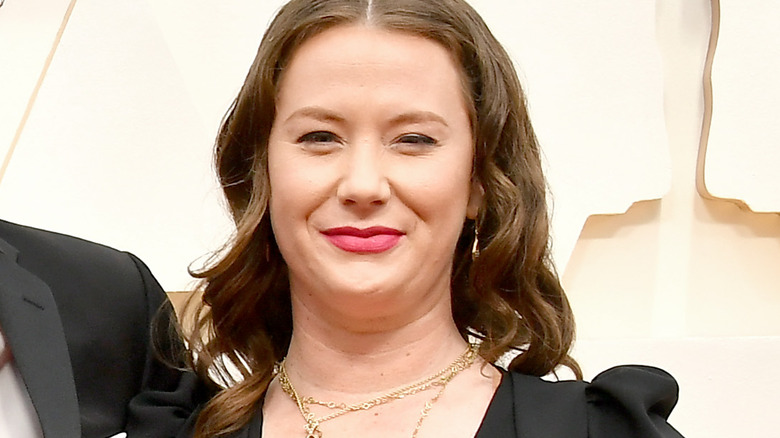 Amy Sussman/Getty Images
When you think of the "Forrest Gump" cast, Tom Hanks and Robin Wright understandably come to mind. Who you probably wouldn't think of off the top of your head, though, is the girl who wouldn't let Forrest Gump sit next to her. The actress who was credited as "school bus girl" was played by none other than Elizabeth Ann Hanks. As a child, she also appeared in another of Tom Hanks' films, "That Thing You Do!" in which she was credited as "bored girl in dress shop." It would seem that Elizabeth Ann wasn't bitten by the acting bug as strongly as the rest of her family, though. She has only had a couple more stints in Hollywood in the last few years, some of which included voice acting, producing, and acting roles.
While it seems she's content with her successful writing and editing career, she has never shied away from showing her father support in his endeavors, along with the rest of the family. After supporting her dad at the Golden Globes, Elizabeth Ann wrote a caption about her father in a since-deleted Instagram post. She said, "Team Hanks is proud. I am proud and more than that, lucky to have a father who has taught me to tell the truth. To move forward. That the hang is the best part of circus life, and that to make art is a gift from the Gods."
Chester 'Chet' Hanks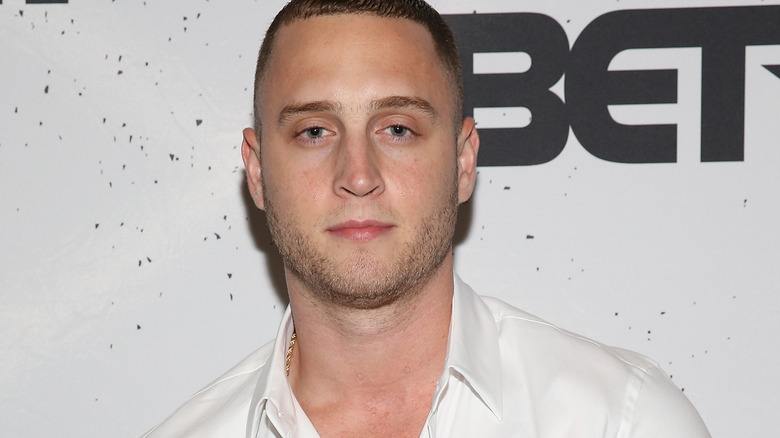 Bennett Raglin/Getty Images
Rita Wilson's first child and Tom Hanks' third, Chester "Chet" Hanks, was born on August 4, 1990. Chet made a name for himself in television and with his music career, going by the stage name Chet Haze. He's now living in Santa Monica and shares a daughter, Michaiah, with Tiffany Miles.
He had a difficult time growing up in the spotlight, having been born in the midst of Tom Hanks' skyrocket to fame and success. Chet spoke candidly in a YouTube video he uploaded to his channel about growing up with a famous father. He said, "Everyone knows the advantages, they're self-explanatory. I'm very blessed, I got to do a lot of cool s*** that a lot of people don't get the opportunity to do." He described a childhood of traveling the world, staying in nice hotels, and flying private planes, and acknowledged how lucky this made him.
In the same video, Chet recounted the downside of the fame surrounding his family. He said, "On top of fame being toxic, I wasn't even famous. I was just the son of someone famous, so I hadn't even done anything to deserve any sort of recognition." He said people would just assume that he would be an "arrogant, entitled, spoiled brat," but that in reality, he "had to work for everything." Chet said the assumptions people made about him resulted in a chip on his shoulder, and that he "walked around with a lot of anger."
Chet Hanks has been the center of controversy
There have been a few controversial moments for him, but Chet Hanks' parents have remained supportive throughout his struggles. Following a public meltdown in which Chet trashed a hotel room in England and used racial slurs on social media, he checked himself into rehab in 2014 for cocaine addiction. In a since-deleted Instagram video, Chet said, "I've been struggling with substance abuse since I was 16 years old ... I've been blessed with the programs of AA and NA which allow me to rise above this disease. I'm learning to accept my faults and be ok."
Chet has since cited his daughter as his inspiration for staying sober. In an interview with People, he said, "Fatherhood forces you to grow up really quickly," he says. "It's a beautiful process, and it's a blessing to be able to grow yourself as you watch your kids grow."
Following his struggles with addiction, Chet has landed several recurring roles on television shows like "Shameless" and "Empire," and released a hoard of new music. Unfortunately, this success may not have been enough to set him on the straight and narrow. He soon faced even more controversy, from condoning his use of racial slurs to an anti-vax rant on social media, and in 2021, his ex-girlfriend sued him for $1 million over his alleged abuse. Here's hoping he'll be able to turn things around again with the help of his famous parents.
Truman Hanks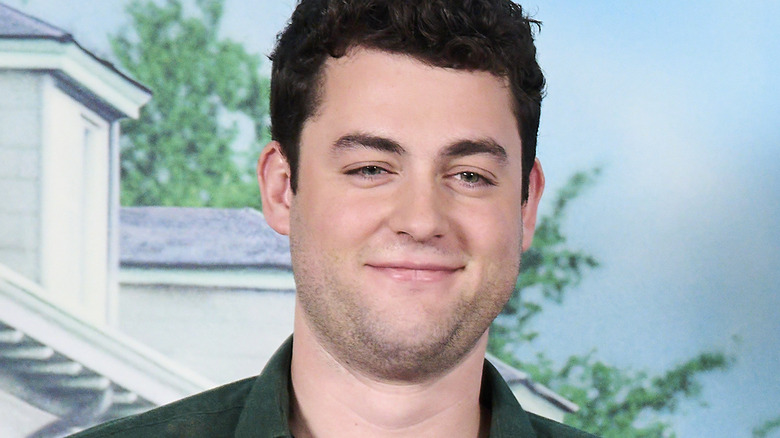 Carlos Alvarez/Getty Images
The youngest of Tom Hanks' and Rita Wilsons' children is Truman Hanks, born on December 26, 1995. Truman has taken after his older half-sister in terms of living more privately than the rest of his family, but that doesn't mean he isn't involved in the movie industry.
Truman had a top-tier education, spending his high school years at a private boarding school in Ojai, California called The Thatcher School. He graduated from Stanford University in 2018, where he then set off with his sights on Hollywood. One of the reasons Truman may be less recognized than the rest of the Hanks clan is that he's hardly ever on camera; rather, he's typically behind the scenes. His first credited work was as a production assistant for "The Cloverfield Paradox" in 2018. From there, Truman has expanded his roles, working his way up from camera trainee on "Babylon Berlin" to loader on "Atypical." Most recently, he worked as the director of photography assistant on Steven Spielberg's 2021 hit, "West Side Story."
Because Truman is so notoriously private, it's unclear as to the direction he's heading in, as he recently had a prominent role on film in 2023. We're all excited to see whether he'll follow in his father's footsteps and become a beloved actor, or if he'll find his harmony behind the camera, perhaps one day directing his own movies. Only time will tell.
Truman Hanks plays the younger version of his dad in a movie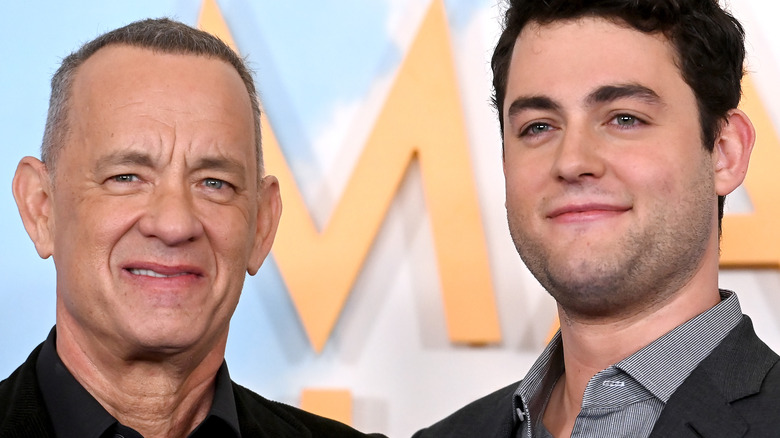 Dave J Hogan/Getty Images
"A Man Called Otto" was released in January 2023, adapted from the novel "A Man Called Ove." As it turns out, it was a family project, as Rita Wilson worked as a producer on "A Man Called Otto," the movie starred Tom Hanks, and Truman Hanks made his acting debut, playing a younger version of his dad's character.
Tom Hanks spoke with People about working with his son, saying, "Without a doubt, it's special because, you know, I changed his diapers. But you get past that right away because you gotta show up, and you gotta hit the marks, and you gotta do it on time, and you gotta be right there." He added, speaking of Truman, "He was cast for a very specific reason. We resemble each other, he's not a stranger, and he knows what the pressure is."
Many viewers were thrilled with this casting choice, getting to see the father and son duo work together. Others, however, threw accusations of nepotism. Tom Hanks defended his son in an interview with The Sun. "This is a family business ... if we were a plumbing supply business or if we ran the florist shop down the street, the whole family would be putting in time at some point." He continued, "It doesn't matter what our last names are, we have to do the work in order to make that a true and authentic experience for the audience."