HGTV's Jasmine Roth Celebrates A Small Recovery Win After Grueling Back Treatments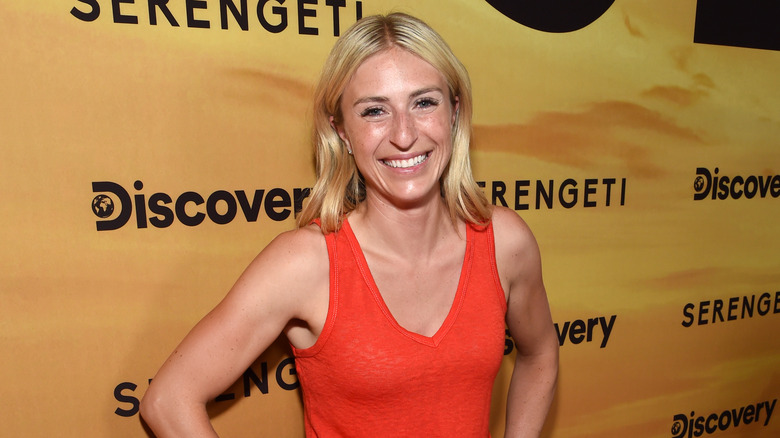 Michael Kovac/Getty Images
Not long after HGTV's Jasmine Roth called for compassion after a painful hospital visit involving a herniated disk in her neck, the "Hidden Potential" star has taken to Instagram to celebrate a small health victory.
The 38-year-old TV personality shared via an Instagram video post two days ago, "I'm so happy to report that today is the first day in eight months that I've been able to wake up, work, laugh, and just 'live' without any pain." Referring to the chronic pain she's been in since Thanksgiving of last year, Roth continued in her post, "I know there are so many people who have suffered pain so much longer than me and it makes it feel silly to make such a big deal about my situation, but having a herniated disk has honestly rocked my world."
The host of "Help! I Wrecked My House" has been candid about her health struggles since chronic pain became a part of her life. She has previously talked of how grueling the entire experience has been on her while calling on people to be kind on social media because you never know what someone is going through behind all of those filters. "We're all just trying to figure things out, do our best, and build our happy and some days are easier than others," shared Roth earlier this month via Instagram. 
All pain is valid, shared Jasmine Roth
Jasmine Roth, who's tried to use her health struggles to share positive messages about gratefulness to health professionals and being supportive of one another had similar sentiments to share in her most recent post. The designer and builder who first launched into home construction with her husband Brett Roth when they tackled their own property in Huntington Beach, California, shared, "I know there are other people out there who are going through the same thing and it's important to know you're not alone. So if your pain is a lot or a little, it's valid, it's life altering, and it sucks. Let's rally around each other and celebrate our wins." 
She concluded that Saturday, June 24 was a win for her because it was a day free of pain. She added, "(And I didn't clarify in my last post but I have been in intense PT since January, had a steroid epidural in February, and 2 weeks ago I had stem cells injected. Still being super careful, lots of ice and heat, PT exercises, and rest ... hoping to dodge surgery)."
Herniated disks in the neck, also known as cervical disk herniation, cause discomfort in the form of pain, numbness, and tingling in the shoulders, neck, arms, and hands. While non-surgical treatment that involves medication and exercises is the first form of treatment, a common surgery called anterior cervical discectomy and fusion (ACDF) is also performed if things don't improve.