Everything You Need To Know About Hallmark's 2023 Christmas In July Event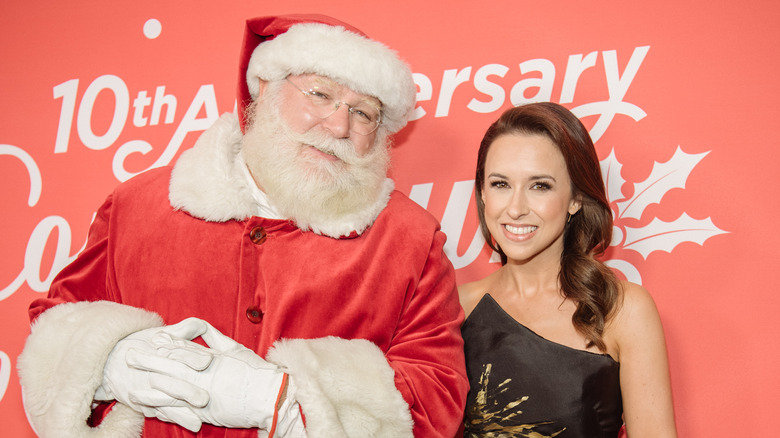 Morgan Lieberman/Getty Images
For so many of us, the Hallmark Channel is a holiday staple. Some of the best movies to watch every Christmas are Hallmark Channel originals, and consequently, the network has solidified itself as a place where so many people head for holiday vibes when the season begins. If you're a regular Yuletide fanatic, you may be pleased to find out that you don't have to wait for December for the festivities to commence. In fact, they're actually right around the corner.
Hallmark's Christmas in July lineup actually gets its start in June, so not only do we get a taste of the holiday season months ahead of time, but this Christmas-centric channel is sure to start the celebration as early as possible. If, like us, you "need a little Christmas, right this very minute" despite the fact that we're approaching the dog days of summer, then you'll be happy to know that this year's Christmas in July lineup will give viewers holiday movies every day, and even some brand new premieres.
Two new movie premieres will give us a taste of what's to come this holiday season
The kickstart to the Christmas in July festivities has already begun over on Hallmark Movies & Mysteries with Merry Movie Week, which is running from June 23 to 30. Each night at 7 p.m., EST, you can enjoy a marathon on the channel. The season's first premiere will hit screens on July 8 at 8 p.m. EST with "A Royal Christmas Crush." The movie stars Katie Cassidy and Stephen Huszar and is set at the ice hotel, Hotel de Glace, which has been featured in Hallmark films in the past.
July 15 will bring us another new movie, "Take Me Back for Christmas," which stars Vanessa Lengies and Corey Sevier. The movie follows Renee, whose Christmas wish for a perfect life comes true, but she's forced to sacrifice her marriage. Renee sets out to get her love back before Christmas Eve. An instant Christmas classic in the making? We've got a good feeling about it.
Vote to add your favorite holiday movie to this year's lineup
In the past, Hallmark's Christmas in July programming has been an all day, every day event. This year, though, the celebration won't be a 24/7 affair. That way, folks who prefer to enjoy their Christmas movies during the actual holiday season don't have to steer clear of Hallmark all summer long. Still, for holiday film fanatics, there will be a bit of Christmas content at some point every day for the month of July. 
From July 1 to 4 from 10 a.m. to 10 p.m., we'll get to enjoy a marathon of fan-favorite Christmas movies. Every Monday, you'll be able to vote for your favorite on the Hallmark Movie Checklist app, so you can make sure that your most loved Christmas movie gets a time slot. But if yours doesn't get chosen, no worries, as we know that fans will be able to watch all of their favorites once November rolls around. And, while it's pretty hard to believe, holiday fans will rejoice at the reminder that we're only four months away from the most wonderful time of the year.