3 Things To Know About Azelaic Acid When Deciding Which Formula Is For You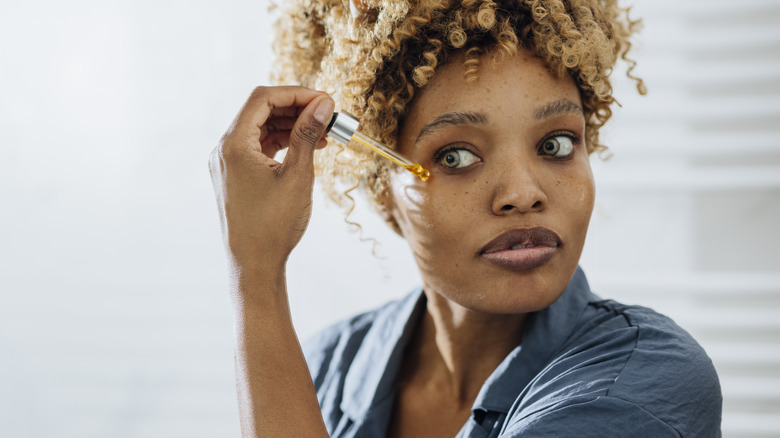 Miniseries/Getty Images
We may receive a commission on purchases made from links.
While it's possible for the occasional flare-up to occur here and there, many skin issues such as hyperpigmentation and uneven texture can be deep-rooted, taking ages to fix. Waiting for months, or even years, for discoloration to fade isn't something that anyone wants to do. Many people may turn to super-strength treatments like chemical exfoliants and retinoids to fix it fast — however, many of them aren't suitable for sensitive skin.
There's a common belief that in order to see radical differences in the skin, one must use some harsh or prescription-strength treatment. Yet azelaic acid proves otherwise. Found in wheat, barley, and some fungi produced by the skin, azelaic acid is an anti-inflammatory ingredient that clears out the pores and evens out the epidermis.
Although the azelaic acid found in skin care products is synthetic, it still works to heal rosacea, fade pigmentation, and promote skin cell turnover. Best of all, it's gentle, can be used on sensitive skin, and can be applied during the day and night. Similar to other chemical exfoliants, azelaic acid comes in different strengths. If you're thinking about using azelaic acid to refresh your face, here's how to handle the gentle exfoliant.
Here's what you need to know about azelaic acid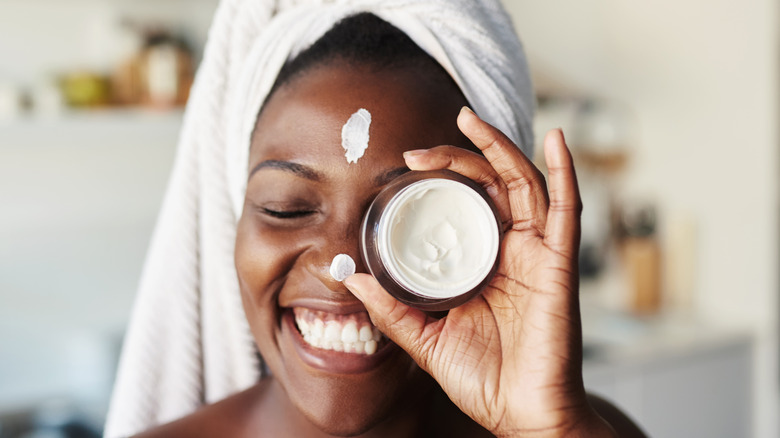 Laylabird/Getty Images
The potency of azelaic acid is dependent on whether you get it over the counter or access it via a dermatologist's prescription. For OTC azelaic acid, the strength will land somewhere between 10% to 12%. If you've received a prescription, it will be 15% or 20%. For stubborn mild to moderate acne or rosacea, prescription-strength azelaic acid is your best bet. It's not as harsh as retinoids or salicylic acid, but it is still effective against inflammation.
You can also seek a prescription if you're trying to treat post-inflammatory hyperpigmentation but don't want to use a retinoid or get a chemical peel. Although the azelaic acid you get from a doctor will always be more potent, the OTC options are still effective for uneven texture, mild inflammation, mild acne, and exfoliation. Depending on your specific skin concern and the strength of your azelaic acid, it can take anywhere from one to three months to notice a difference.
Because it's a gentle ingredient, you can pair OTC azelaic acid with most products for better results. When it comes to evening out your texture, combine azelaic acid with niacinamide or retinol for smoother skin. It can also be used in conjunction with benzoyl peroxide or salicylic acid to better treat acne. Pair it with vitamin C in the mornings to brighten up your skin.
Shop the best azelaic acid products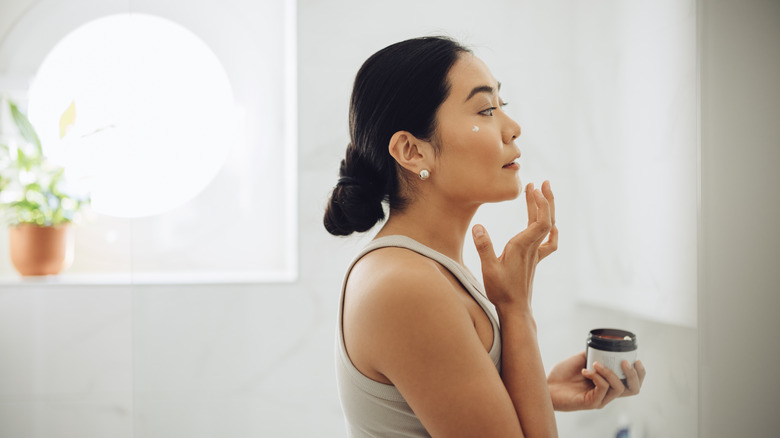 Miniseries/Getty Images
The Ordinary Azelaic Acid Suspension is the ideal, all-around azelaic acid product. It targets breakouts, redness, discoloration, and dullness to promote smoother, brighter skin. Formulated without alcohol, fragrance, parabens, and phthalates, this affordable, no-frills azelaic acid serum is the perfect addition to your daily skincare routine.
If you prefer your azelaic acid in cleanser form, try the Urban Skin Rx Even Tone Cleansing Bar. This bar also acts as an exfoliator and face mask, and it contains niacinamide and kojic acid to promote clearer, more even skin. Suitable for everyday use, the cruelty-free cleansing bar fades dark marks, evens out texture, and gives you a healthy glow.
To ward off acne and clear up existing blemishes, get the Tula Clear it Up Gel. This fast-acting gel uses azelaic acid alongside salicylic acid and niacinamide to remove acne-causing sebum, brighten dark marks, and refine skin texture. It also contains prebiotic and probiotic extracts to balance and smooth the skin.