Everything Kourtney Kardashian And Travis Barker Have Said About Having Kids Together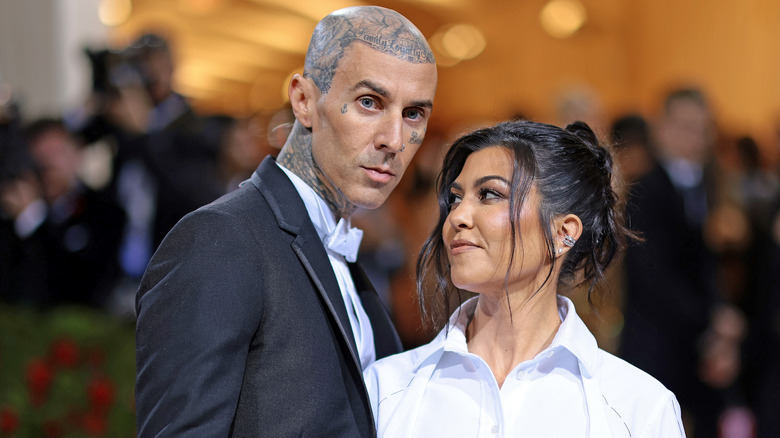 Dimitrios Kambouris/Getty Images
Kourtney Kardashian and Travis Barker took many by surprise when they went public with their romance in early 2021. The pair immediately became one of the most talked about celebrity couples, striking interest from their collective fans. It was clear that the duo was moving quickly and had fallen head over heels for one another when they began sharing PDA-filled moments in public and on social media. They also started to talk about starting a family together, revealing that they wanted to add another child to their blended family.
Kardashian and Barker didn't take much time to decide they wanted to spend the rest of their lives together, and in October 2021, the Blink-182 drummer popped the question to the reality star in Santa Barbara, California. Of course, she said yes, and members of the Barker and Kardashian families were in attendance to celebrate with them following their big moment.
In May 2022, the happy couple officially tied the knot in a lavish bash held in Italy. Their wedding plans and ceremony were documented for Kardashian's reality series, as was the couple's struggle to conceive a child together. However, in June 2023, Kardashian confirmed that she was pregnant with Barker's child during a Blink-182 concert in Los Angeles.
Kourtney Kardashian and Travis Barker tried IVF to conceive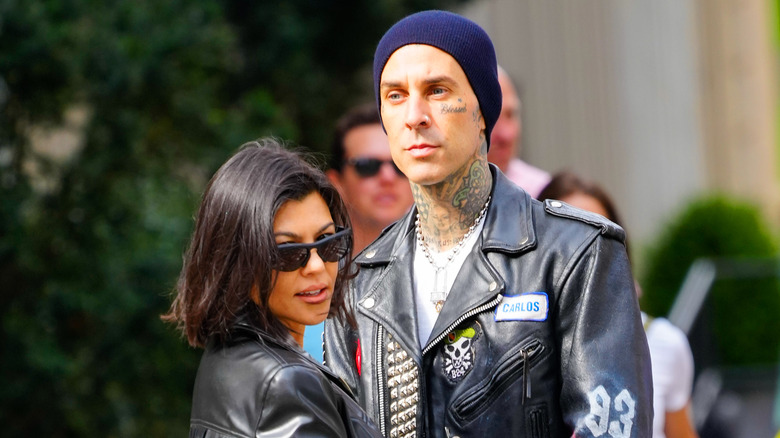 Gotham/Getty Images
In a March 2022 episode of "The Kardashians," Kourtney Kardashian opened up about wanting to have a child with Travis Barker. Kardashian later explained that she and Barker were undergoing an IVF journey in hopes of getting pregnant. However, when things didn't work out the way they had hoped, they began a strict detox that banned caffeine, alcohol, sex, exercise, and sugar.
"Our last egg retrieval was not successful, so our new thing that we're going to be trying is a Panchakarma cleanse, which is Ayurvedic. It's like 3,000 years old, which will get all of the toxins that are like deep within our tissue out of our bodies," the oldest Kardashian sister said on the show.
According to Page Six, after going through IVF in hopes of expanding their family, Kardashian and Barker decided to stop their IVF journey and let nature take its course. "We would love a baby more than anything, but I just really believe in what God has in store for us," the Poosh founder stated. "If that's a baby, then I believe that it will happen," she added.
Kourtney Kardashian and Travis Barker share their thoughts on finally conceiving
Kourtney Kardashian revealed that IVF took a toll on her mental and physical health, leading her to stop the process. "It was a lot," she told the Wall Street Journal in 2022. "I took a break to just focus on our wedding and getting married," she added. That same year, Kardashian admitted to Access Hollywood that she would love to have at least two children with Travis Barker if possible. "I would love two, in a dream world, and we each have three — so six, seven, eight," she said.
After announcing that they were expecting their first child together, Kardashian took to Instagram to share some sweet photos of herself flaunting her growing baby bump, as well as Barker touching and kissing her stomach. "Overwhelmed with gratitude and joy for God's blessing and plan," she captioned the snaps. For his part, Barker has stayed relatively quiet about having kids with Kardashian. However, on Father's Day 2023, he did share an Instagram tribute to his kids and his own father, while also shouting out his unborn baby. "Thank you god for my future blessing," he wrote.
Meanwhile, fans are sure to see more of Kardashian and Barker's pregnancy journey on the family's reality show as they prepare to welcome their first child together.