What Happened To The Backstreet Boys?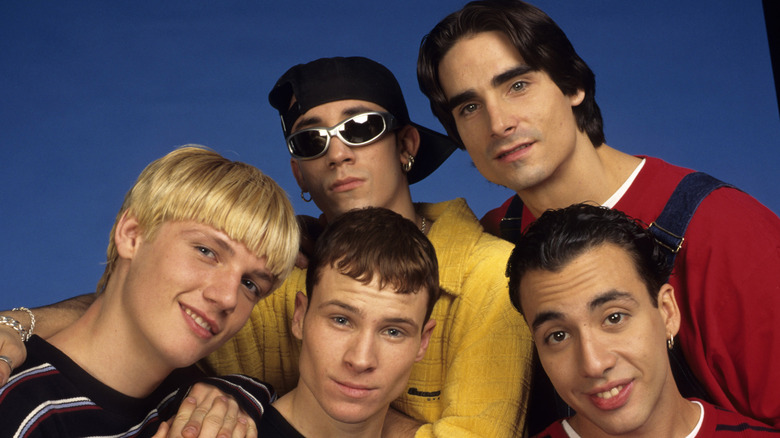 L. Busacca/Getty Images
The '90s will always be remembered as the era of the boy band, a decade that spawned the likes of New Kids on the Block, *NSYNC, 98 Degrees, and many more. Above them all, however, stood a group that was not only at the forefront of the boy band explosion, but one that has stood the test of time: Backstreet Boys, consisting of Nick Carter, Howie Dorough, AJ McLean, and cousins Brian Littrell and Kevin Richardson.
The group was founded in 1993, with their manager placing the members — then teenagers — in what's been described as a "boy band boot camp," during which they performed and rehearsed for hour after hour until they became a well-oiled singing-and-dancing unit. They released their first single in 1995, but it wasn't until 1997 that the band unveiled the song that changed everything: "Everybody (Backstreet's Back)," now a pop classic that remains one of the band's musical calling cards. 
The five performers have had their individual ups and downs over the years — including the heartbreaking death of Nick Carter's younger brother Aaron Carter in 2022 — but they've continued to persevere. Celebrating its 30th anniversary in 2023, the group continues to wow audiences and deliver well-worn hits to crowds of nostalgic fans. Their success and talent are unquestioned, yet the three-decade journey that's brought them where they are has been a wild ride. So buckle up to find out what happened to the Backstreet Boys. 
The Backstreet Boys were cheated out of millions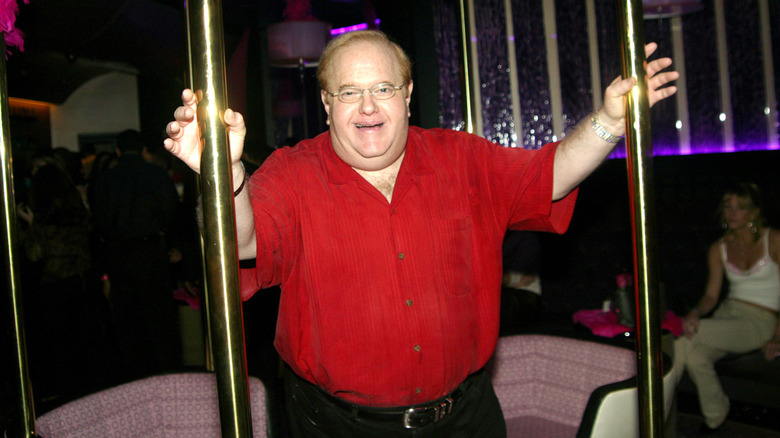 Johnny Nunez/Getty Images
During the 1990s, Lou Pearlman made millions as the manager of the era's top boy bands, including Backstreet Boys, *NSYNC, O-Town, LFO, and others. However, he allegedly embezzled vast sums of money from his artists while defrauding more than $300 million from investors in a massive Ponzi scheme. 
While Backstreet Boys was topping the charts and filling stadiums all over the world, Pearlman was pocketing the money and leaving the band members a tiny portion of what they should have been earning as internationally famous pop stars. "Some of the guys couldn't pay for their car payment or couldn't pay for their apartment," Backstreet Boys member AJ McLean said in a documentary about Pearlman. Eventually, after realizing they were being scammed, members of the group sued, launching several lawsuits that traveled through the court system for years. When they finally cut ties with Pearlman in 1998, Backstreet Boys wound up with a measly $300,000 in compensation from the years during which Pearlman managed them, though he had embezzled tens of millions. 
Once authorities caught wind of the Ponzi scheme, Pearlman fled the U.S. and hid out in Bali, where he was arrested in 2007. He was convicted on fraud charges and sentenced to 25 years in prison. He died behind bars in 2016, at the age of 62. 
They still had to pay their thieving manager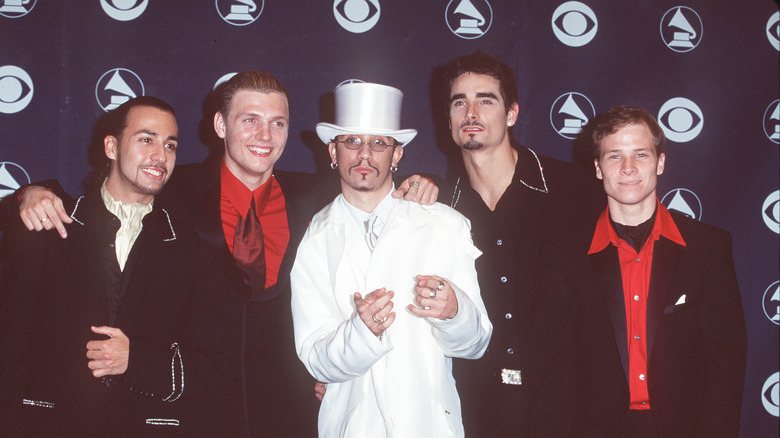 Steve Granitz/Getty Images
Severing their relationship with manager Lou Pearlman came at a high price for Backstreet Boys. In order to earn their freedom, they were forced to cut him in for one-sixth of the group's profits — essentially making him the sixth Backstreet Boy. While Pearlman may have stolen most of the money that the group earned during those lucrative years, he did leave them one thing of lasting value — their fame. 
In 1998, the band recorded their third studio album, "Millennium," which yielded what remains their biggest hit song, "I Want It That Way." The album preceded the group's Millenium Tour, which kicked off in 1999 and extended through to 2000, seeing them perform 115 shows in 84 cities. They then headed to the Bahamas to record their next album, "Black and Blue," another massive hit that was followed by a tour and an invitation to sing the national anthem at the 2001 Super Bowl. The Black and Blue tour, however, was put on pause to allow AJ McLean to enter rehab, but it resumed after he completed treatment. 
Due to that delay and other issues  — ranging in seriousness from management conflicts to the 9/11 terror attacks — each member only received between  $6-$7 million from the tour, about half of their anticipated earnings. In 2002, the group decided to take a hiatus, which would end up extending until 2004. 
The band had a comeback and a member resigned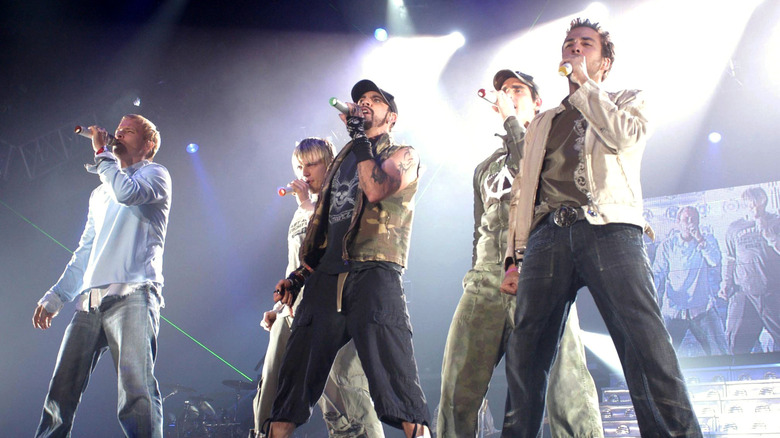 Brian Rasic/Getty Images
In late 2003, AJ McLean and Kevin Richardson appeared on "The Oprah Winfrey Show," where they got candid about McLean's issues with addiction. The rest of the group made a surprise appearance partway through the interview, marking the first time all five had been together in nearly two years. They let it slip — apparently inadvertently — that they were regrouping to record a comeback album. After a year in the studio, "Never Gone" was released in 2005, followed by a tour that began that summer and ended in early 2006.
Months after that mammoth world tour ended, Kevin Richardson made a bombshell announcement. "After 13 years of what can only be described as a dream come true, I have decided that it is time to leave the Backstreet Boys," Richardson said in a statement on the band's website.
The remaining members issued their own statement. "We have no intention of replacing Kevin, and the door will always be open for him to return to the Backstreet Boys," they wrote on the group's official website, revealing that they would continue on without him and would be returning to the studio to make their next album, "Unbreakable." The record was released in late 2007 and the band hit the road in 2008. But during a show at the Hollywood Palladium that November, Richardson rejoined the group onstage — a reunion that turned out to be permanent. Backstreet was officially back! 
Brian Littrell went solo as a gospel artist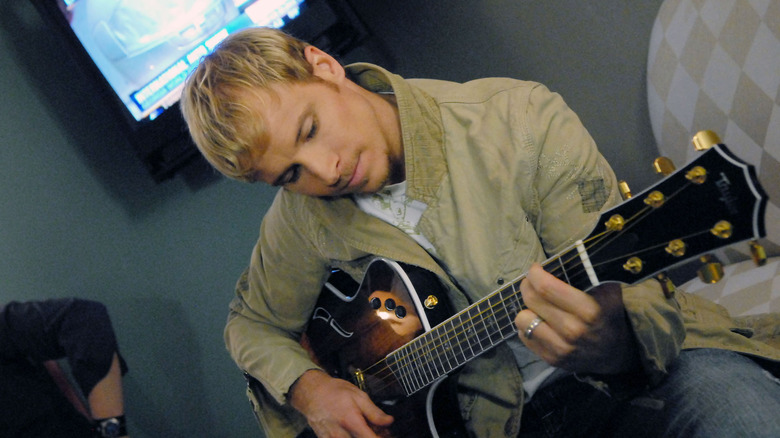 Rick Diamond/Getty Images
Over the years, various members of the Backstreet Boys have explored solo projects. This was the case for Brian Littrell, who released his debut solo album in 2006. Titled "Welcome Home," the album featured a collection of faith-based songs that he described to Beliefnet as "pop positive." According to Littrell, he was hoping fans would join him on his solo journey. "Whether or not you're a Backstreet Boys fan or a Brian Littrell fan, if you're a music fan in general, any genre of music, my project is for music lovers," he explained in an interview with Crosswalk. "You know, it's for all walks of life, just people that enjoy a good, positive message."
Much like his work with Backstreet Boys, "Welcome Home" proved to be a hit, producing the single "In Christ Alone" which wound up hitting No. 1 on Christian radio. 
The album allowed Litrell the opportunity to spread his wings creatively, away from the Backstreet Boys. It was also a way to share his faith with fans and reconnect with his roots. "I hope this record is a chance to give something back," he told CBN. "I hope I can do something that opens doors and benefits lives."  
The band has a star on the Hollywood Walk of Fame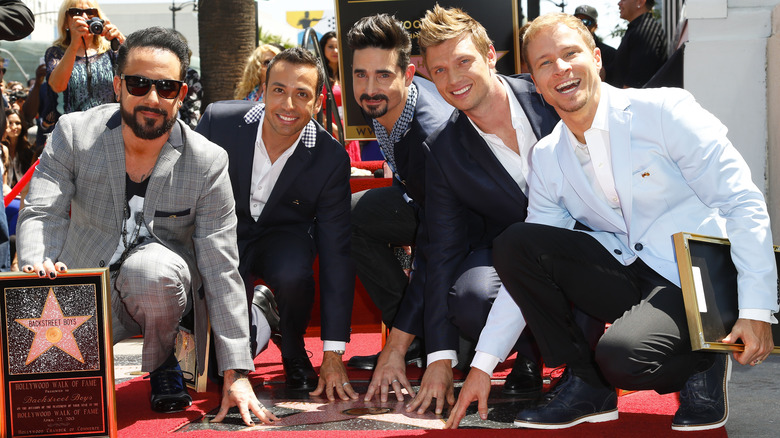 Imeh Akpanudosen/Getty Images
In the years that followed, Backstreet Boys continued to release albums and tour. In 2011 they embarked on a mega-tour alongside fellow boy-banders New Kids on the Block. 
Backstreet Boys celebrated their 20th anniversary in 2013 with a ceremony unveiling their own star on the Hollywood Walk of Fame. The boy band received the 2,485th star to be awarded on Hollywood Boulevard. The event proved to be an emotional one for all five men. "I love you guys," AJ McLean said. "Aside from my wedding day and the birth of my daughter, this is hands-down the best day of my life." Nick Carter, also fighting back tears, added, "I never ever imagined in a million years that we would be a part of this."
Howie Dorough put the honor in perspective when he shared that his family members will be able to visit the star for generations. And Kevin Richardson acknowledged the gravity of the ceremony coinciding with the band's 20th anniversary. It was left to Brian Littrell to inject a bit of levity into the occasion when he jokingly remarked, "I worked my entire life to never be walked on, but I'm okay with this one."
Their story was told in a documentary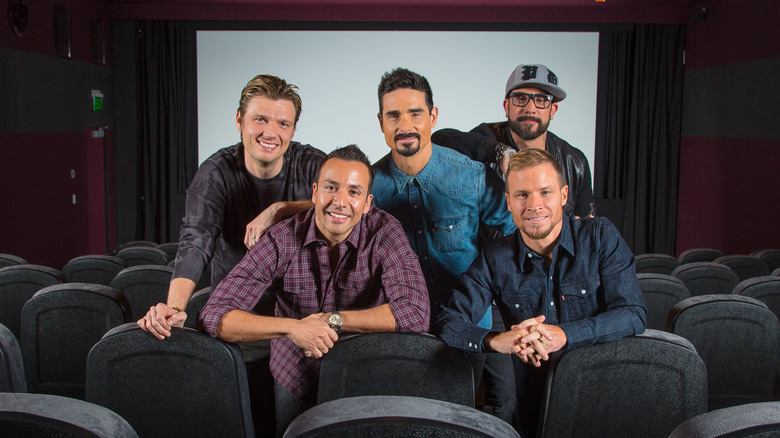 Tim Rue/Getty Images
While Backstreet Boys had been recording their 2013 album, "In A World Like This," and then touring in support of it, there was another plan simmering simultaneously. "We've been filming during the making of the record, the rehearsals for the tour, [and] while we've been out on the road," Kevin Richardson revealed in a 2014 interview with Billboard. "It's kind of a making-of [for] the record along with our story, how we got together and the ups and downs and the rollercoaster that we've been on."
The result of filming, which reportedly took place over the course of two years, was "Show 'Em What You're Made Of," a documentary released theatrically in January 2015. In the trailer, Brian Littrell is heard explaining the dilemma at the heart of the band's story. "From 1992 to 2002 we were the biggest band in the world ... Then it just stopped," he said. "And what do you do when you're a full-grown man in a boy band?"
The candid film is far from a hagiography putting the band members on a pedestal. As Littrell told Collider, they felt it would be a disservice to their fans to present a slickly-packaged documentary that celebrated the good times and glossed over the bad. "It paints us [as] normal human beings, even though we're 'pop stars,' or whatever you want to call it."
Backstreet Boys wowed fans with a Las Vegas residency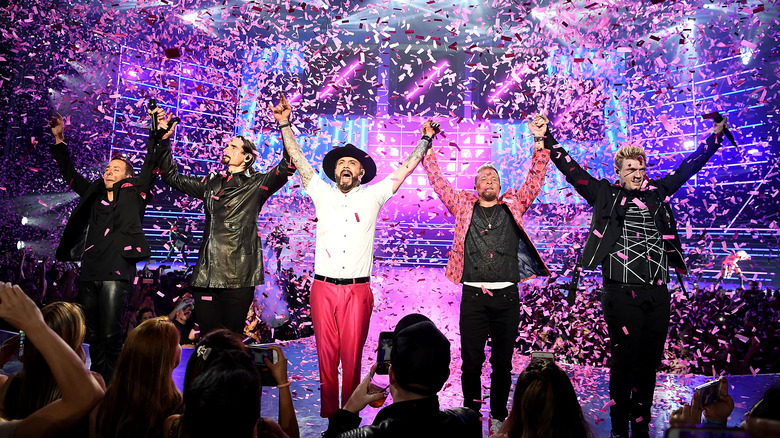 Denise Truscello/Getty Images
In 2016, AJ McLean told Entertainment Tonight that Backstreet Boys were looking into the possibility of a Las Vegas residency; shortly after, Nick Carter confirmed they'd signed on for a nine-date run in Vegas that they were viewing, at the time, as an experiment. "If it does really well, then I think that'll open that door and then in [the] future we'll do it," Carter told ET. "So that's definitely going to happen but we're going to do a trial run first." 
That tryout proved successful enough that the band penned a deal for a full residency starting the following May. "If you've ever been to a Backstreet Boys show, it's going to be that on steroids," Brian Littrell told Rolling Stone of their 2017 Planet Hollywood residency, dubbed "Backstreet Boys: Larger Than Life."
The residency proved to be such a hit that it was extended due to high demand, with the men ultimately delivering 81 performances before wrapping things up in April 2019. Then, after a brief two-week break, the band hit the road for a world tour, a massive 70-date undertaking accompanying the release of their 10th studio album, "DNA." That tour, however, was cut short in March 2020 due to the global COVID-19 pandemic. But after resuming the tour in 2022 and continuing into 2023, it grossed more than $227 million.
They hit No. 1 on the charts — 20 years after their previous No. 1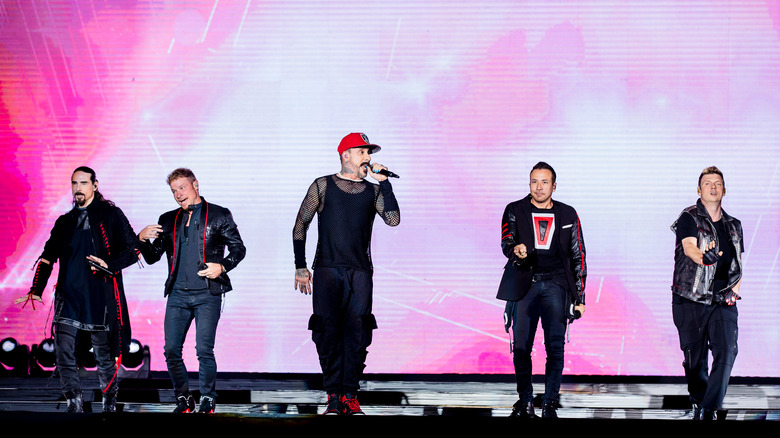 Mauricio Santana/Getty Images
If adding multiple dates to a popular Las Vegas residency that ran for nearly a year hadn't made it clear that Backstreet Boys were having the comeback of all comebacks, their "DNA" album certainly cemented the fact. Conventional wisdom might dictate that a boy band that had recently marked its 25th anniversary would typically be churning out nostalgic hits at state fairs, not putting out new albums. "DNA," however, flew in the face of that perspective.
"DNA" debuted in the No. 1 spot in the Billboard Top 200, marking their third-ever No. 1 album. The achievement was all the more impressive considering the fact that they'd last accomplished this feat 20 years earlier, with their 1999 LP "Millennium."
According to AJ McLean, the group's enduring success was never guaranteed, but it was the result of talent and tenacity. "There were countless times that we could have easily thrown in the towel and just said, 'the heck with it,'" McLean explained in an interview with Time. "But that wasn't our destiny. Our destiny was to push forward, and our destiny was to come together as a group, and bond, and become closer. And to keep looking forward. So I mean, here we are, 26 years later."
AJ McLean competed on Dancing With the Stars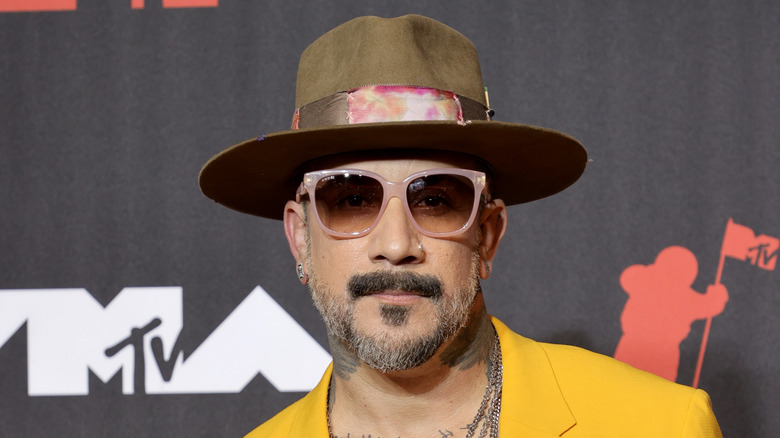 Jamie Mccarthy/Getty Images
In 2020, Backstreet Boys' AJ McLean was announced as one of the celebs competing on "Dancing With the Stars." Though the star didn't win the mirror ball trophy, he told viewers, "You know what, this has been one hell of a ride and I could not have picked a better partner to go on this journey with," referencing dance partner Cheryl Burke. 
Burke and McLean had actually been friends for years prior to dancing together, and they formed an even deeper bond over their sobriety; as she revealed during an appearance on "Good Morning America," McLean took Burke to her first AA meeting. This led the pair to team up for their own recovery-inspired podcast, "Pretty Messed Up."
In 2023, McLean took on a whole new role when he signed on to host the TV series "Fashion Hero: A New Kind of Beautiful." As McLean told the Toronto Star, he was initially dubious about joining a reality TV competition. "When I heard the name, the first thing I associated it with was 'America's Next Top Model' or one of those kinds of shows, so I was a little put off," he admitted. Once he understood the concept behind the show — which confronts the fashion industry's near-impossible standards of beauty and turns them upside down — he was on board. 
Backstreet Boys founder Nick Carter was hit with scandal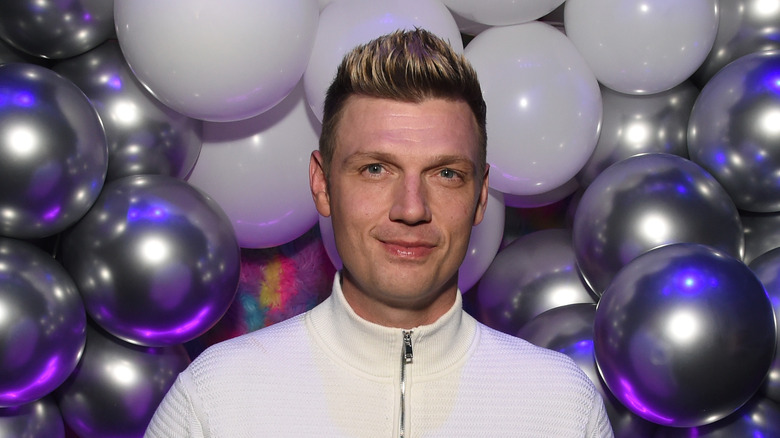 Michael Kovac/Getty Images
During the band's run spanning four decades, the Backstreet Boys rarely found themselves embroiled in scandal. However, that changed in December 2022 when Shannon Ruth filed a lawsuit filed against Nick Carter, accusing him of sexually assaulting her backstage at a Backstreet Boys show in 2001. Carter's lawyer, Michael Holtz, immediately fired back. "This claim about an incident that supposedly took place more than 20 years ago is not only legally meritless but also entirely untrue," he told TMZ.
Carter subsequently countersued both Ruth and another woman who had sued him in 2017 for sexual assault — Melissa Schuman, a former member of the 2000s girl group Dream. He characterized both as "opportunists" trying to make a buck off the back of the #MeToo movement by attempting extortion. "Carter will not allow himself to be smeared in this way," the lawsuit stated (via The Guardian). "Protecting one's reputation and name by calling a liar a liar is not victim blaming or bullying. It is simply telling the truth." 
Despite maintaining his innocence, Carter did not escape unscathed. Shortly after news broke of Ruth's lawsuit, ABC abruptly canceled plans to air an already-shot Backstreet Boys Christmas special — "A Very Backstreet Holiday" — that had been scheduled to air the following week.
If you or anyone you know has been a victim of sexual assault, help is available. Visit the Rape, Abuse & Incest National Network website or contact RAINN's National Helpline at 1-800-656-HOPE (4673).
Their solo projects never impacted the group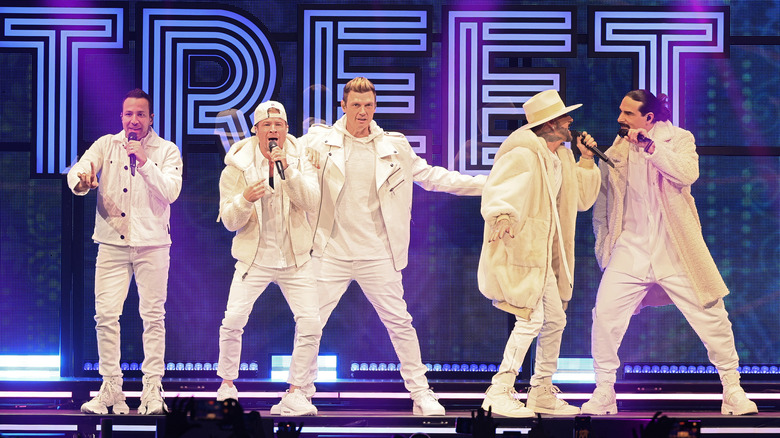 Alexander Tamargo/Getty Images
Even though Backstreet Boys' members occasionally ventured out on their own, they have all maintained their commitment to the group. For Nick Carter, that has involved solo musical endeavors, acting roles, and reality TV shows. "The things I do as an individual are different than what we do in the group," Carter told the Hamilton Spectator of his reasoning behind pursuing projects outside of the group. "When you're out by yourself, you can let that individual part in the group shine, to satiate your creative expression as an artist."
As AJ McLean told CNN, what's kept them together is the realization that any success they might experience individually wouldn't have been possible without Backstreet Boys in the first place. "If I have a successful album, it only reflects on my success with the group, where I started and where I will always return to," he said.
That has allowed the members of Backstreet Boys to grant each other as much freedom as they need to pursue those solo pursuits while remaining part of the group. "The number one priority amongst the five of us is Backstreet Boys, which is at the epicenter," McLean explained. 
Backstreet Boys have no plans to stop performing together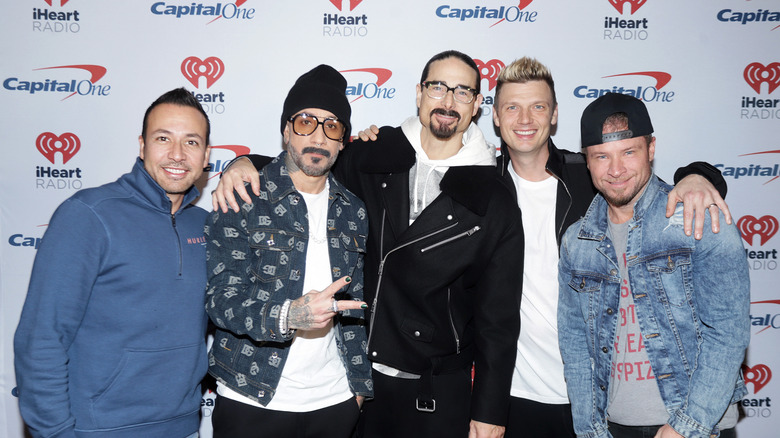 John Parra/Getty Images
With 2023 marking 30 years since the members of Backstreet Boys first came together as teenagers, none of them anticipates an end in sight. "We're going to keep making music until the cows come home," AJ McLean told People. 
Of course, the performers aren't youngsters anymore. As they've gotten older, their choreography had become decidedly less acrobatic than it had been in the past. "We can't get down on our knees anymore 'cause we can't get back up," Howie Dorough joked in an interview with Entertainment Tonight. "We don't do kip-ups anymore, when you're laying on your back and kip-up," Dorough added. "We don't do splits anymore."
While they may not be able to handle the same moves that they did when they were in their 20s, one thing that hasn't diminished over the years is Backstreet Boys' collective commitment to giving it everything they've got, each and every time they hit the stage. "We're going to continue to dance and do what we do until we physically can't do it anymore," McLean shared.