Did Justin Theroux Have A Girlfriend When He First Met Jennifer Aniston?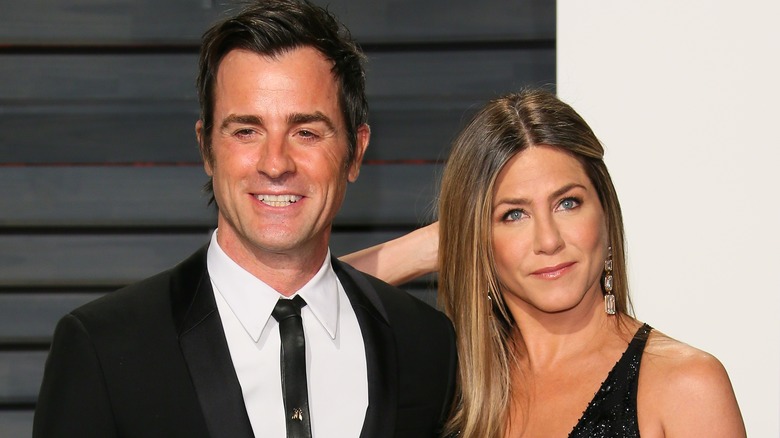 Jb Lacroix/Getty Images
Jennifer Aniston has stolen hearts ever since she took on the iconic role of Rachel Green in "Friends." Aniston has an irresistible charm that draws in celebs and fans alike. As a result, the beloved actor has had several high-profile relationships throughout her time in the spotlight. During the first season of "Friends," Aniston was in a long-term relationship with fellow actor Daniel McDonald. After a short fling with Counting Crows lead singer Adam Duritz, she began seeing Sandra Bullock's ex, Tate Donovan. 
Following their split, he actually appeared on "Friends" as Rachel's crush, Joshua. And then came one of Aniston's most publicized relationships: Brad Pitt. The future star couple first met in 1994 when their managers introduced them. But they wouldn't go on their first date until 1998 when Pitt ended his engagement to Gwyneth Paltrow and Aniston finished things with Donovan. In 1999, Aniston and Pitt confirmed their engagement at a Sting concert. And in 2000, they had a grand wedding featuring 50,000 flowers, 200 guests, and a large gospel choir, at an estimated cost of $1 million. 
Even though they ended things in 2005, the stars remain good friends. And, after a few short relationships with the likes of Vince Vaughn and John Mayer, Aniston found another one of her great loves in her future husband Justin Theroux. Many believed that the couple started dating in 2011, while Theroux was still in a relationship with his long-term girlfriend, Heidi Bivens. But Aniston was quick to put the infidelity rumors to rest.
Justin Theroux had a long-term girlfriend when he met Jennifer Aniston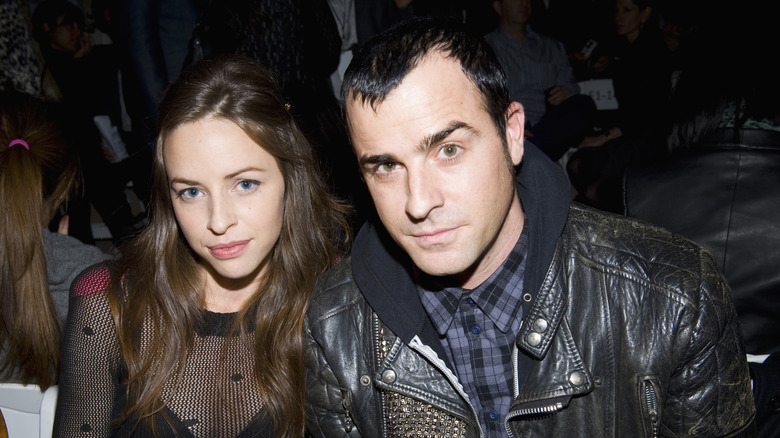 Lars Niki/Getty Images
Jennifer Aniston and Justin Theroux's relationship reportedly started when the two met on the set of 2012's "Wanderlust." But in an ABC News interview promoting the film's release, Aniston clarified, "Nothing happened on that movie. I mean, that was sort of — that's what is a rumor." She added, "I mean, it's again, it's the easy rumor. But nothing happened. We were just friends, great friends, on the movie."
Further, the TV icon revealed that she actually met Theroux when he was working on "Tropic Thunder," which was released in 2008, so they had been friends for a while by that stage. Aniston recalled her surprising first impressions of her future husband to PopSugar: "At first you think he could be like a serial killer, but he's the nicest person in the world." And as far as cheating allegations go, Theroux's 14-year relationship with "Euphoria" costume stylist Heidi Bivens was reportedly already in trouble long before he hooked up with Aniston. 
After their breakup, a source told The New York Post: "Heidi is heartbroken. She was completely blindsided." They also noted that she believed Aniston was just a friend of Theroux's. However, the source confirmed there was no overlap between the two relationships (via UPI). Even though there may not have been any cheating involved, Aniston and Theroux made several appearances together shortly after his breakup with Bivens, indicating that the time gap between the two relationships was small.
The Friends star made sure she made things right with Heidi Bivens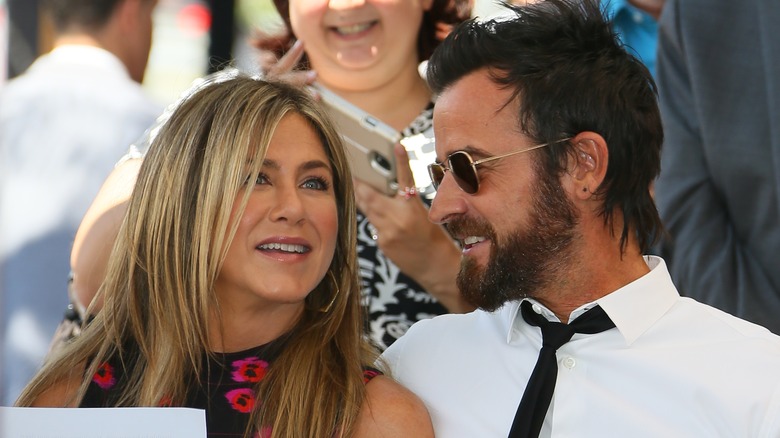 Jb Lacroix/Getty Images
After a year and a half of dating, Justin Theroux popped the question at the Blue Hill restaurant in New York on his birthday. And, three years later, the couple tied the knot in a surprise wedding. They invited their friends and family under the guise of Theroux's birthday party before turning it into a wedding celebration. Sadly, the couple called it quits after seven years together in 2018. In an interview with People, Theroux asserted, "It was kind of the most gentle separation, in that there was no animosity." 
Moreover, Grazia magazine reported that Heidi Bivens and Jennifer Aniston met up after the breakup, and things got pretty emotional. A source informed the outlet, "Jen has always been sympathetic to Heidi because she's heard from Justin just how devastated she is about their breakup." The "Friends" star also pointed out that she knows the pain of being cheated on publicly and would never do that to somebody else (via Page Six). 
Another insider told The Sun that the costume designer previously attempted to warn Aniston about Theroux by claiming that their relationship wouldn't last because he was a "free spirit" with a scathing dislike for Hollywood. However, there doesn't seem to be any bad blood between Aniston and Theroux. The exes have stayed in touch and were spotted enjoying dinner with Jason Bateman and his wife, Amanda Anka, in April 2023.