Selena Gomez Repeats Stunning Swimsuit, Proving The One-Piece Silhouette Is Still In Style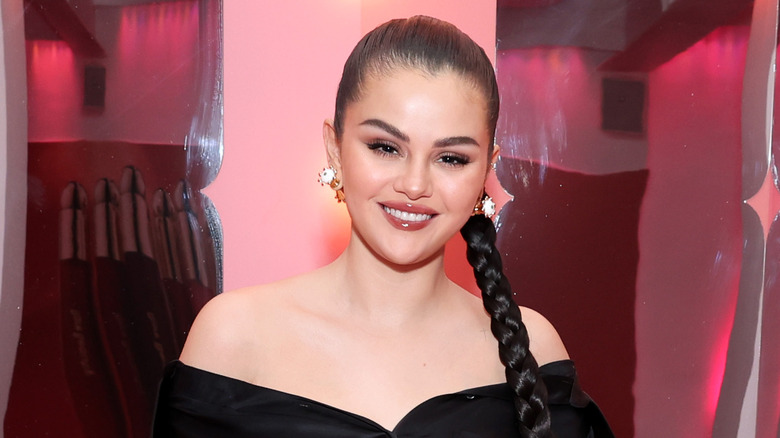 Cindy Ord/Getty Images
One-piece swimsuit lovers, never doubt that you'll always be in style — at least Selena Gomez feels that way. The stylish 30-year-old posted a pic of herself wearing the swimwear equivalent of the "little black dress" on her Instagram story over the weekend. The one-piece in question is the creation of Solkissed, an eco-friendly California brand that features suits "ethically handmade by Peruvian women." Interestingly, this isn't Gomez's debut of the "Sabrina" swimsuit. A TikTok video shows the actor wearing the same bathing apparel during the summer of 2022 as well. If she's repurposing, she's clearly serious about her fashion sustainability!
Judging by this swimsuit post, Gomez has been feeling fulfilled since returning from Paris, where she's spent the past two months filming "Emilia Perez," according to another Instagram post. The series of photos she shared attests to her time in the City of Light: "I loved every moment. Working on this film has completely changed my life. I can't wait to share more soon! Love you all." Now, the talented actor can finally take a break and catch some rays.
There's a one-piece bathing suit for everyone
Though bikinis have long been the go-to swimwear option for many, one-piece suits can be a chic choice for those who want more coverage. There are styles to pick from that support many different body types, including those with smaller or larger busts, anyone who wants slimming shapewear built into their suit, and non-binary folks who might be looking for an alternative to traditional swimwear. Want to show some cleavage? No problem. Exposed back? You got it. Full-coverage with an attached skirt? Look no further. You can even pick your swimsuit style based on your zodiac sign!
And remember, just because you're grabbing a one-piece rather than a bikini doesn't mean you need to give up fashionability — some can even double as a bodysuit if you need a quick day-to-night look. Selena Gomez clearly knows her style, which Elle calls sexy, edgy, and glamorous. It's no surprise then that her favorite swimsuit choice is classic black with a straight neckline and a high thigh. Even better? You don't need a celeb-level bank account to duplicate the look. Gomez's Solkissed suit lands at a modest $121. If that's still out of your price range, try these options from Athleta or Victoria's Secret. We love a frugal queen!
Selena Gomez isn't the only celebrity who is a fan of the the one-piece silhouette
The classic black one-piece has been around for years. From Marylin Monroe in the 1950s to Princess Diana in the '90s, and in more recent times Sarah Jessica Parker, Emily Ratajkowski, and Kim Kardashian, plenty of celebrities are fans of the style when it comes to swimwear. You probably also remember the time when Kate Hudson shared an International Women's Day wish on Instagram with a video clip featuring herself and her best friend Angi Fletcher taking an ice bath. You guessed right. The "Almost Famous" star was wearing a black one-piece halter swimsuit in the cute video. And if black isn't your color, there's plenty more to choose from — like Jennifer Lopez's statement white one-piece, for example. 
It helps that brands come out with interesting developments each season, according to head of womenswear at MatchesFashion Liane Wiggins (via Harper's Bazaar). "Purchasing a high-quality one-piece swimsuit from the likes of Eres, Bottega Veneta, or Lisa Marie Fernandez is one of the best investments that women can make," she added. 
There's no denying the effortless and comfortable style inherent in a one-piece, and perhaps that's why it's a celebrity favorite. According to swimsuit designer Marilena Andreadis (via Byrdie), "A well-constructed one-piece made with quality fabric will enhance the female body and make a woman feel her best."