The Best Swimsuit Looks For The Summer Based On Your Zodiac Sign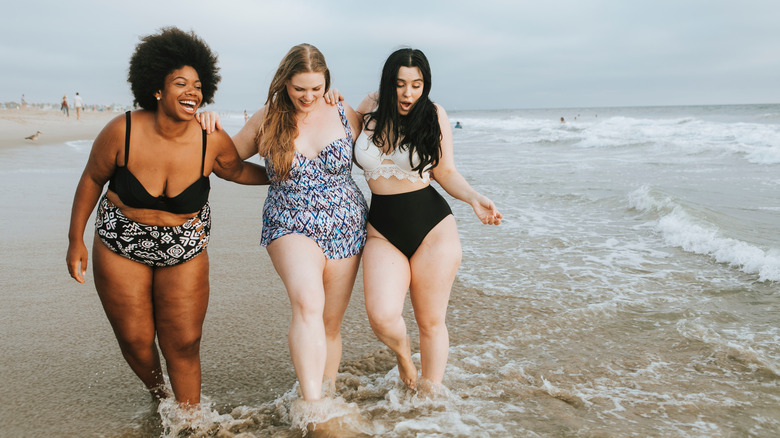 Shutterstock
Hunting down the perfect swimsuit to fit your particular needs and style is quite an arduous task. Depending on your Zodiac sign, this hunt can either be fairly easy or stressful and time-consuming (we're looking at you, Geminis). Whether you're a practical Capricorn or trend-obsessed Scorpio, the perfect swimsuit does exist for everyone.
The adventurous Aries is likely to be on the hunt for the perfect swimsuit that simultaneously feels sporty and edgy. Since Aries will want to move around without experiencing a slip of any kind, they should opt for high-waisted bikini bottoms paired with tops that supply an adequate amount of coverage, per Who What Wear. Given their love for the sun (their sign is ruled by the sun, according to Who What Wear), Leos should stick with white or bronze-colored swimsuits that accentuate a nice tan. Sagittarius seaside dwellers will also be looking to stand out at the beach. "Sag goes all out in their bathing suit wear," astrologer Lisa Stardust told HelloGiggles. "They like to shine and sparkle at the beach with a bold, glowing suit or color."
The luxe-obsessed Taurus should opt for a swimsuit that delivers a glamorous, sensual punch. According to HelloGiggles, this swimsuit might look like a low-cut one-piece with dramatic details. Similar to their Earth sign counterpart, Virgos will feel their best in a swimsuit with a surprising twist or embellishment. Since Virgos are typically attracted to more feminine styles, their ideal swimsuit might look like a pink one-piece with bows down the back, per PopSugar.
Your sun sign traits will lead you to the perfect swimsuit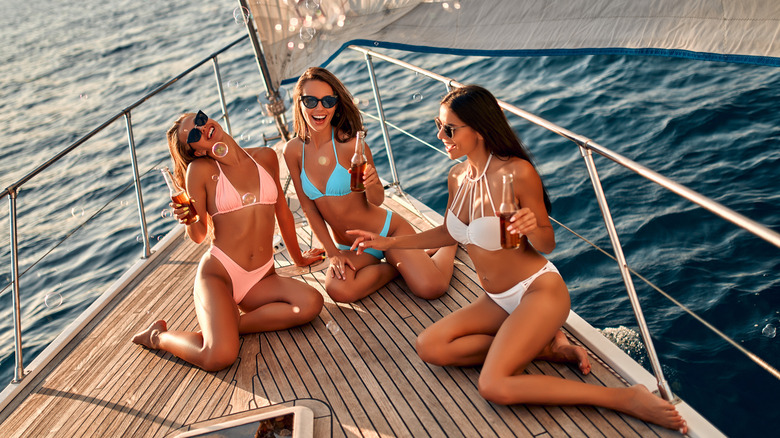 Shutterstock
While other signs are willing to take a few risks when it comes to their beach attire, practical Capricorns typically seek function over style. In fact, according to Who What Wear, Capricorns should seek out a simple back one-piece that can make the transition from beach to a night out on the town effortlessly. Contrarily, Libras, who love to dress up for every occasion, will seek out a stylish, retro-inspired swimsuit adorned with ruffles or polka dots, per HelloGiggles. Those Geminis who have a hard time making decisions can take advantage of their indecisiveness by embracing the mix-and-match swimsuit trend. The one-of-kind, trendy Aquarius should rock a one-piece swimsuit with unique cut-outs or straps to make sure they stand out at the beach or by the pool.
Imaginative and practical Cancers will be their happiest beach selves in a white ladylike one-piece that comes with an interesting (but safe!) off-the-shoulder detail, according to Popsugar. Scorpios will likely throw caution to the wind in a sleek swimsuit with revealing cut-outs and edgy hardware that draws attention to their magnetic personality. The free-spirited Pisces should embrace a swimsuit in a floral pattern with bohemian accents, like crochet patterns and beads.