Ethereal Makeup Starts At The Base - Here's How To Select The Best Foundation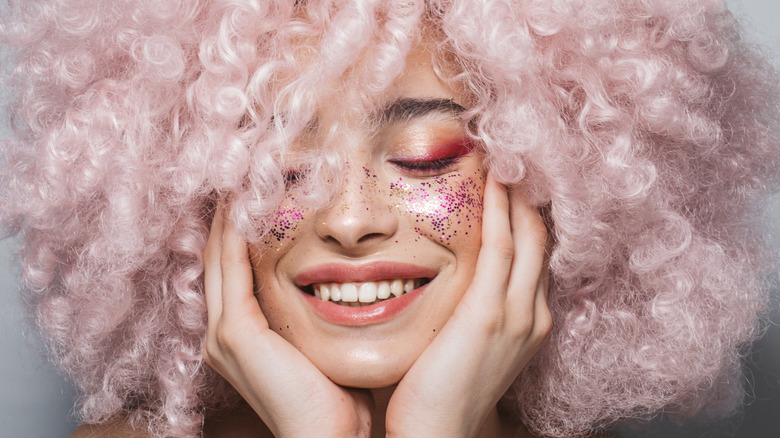 Svetikd/Getty Images
We may receive a commission on purchases made from links.
Ethereal makeup trends are taking over, and all we have to say is, "Yes, please!" If you can never get enough of fairies and mystical pixies, it's time to reclaim your youth with ethereal makeup's soft and whimsical looks. We're talking purple and pink shades, iridescent highlights, shimmering silver and gold tones, delicate strokes, and shiny accessories.
The ethereal aura thrives on romance, imagination, and lots of creativity, so it's safe to say that there's no handbook or strict rules guiding what you have to do. However, plenty of tips can point you in the right direction, with one of the most important being a barely-there base.
Since ethereal looks celebrate uniqueness and personality, there's less to cover up and more to decorate. To support this aesthetic, you need a lightweight base to showcase your inner radiance. As a result, your foundation plays a vital role in achieving this look.
Ethereal makeup starts with a light base
To start off your otherworldy beat, you need something with sheer coverage. Explore foundation alternatives like tinted moisturizers, blemish balms, color-correcting creams, and concealers, as these options can give you moisturized and translucent coverage. If you prefer using foundation, go for sheer formulas or other options like serum and cushion foundations. They'll give you a dewy and airy finish. It's also vital to know how to find the right shade of foundation for your skin. To get a realistic glow, you need to understand your skin's tone and undertone before you go shopping. 
Your cheekbones are next up, and the fun part begins. Use blush for a flush of color to your cheeks and a highlighter to add a radiant sheen to your cheekbones and over the bridge of your nose. The blush adds a hint of color while the highlighter adds luminosity, creating a harmonious glow. 
For your brows, a soft look is the hallmark of ethereal makeup. Get out your brow brush and gel or edge control. If your brows are too scanty to pull this off, fill them in with a color identical to your hair.
Ethereal makeup goes heavy on the eyes
Start with an eyelid primer before using a neutral or pastel eyeshadow as the base. Apply a slighter deeper shade to the crease of your eyelids and finish with silver or gold tones at the corners of your eyes. The shiny tones promote an ethereal illusion.
Next up for some mascara and eyeliner art. The right mascara can lengthen your brows and create a dreamy, fairy-like appearance, so use a volumizing mascara like Maybelline's Lash Sensational Sky High formula. It's a $10 steal that'll volumize, lengthen, define, and curl your lashes. Going for eyeliner art? These are the best gel eyeliners to pull off graphic eyeliner looks.
Don't forget your stash of shiny accessories. Use gems, crystals, sequins, colors, patterns, freckles, and more to decorate your eyes and cheekbones. If you're using stick-ons, don't use just any glue. Go for products formulated for the face, like Mehron's Makeup AdGem Adhesive, which comes with 30 rhinestones. Finish with a touch of shine and color to your lips, and don't forget to dab a bit of highlighter just over your cupid's bow.