All Of The Royal Couples Who Have Gotten Married At Westminster Abbey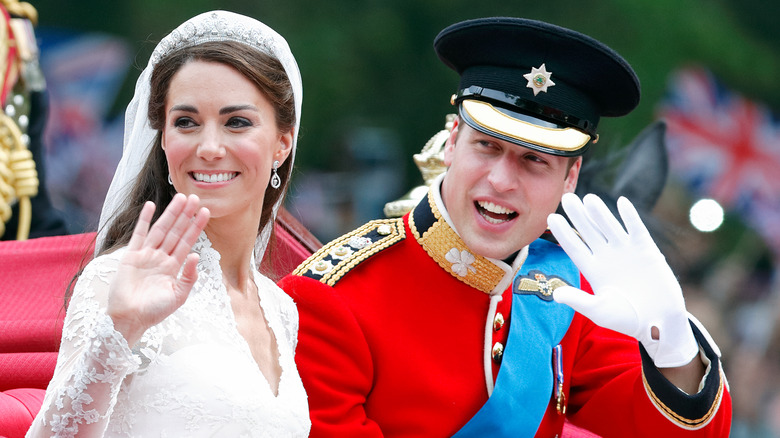 Max Mumby/indigo/Getty Images
If the British monarchy knows how to do anything, it's how to throw a darn good wedding. Of course, everyday weddings are joyous events, but royal weddings just hit differently. The entire world becomes obsessed in the lead-up to the big day, with millions upon millions of people tuning in to watch history happen. Every minor detail is simped over, from the dress to the wedding cake and, of course, the venue. When you're a member of the House of Windsor and beyond, you're not going to get hitched at the courthouse and have a wedding breakfast at McDonald's.
The royal family has some of the most historic and iconic venues in the world, from Windsor Castle to the piece de resistance: Westminster Abbey. The Abbey, situated in London, is part of the backbone of the British monarchy. Known as a "Royal Peculiar," the Abbey is essentially there to serve the sovereign instead of the Archbishop of Canterbury, making it a unique and important place. 
The hallowed halls of the incredible building have seen some of the most important events in history, from the funeral of Queen Elizabeth II to the coronation of her son, King Charles III. It's also been home to lavish royal weddings that will never be forgotten. Let's take a look at the royal couples who have said their "I do's" in front of the famed altar.
Prince William and Princess Catherine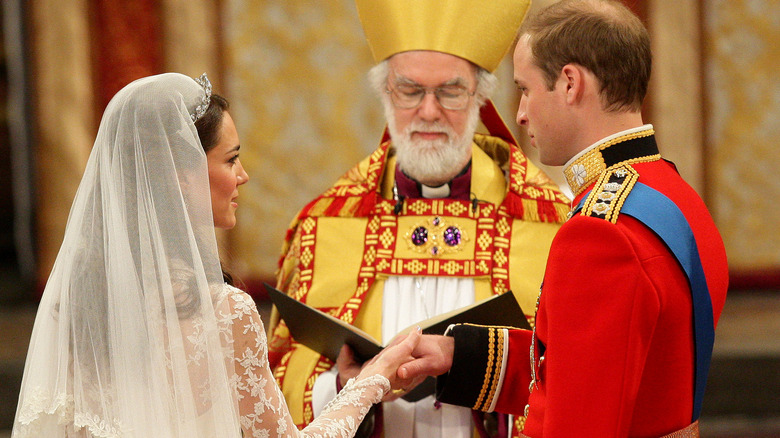 Anwar Hussein/Getty Images
In one of the biggest royal weddings in recent history, Kate Middleton turned into Princess Catherine when she and Prince William tied the knot in 2011. Their wedding was a long time coming, with the couple first meeting during their university days. When William proposed to Catherine, it was a cause for celebration that felt personal to a number of Brits. No expense was spared for the future king of England and his bride. Tons of spectators turned out to get a glimpse of Catherine as she made her way to Westminster Abbey alongside her father, traveling down London's famous street, The Mall.
An estimated 162 million people tuned in to watch the young couple say their vows, which was more than impressive. Catherine's dress was the main event, with many commenting on how beautiful the future queen looked in the Sarah Burton by Alexander McQueen lace gown. As for William, he didn't get to wear what he originally intended on his wedding day: his Irish Guards frock coat. 
His grandmother, Queen Elizabeth II, strongly advised him to wear his red tunic symbolizing his position as colonel. William explained (via the Mirror): "We had a couple of discussions on the matter but, as I learned growing up, you don't mess with your grandmother. What she says goes." Despite this tiny disagreement, the day went off without a hitch. Catherine and William went on to welcome three children, Prince George, Princess Charlotte, and Prince Louis.
Queen Elizabeth II and Prince Philip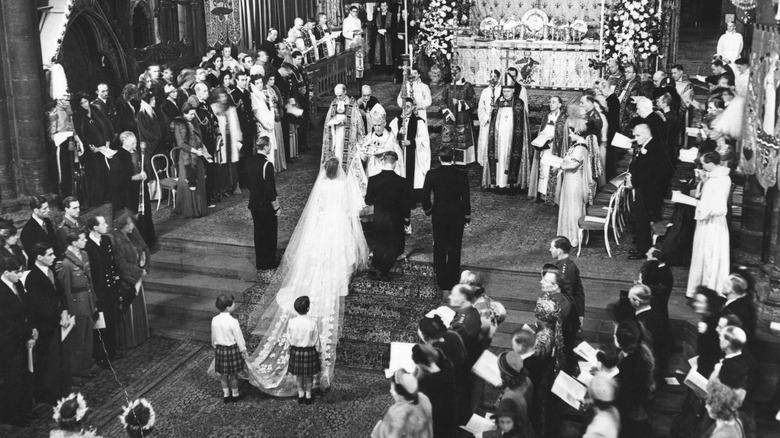 Central Press/Getty Images
Many years before Prince William and Princess Catherine had their moment in the spotlight, Queen Elizabeth II had hers. Elizabeth first connected with her future husband, Prince Philip, when she visited his naval school as a child. (They had briefly met at a royal wedding several years earlier, when Elizabeth was 8 years old.) Philip eventually proposed to the young princess in 1947, after getting permission from her father, King George VI. Of course, there was only one wedding venue that would suit this grand occasion: Westminster Abbey.
Although it was before the time of television as we know it, Elizabeth's wedding to Philip was still a spectacle. These iconic lovebirds didn't wait long to make things official, with the nuptials taking place just four months after the engagement announcement. As for their guestlist, it certainly wasn't an intimate affair that was kept under wraps. Around 2,000 guests were invited into the Abbey to watch the romantic occasion. Elizabeth looked like a vision, wearing a gown inspired by a Botticelli painting created by Sir Norman Hartnell.
Their love for one another was steadfast, with Elizabeth calling Philip her "strength and stay" during a speech given at their golden wedding anniversary celebrations in 1997. They stayed together until the end, and are buried side by side in the Royal Vault at St. George's Chapel at Windsor Castle. It just goes to show that true love never dies.
Prince Albert and Lady Elizabeth Bowes-Lyon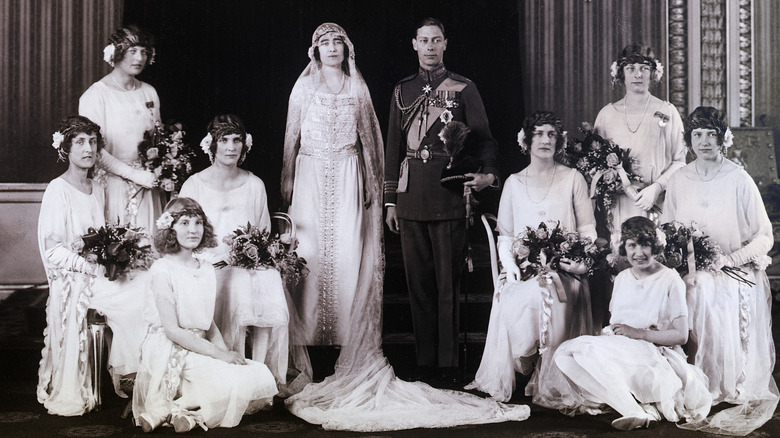 Bettmann/Getty Images
For many of us living in modern times, it can be easy to forget about the kings and queens who came before. After all, Queen Elizabeth II reigned for 70 years, an incredible amount of time and a lifetime for some who never knew a period without her at the helm of the country. Of course, Elizabeth would never have been queen if it wasn't for the fact that her father's brother, King Edward VIII, abdicated in 1936, making Prince Albert King George VI.
Thirteen years prior to this extraordinary change, Elizabeth's parents, then known as Prince Albert and Lady Elizabeth Bowes-Lyon, said their "I do's" at Westminster Abbey. Little did his bride know that she would someday become the queen's mother. Their romance hadn't been straightforward, even prior to George's ascension to the throne. The monarch-to-be had asked Lady Elizabeth three times if she would marry him before she finally accepted. 
When George eventually got her down the aisle, it was a much more laid-back affair than the pomp and circumstance we see today. Even so, over 1,800 guests were in attendance. George sadly died at the fairly young age of 56 after suffering from ill health related to his lungs. His daughter, Elizabeth, became queen at just 25. By that point in her life, Elizabeth was already married to Prince Philip and a mother to King Charles III and Princess Anne.
Prince Andrew and Sarah, Duchess of York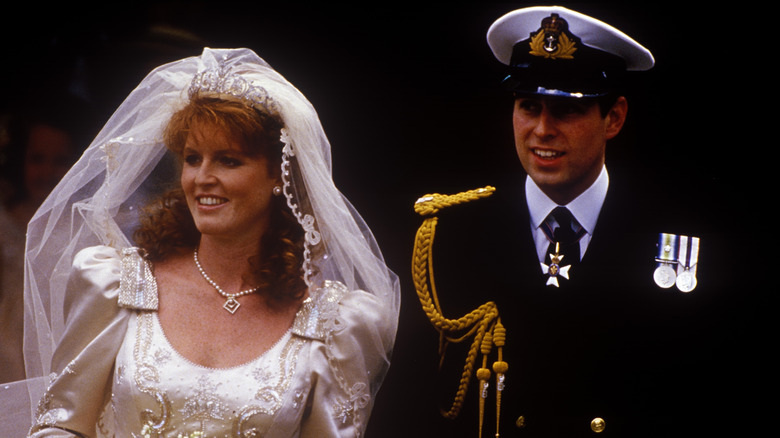 John Shelley Collection/avalon/Getty Images
Five years after his eldest brother, Prince Charles, got married, it was Prince Andrew's turn. Andrew married fiery redhead Sarah, Duchess of York in 1986, choosing the Abbey as their preferred location. Sarah was somewhat of a wildcard for the royal family as she was much more confident than previous royal wives. Princess Diana was doe-eyed and docile, while Sarah was loud, unabashed, and unafraid. The over-the-top event was exactly as you might expect from that period, with Sarah's dress a puff-sleeve wedding gown that was popular at the time.
The duchess beamed the entire day, waving to crowds alongside her husband. Andrew looked just as relaxed as he took the arm of his bride, who later admitted she shed 26 pounds to get into her wedding dress. Detailing her experience in her autobiography "My Story," Sarah said (via Hello!): "Lindka [the designer] was a genius; I knew she could make the most flattering gown ever, and she had. It was amazingly boned, like a corset. We'd chosen duchess satin because it is the creamiest material in the world. It never creases. It is smooth as glass and hangs beautifully, without a single bulge; it made my reduced figure look even better." It's thought the gown cost over £35,000. 
While the pair divorced in the '90s, they remain firm friends. 
Princess Margaret and Antony Armstrong-Jones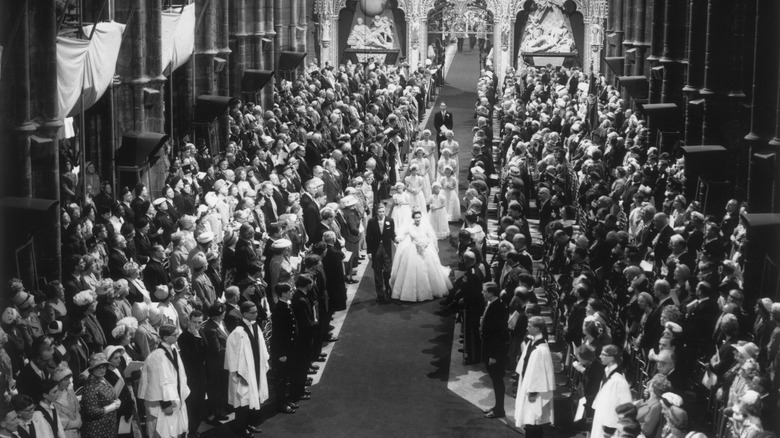 Fox Photos/Getty Images
Princess Margaret's romantic life certainly wasn't an easy one. Although she fell hopelessly in love with her father's equerry Peter Townsend, she was refused the right to marry him by her sister, Queen Elizabeth II, due to religious stipulations around marrying someone who has been divorced. Despite trying to find some way around the upset, Margaret eventually broke off the engagement, and the pair went their separate ways. A short time later, the princess found love again with photographer Antony Armstrong-Jones. She followed in her sister, Queen Elizabeth II's footsteps by choosing to marry her groom at the Abbey in 1960.
The engagement was somewhat of a surprise to many, as Margaret had chosen to keep the relationship quite secret, perhaps concerned about attracting too much attention after a previous failed romance. Anne de Courcy, author of "Snowdon: the Biography," told Town & Country: "Nobody knew about their relationship, there wasn't a whisper about it. She would see him in secret at his studio and yes, he would join her at parties, but no one could pinpoint which man she was interested in."
Margaret took the classic Glass Coach from Clarence House to Westminster Abbey, taking Elizabeth's husband, Prince Philip, along for the ride. Touchingly, it was Philip who gave Margaret away in place of her deceased father, King George VI. While the day was fit for a princess, the marriage officially came to an end in 1978.
Princess Anne and Captain Mark Phillips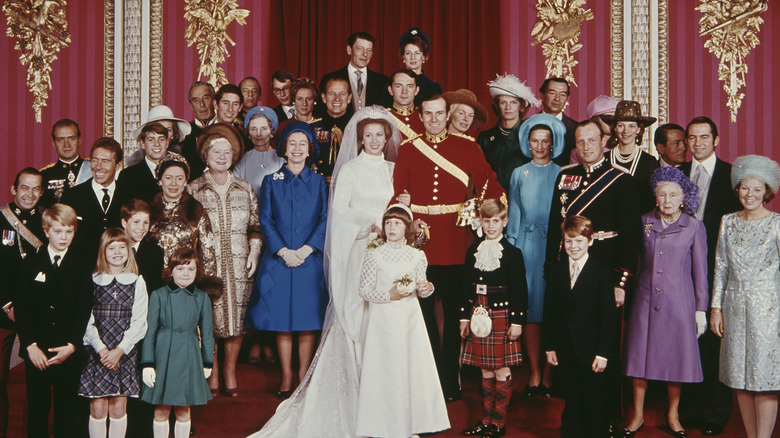 Keystone/Getty Images
As the only daughter of Queen Elizabeth II and Prince Philip, Princess Anne's wedding was always going to be a special affair. The second-eldest Windsor sibling chose Captain Mark Phillips to marry after they bonded over their shared love of horses. Even though Anne wasn't in line for the throne, the entire world was still just as enamored with her nuptials, with around 500 million people tuning in to watch her as she journeyed down the aisle at Westminster Abbey in 1973. Compared to some of the wedding gowns we would see in the 1980s, Anne's gown was much more chic and refined.
The 23-year-old bride-to-be employed seamstress Maureen Baker to make the stunning white dress, which featured very on-trend medieval sleeves. As for the giant party that came after the highly publicized nuptials, no expense was spared there, either. Guests were reportedly fed lobster, partridge, and mint ice cream, before being able to take a (hopefully generous) portion of the wedding cake that towered over 5 feet, 6 inches tall! 
As for their future, it wasn't happily ever after for this royal couple, who parted ways in 1992, during what Elizabeth called her "annus horribilis," or "horrible year." Anne would decide to remarry, this time to Timothy Laurence. As Anne had been divorced and was not technically allowed to remarry under Church of England rules, they eloped to Scotland and had a decidedly smaller event than Anne's previous wedding, inviting only 30 guests. Anne and Laurence remain happily married to this day.
Princess Alexandra and Sir Angus Ogilvy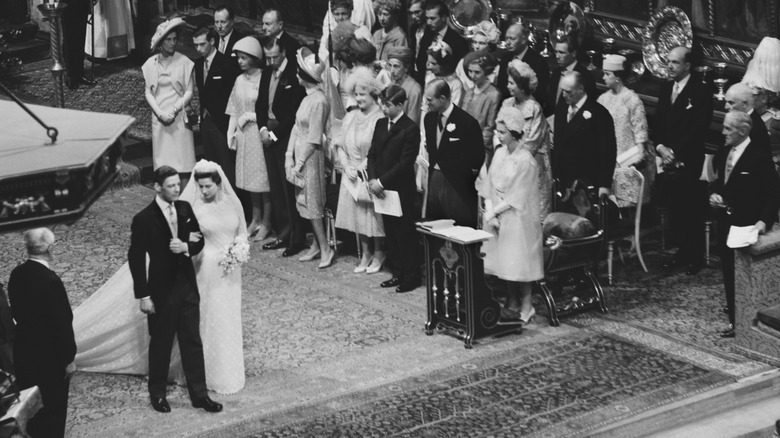 Evening Standard/Getty Images
Lesser-known royals can also get hitched in Westminster's hallowed halls — but who are Princess Alexandra and Angus Ogilvy? Also known as the Honorable Lady Ogilvy, Alexandra is a cousin of Queen Elizabeth II on her father's side, and was even deemed a close enough connection to be one of the future monarch's bridesmaids. Little did Alexandra know when she attended Elizabeth's wedding to Prince Philip that she would marry in Westminster Abbey when she was all grown up. Alexandra's chosen beau was Sir Angus Ogilvy, a businessman who would later devote his time to charitable causes.
The handsome pair married in 1963, in front of many senior royals at Westminster Abbey. Among those in attendance were the queen, Prince Philip, Princess Margaret, and the future King Charles III. Interestingly, Princess Anne, Elizabeth's daughter, was asked to be a bridesmaid. The 12-year-old princess looked beautiful in a simple dress with cropped sleeves, with her hair pulled back into a flattering bun. As you might expect for such a high-society guest list, Alexandra was given some very nice wedding gifts, including a gold bangle. 
Sadly, many of these gifts were later lost forever when the couple's shared house in Richmond Park was burglarized. At least the romance proved to last longer than the gifts, with the couple welcoming two children, Marina and James, and staying together until Ogilvy's death from cancer in 2004.
Prince George and Princess Marina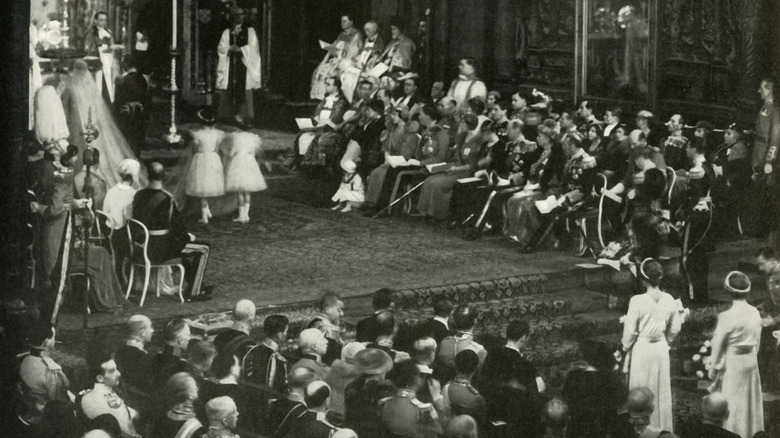 Heritage Images/Getty Images
Prince George, Duke of Kent, was the son of King George V and Queen Mary, welcomed to the monarchs at the turn of the century in 1902, prior to his father's ascension to the throne. George was second-youngest of the royal couple's six children, making him the uncle of Queen Elizabeth II and brother to the future kings Edward VIII and George VI. For his blushing bride, George chose Princess Marina, a royal who was the daughter of Prince Nicholas of Greece and Denmark, so she was well accustomed to the pomp and circumstance of fancy occasions that interest the public.
George and Marina chose Westminster Abbey for their big day, with the wedding taking place on November 29, 1934. While this was long before televised events were even possible, some photos of the ceremony remain. It looks just as grand as you may expect, with the bride wearing a sweeping white dress. The program for the day states there was music on the organ by Bach, Handel, Elgar, and more. 
Sadly for the couple, the marriage proved to be short-lived, but through no fault of their own. George was killed in a plane crash in 1942. Marina lived another 26 years before she was buried with her husband at Frogmore Mausoleum at Windsor Castle.
Princess Mary and Henry Lascelles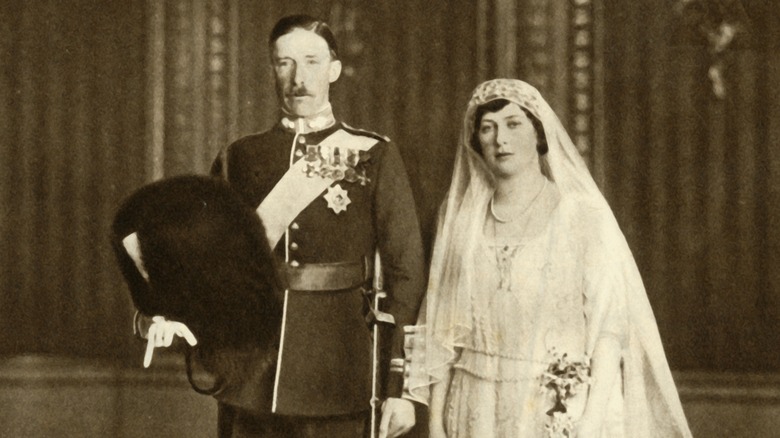 Print Collector/Getty Images
There are so many members of the royal family that it can be understandably hard to keep track. However, Princess Mary is notable because she was the only royal aunt of Queen Elizabeth II. Mary was the only daughter of King George V, and she married Henry Lascelles in 1922 in a jaw-dropping ceremony that became the talk of the town, both in high society and outside of it. In fact, Mary's nuptials brought weddings back to Westminster Abbey. Hers was the first time a child of a monarch had wed inside the holy building since 1290, with many previous royals opting to say their vows elsewhere. Mary's choice of venue started a trend that hasn't died down.
Although she wasn't in line for the throne, Mary was the first of King George V's children to get married, which was a cause for great celebration. As well as this, the country was eager to move on from the First World War, which had ended four years prior. This royal hoedown was the first major one to take place after that dark period.
While it's commonplace now, thousands of people lined the streets for Mary's wedding, something that hadn't been seen to this extent in the past. This trendsetting proceeding set the tone for all of the royal weddings we have known and loved since. As for the happy couple, they remained steadfast in their commitment for 25 years, until Lascelles died in 1947.
Princess Patricia of Connaught and Alexander Ramsey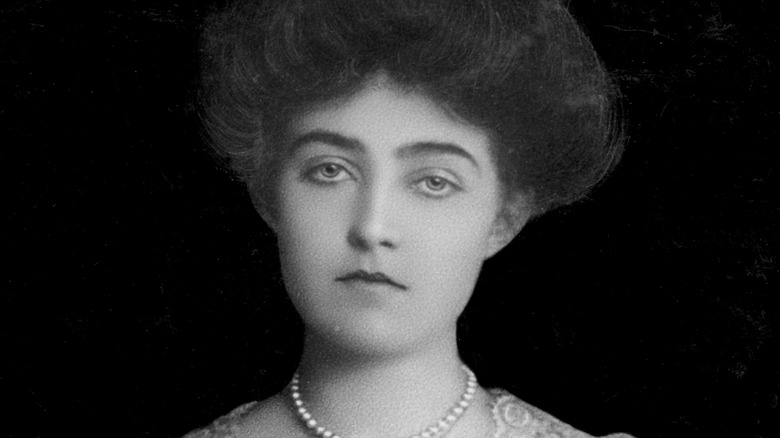 Print Collector/Getty Images
Just a couple of years before Princess Mary's wedding, Princess Patricia of Connaught had her moment in the spotlight at Westminster Abbey. Patricia's tale is a love story for the ages. The granddaughter of Queen Victoria and the daughter of the Duke of Connaught didn't exactly stick to tradition. In a move unheard of at the time, she totally renounced her royal titles to marry a commoner. Before she fell in love with Alexander Ramsey, it looked as though Patricia may never wed at all, she showed so little interest in it. Despite the rumor mill swirling about multiple potential royal matches from King Alfonso XIII of Spain to Prince Gustaf Adolf of Sweden, none of them came to fruition.
In fact, Patricia didn't get married until she was 34, which was considered very old for a member of the royal family. Her husband was a soldier and the son of a politician, and in order to marry someone considered so below her station, she had to say goodbye to her titles and give up being a princess for good — although she was still allowed to marry at Westminster Abbey. The unusual circumstances made for quite a story. While the wedding wasn't anywhere near as big as Princess Mary's in 1922, it was still a stately affair that included all of the royal trimmings. Like many couples from the dynasty, Patricia and her husband are buried together at Frogmore at Windsor Castle.