The Biggest Mishaps At Prince William And Kate Middleton's Wedding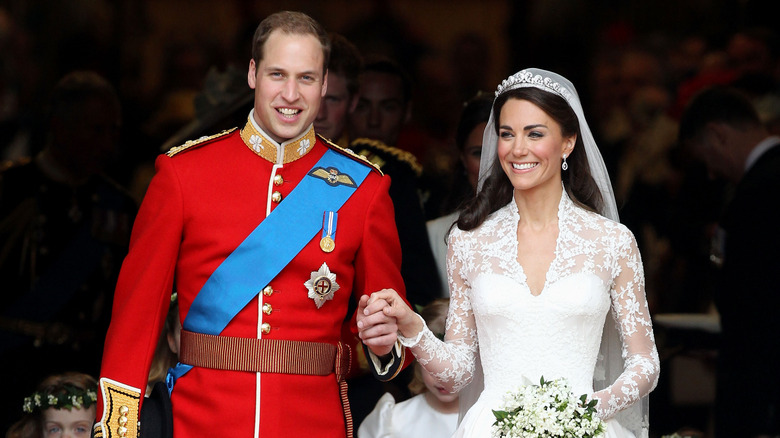 Chris Jackson/Getty Images
The wedding of Catherine, Princess of Wales, and Prince William, was a historical day. They tied the knot on April 29, 2011 at Westminster Abbey before millions of viewers around the world. The wedding itself, and all of the details surrounding it, have lived on in cultural conversations for many different reasons. For one thing, the later animosity between William and Prince Harry seems that much more sad when people recall how close they seemed on William's big day. 
But not all details are regrettable. In fact, fan fascination has escalated around their wedding after Catherine's dress reveal went viral on TikTok over a decade after the nuptials. People are still fascinated by the wedding of the century. In fact, even Catherine's bouquet was more meaningful than we initially thought. Each of the flowers and foliage in the bouquet had special meaning for both the Middleton family and the royal family. There was even sweet William in the arrangement, fittingly enough. So it's clear that every detail was carefully planned and orchestrated. 
While the event appeared to be a picture-perfect day, there were actually several mishaps that took place. But it didn't ruin our delightful memories of the day. The blunders only added to the charm of the day. Hey, even a royal wedding doesn't always go perfectly. 
Both Catherine and William had major wedding nerves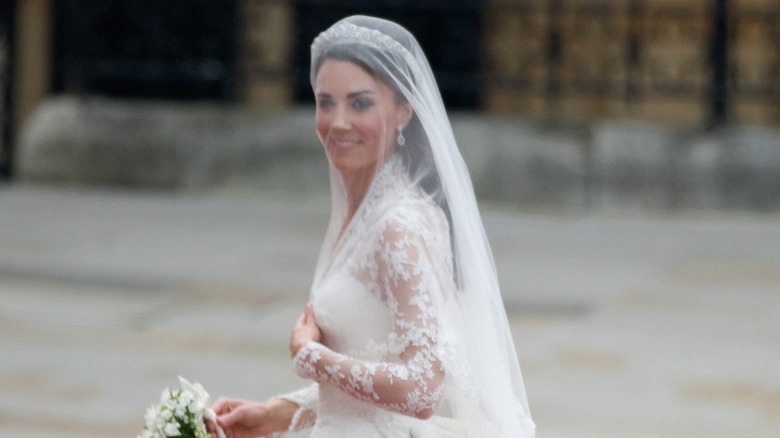 Anwar Hussein/Getty Images
Weddings are nerve-wracking at the best of times. Add 162 million viewers across the globe and you've got some major pressure, so it's not terribly surprising that Prince William and Catherine, Princess of Wales, had intense pre-wedding jitters. Royal correspondent Duncan Larcombe was actually in attendance and reported to Elle that he saw William in a serious state of nervousness before the ceremony began. He had to lean on Prince Harry for support. "Before Kate arrived, William went to compose himself with Harry in a room just off Poet's Corner (an area in Westminster Abbey)," Larcombe said, noting that William walked past him looking "absolutely terrified." When William returned to the main part of the abbey, he had to take a deep breath. Apparently, the nerves preceded even the wedding morning. William allegedly said that he only slept for about half an hour the night before, according to Express. 
The experience was intense for Catherine too. She spent the night before her wedding at the Goring Hotel and, according to Katie Nicholl for Vanity Fair, had managed to eat only one bite of toast the morning of her big day. However, as things moved along, Catherine eased into the pressure. Her hairdresser, Richard Ward, told Nicholl: "Everyone else was nervous, but not Kate. She just took it all in her stride and was calming everyone else down." Clearly, she was the calming element. 
Catherine's wedding band was too small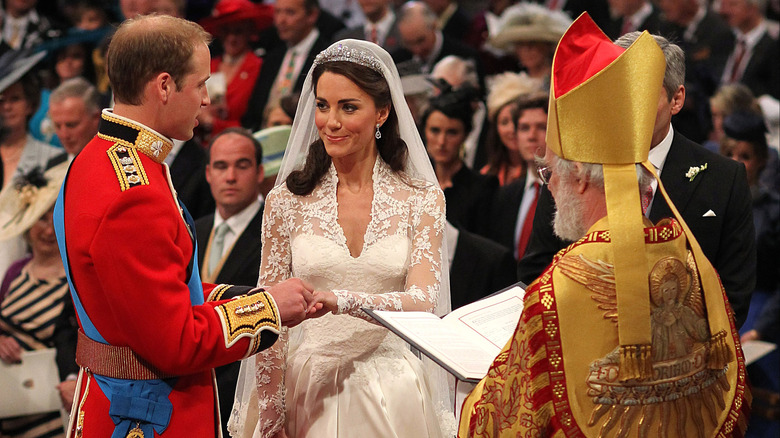 Wpa Pool/Getty Images
While Catherine, Princess of Wales, received the famous sapphire ring upon her engagement to Prince William that had once belonged to Princess Diana, she also got a wedding band. Her wedding band was made from a particular supply of Welsh gold, in adherence to royal tradition. It was the late Queen Elizabeth II who gave the gold to William so that Catherine's wedding band could be made, and they commissioned the jeweler Wartski for the job. However, the wedding band ended up being slightly too small on the wedding day, and William had a tough time getting it on Catherine's finger, because she had asked Wartski to make it a size smaller. "She had her engagement ring resized because she'd lost weight and didn't want the same problem with her wedding ring slipping off," Katie Nicholl told the Daily Mail. 
But neither Catherine nor William took the situation too seriously. "It has now become a subject of amusement to her and William," Nicholl added. So it was no big deal in the long run. 
A trooper was thrown from his horse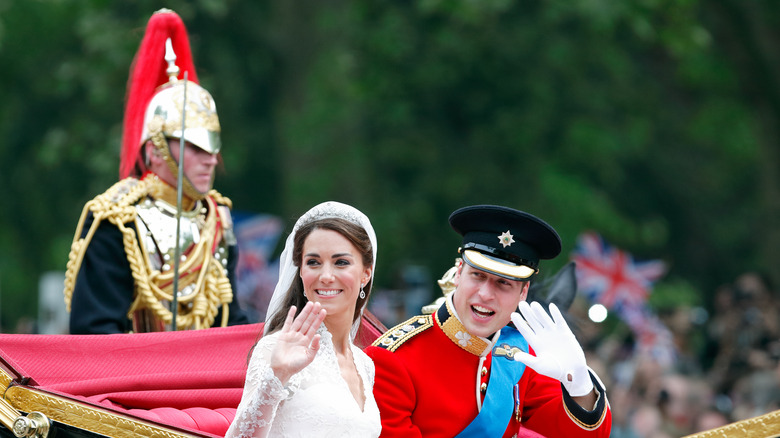 Max Mumby/indigo/Getty Images
Following the wedding, Prince William and Catherine, Princess of Wales, embarked on a procession through the streets of London as they made their way to Buckingham Palace for the famous balcony kiss. Crowds waited alongside their carriage to cheer, as the royal procession embarked. They were accompanied by the armed services, including the Household Cavalry, and one of the men who was ahead of Catherine and William's carriage took a tumble on his horse. He managed to get up and step aside the line of procession, much to the pride of Garrison Sergeant Major Bill Mott, who planned the procession. 
"To be thrown from a horse on tarmac is not a nice experience, and he was in his regalia as well," Matt told People. The man who fell got up and stood at attention as William and Catherine passed. "He had just been thrown off and here he was standing," Mott went on. "I got a message to him a few days later to say how proud I was of him." That's certainly a quick and impressive recovery. 
The little bridesmaid who stole the show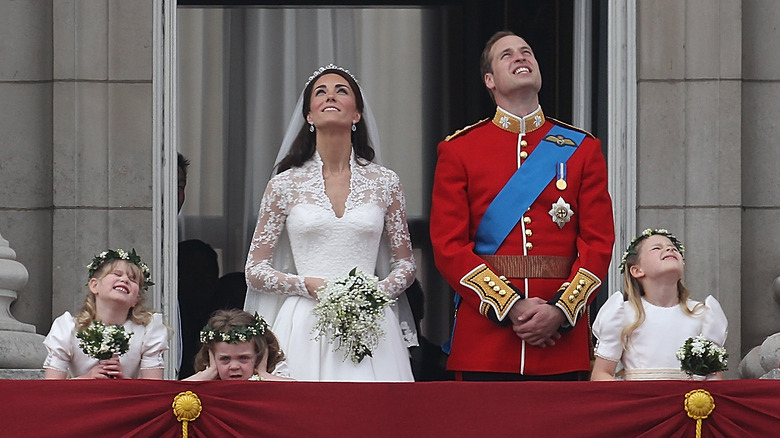 Peter Macdiarmid/Getty Images
For the famous kiss on the balcony at Buckingham Palace, Prince William and Catherine, Princess of Wales, walked out to greet the throngs of fans who came to celebrate with them. They were followed by their bridal party, including the bridesmaid Grace van Cutsem, who looked less than impressed with the ordeal. Long before little Prince Louis stole the show with his hilarious facial expressions, Grace captured the world's attention as she covered her ears when the Royal Air Force flew over the palace, and looked crabby about the general situation. To be fair, she was only three at the time. Grace is the goddaughter of William and daughter of William's close friend, Hugh van Cutsem Jr. 
Grace became a viral sensation from the royal wedding, fondly known online as the "grumpy bridesmaid." In fact, even Catherine and William had a laugh about it later, as Katie Nicholl wrote in Vanity Fair. When the couple went to Clarence House on their wedding day following the Buckingham Palace kiss, they sat down and watched their wedding footage with Prince Harry. "They were laughing when the cameras panned onto little Grace on the balcony, and William was saying, 'Poor Grace, she looks terrified!'" a palace aid told Nicholl. Everyone found Grace's facial expressions very funny. 
William stalled their wedding car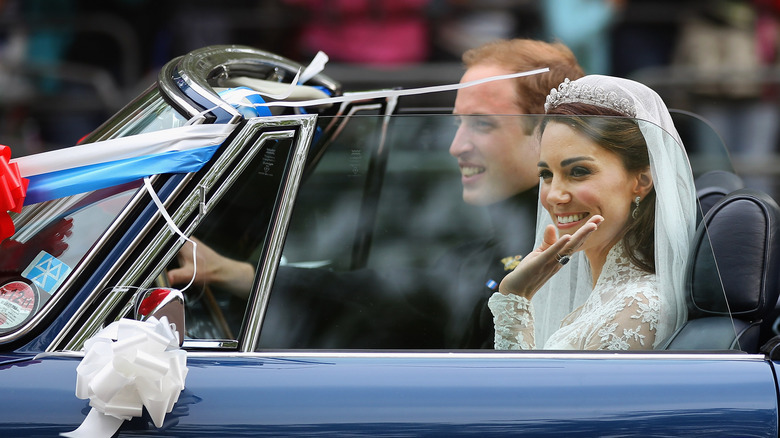 Jeff J Mitchell/Getty Images
There was a very sweet moment following Prince William and Catherine, Princess of Wales' kiss on the balcony at Buckingham Palace. Following the balcony kiss, the couple visited with guests during a reception at the palace, and then departed to rest at Clarence House, the London-based residency of King Charles III and Camilla, Queen Consort. They needed a brief break in between the morning events and the evening festivities. William arranged that they leave in Charles' Aston Martin Volante, which had been a gift from the late Queen Elizabeth II for his 21st birthday. "It was Prince William's idea to drive his new bride away from the official reception on their first journey as a married couple to his family home," a source told the Daily Mail. 
Prince Harry had taken it upon himself to decorate the car, complete with the license plate that read "JU5T WED." An insider told the Daily Mail that Harry wanted to amp up the decorations but his father reigned him in. "He would have gone further but his father warned him not to get a scratch on it!" the source said. Typically, royals sit in the back seats of a car and have protection officers in the front, but in this case, William and Catherine went rogue, creating a quintessential wedding scene of the bride and groom driving off. The one hiccup came when William drove the car with the handbrake still on. However, they still got to Clarence House just fine. 
Pippa Middleton's dress was noticeably form-fitting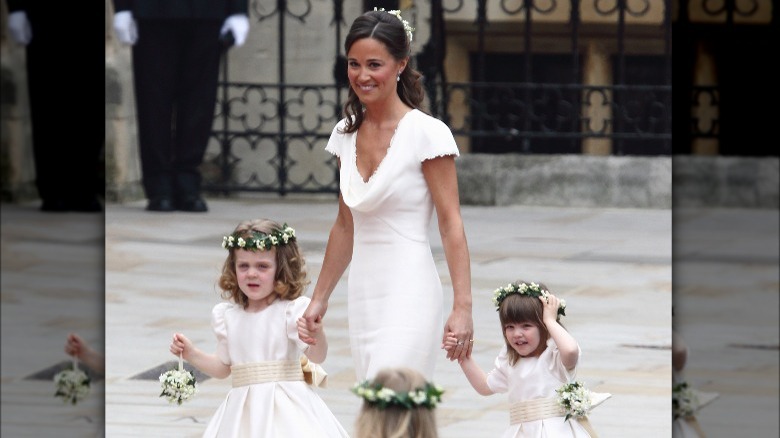 Mike Marsland/Getty Images
Bridesmaids traditionally recede into the background, but not Pippa Middleton. Her dress, made by Sarah Burton for Alexander McQueen, was the dress that became the talk of the town. The dress was white, which is unusual for a bridesmaid dress, and it was form-fitting. Style expert Daena Borrowman told Express why Pippa's dress became so iconic, even over a decade after the wedding."Pippa's dress caused a global stir, firstly, because it was white," Borrowman said. "This was rather untraditional, as the color white is normally reserved for the bride on her big day. Secondly, because of how well it fitted her across her bottom." She said that Pippa almost "upstaged" Catherine, Princess of Wales. 
Pippa herself expressed her surprise over how much attention she got on her sister's big day. "[The attention] was completely unexpected," she told Today. 'You know, I think the plan was not really for it to be a significant dress. Really just to sort of blend in with the train." She said that she was both flattered and embarrassed by all the attention, but still keeps it in her closet at home.
The Beckhams broke protocol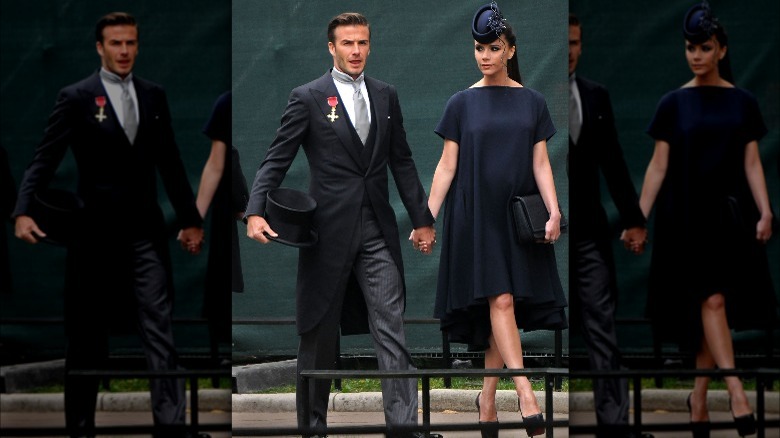 Stuart Wilson/gp
David Beckham had a little mishap at the royal wedding when he wore his Order of the British Empire medal on the wrong side of his jacket. According to tradition, Beckham was supposed to wear it on the left side but he arrived with the pin on his right side. Somewhere along the course of the event, someone corrected him, because once the wedding began, he had it on the correct side. 
Meanwhile, his wife, Victoria Beckham, was pregnant with their daughter Harper. "My wife was eight months pregnant and she was worried where we were going to be sitting," Beckham said of his wife, according to the Mirror. "She needed to be as close to the restroom as possible in case she needed to go." Thankfully, though, everything worked out. "But when we got there, we had perfect seats, she was able to see William and Kate while being five paces away from the restroom," Beckham added.
Princesses Eugenie and Beatrice got roasted online for their hats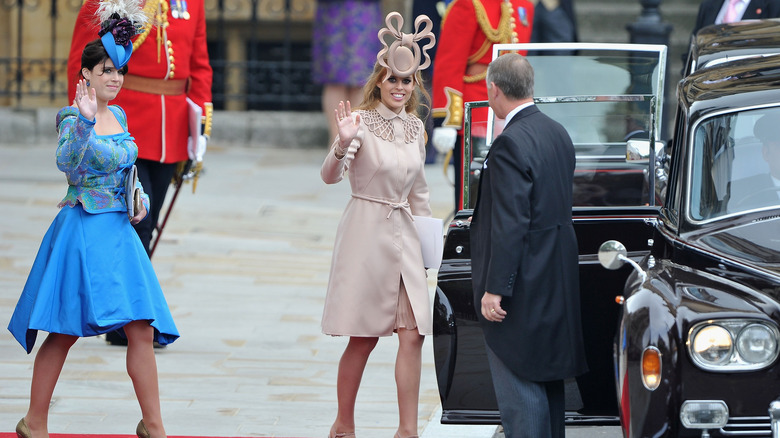 Pascal Le Segretain/Getty Images
Princesses Beatrice and Eugenie didn't fare so well amongst fashion critics at the wedding of Prince William and Catherine, Princess of Wales. The sisters wore hats by Philip Treacy, while Eugenie wore an extremely fitted blue look by Vivienne Westwood. Meanwhile, Beatrice got teased for her "pretzel hat." They were absolutely roasted online for their looks, and were even made into memes, really hurting both of their feelings. 
In an interview with Vogue UK, Eugenie said, "There was a horrible article that had been written about Beatrice, and she got really upset." She went on, "We were just about to step out, and she had a bit of a wobble and cried. I was looking after her. And then about an hour later, I had a wobble and started crying and Bea was there for me." They certainly got rough treatment online, but to be fair, the hats were pretty outlandish.