How Many Kids Does Kody Brown Have With Each Of The Sister Wives?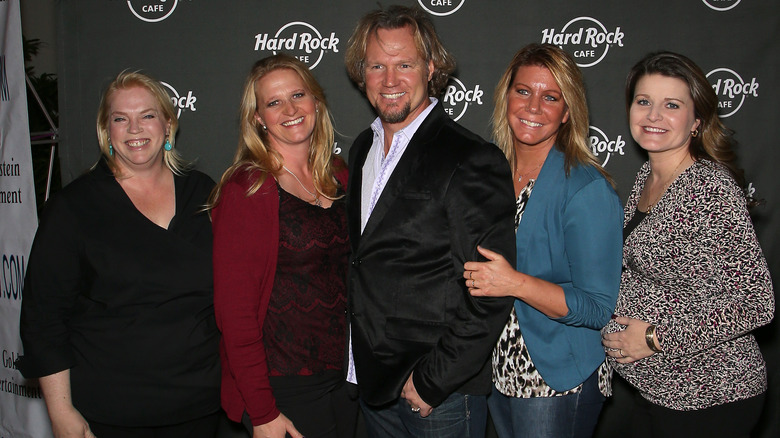 Gabe Ginsberg/Getty Images
In 2010, TLC debuted the reality TV series "Sister Wives," which followed Kody Brown, a Mormon man with three wives, who later added a fourth wife to the family. The show intrigued viewers as they learned how the Brown family spent their time and the dynamics of their complicated relationships. Over the years, much has changed within the family, including the collapse of three of Kody's marriages and problems with some of his children (via Entertainment Tonight). Today, Kody is only legally married to his fourth wife, Robyn Brown. In addition, he is the biological father of 15 children, as well as the adoptive father of Robyn's three oldest kids.
Kody married his first wife, Meri Brown, in 1990. They share only one child together, Leon, who came out as transgender in 2022. "I am trans. My name is Leon, and my pronouns are they/them," Leon wrote via Instagram at the time. Kody and Meri tried to have more children but were unable to fulfill that dream. However, Kody went on to father several more children with his other three wives, Janelle, Christine, and Robyn. Kody and Meri legally divorced in 2014, although they remained together. However, they officially ended their relationship in 2022.
Kody shares 6 children with both Janelle and Christine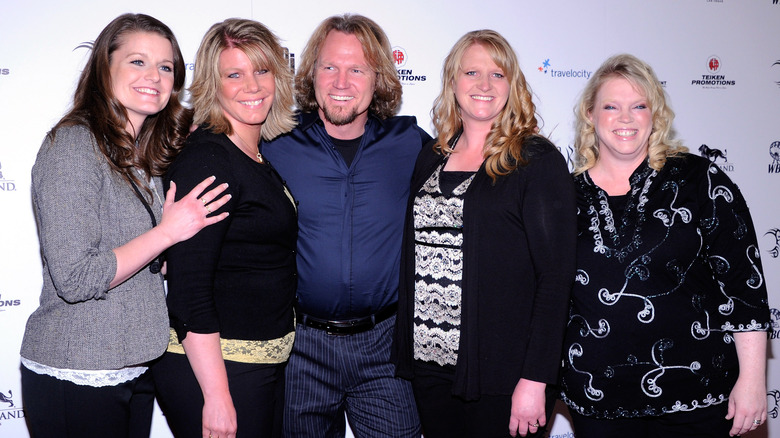 Ethan Miller/Getty Images
Kody Brown shares six kids with his second wife, Janelle Brown, whom he wed in 1993, per Today. Their children, Logan, Madison, Hunter, Garrison, Gabriel, and Savanah, are all now of legal adult age. During the COVID-19 pandemic, Kody began to butt heads with sons Garrison and Gabriel over his rules and restrictions, which caused a huge rift within the family. "All I wanted to do was protect my family, and they refused. And it could have come together, but it went apart," Kody said during the "Sister Wives: One on One special" (via People). "I can't even have conversations with them anymore," he added of his estranged sons. In 2023, Janelle confirmed that she and Kody had been separated for months and that she's mourned the end of her relationship with him.
Meanwhile, Kody and his third wife, Christine Brown, also have six kids together. The pair spiritually married in 1994 and went on to add children Aspyn, Mykelti, Paedon, Gwendlyn, Ysabel, and Truely to the family. Sadly, Kody and Christine were forced to deal with some heartbreaking health news concerning their daughter Truely in 2014, when the child was hospitalized for acute kidney failure, per Insider. The couple's relationship became strained, and in 2021, the duo announced their split.
Kody adopted Robyn's three children before welcoming two more with his fourth wife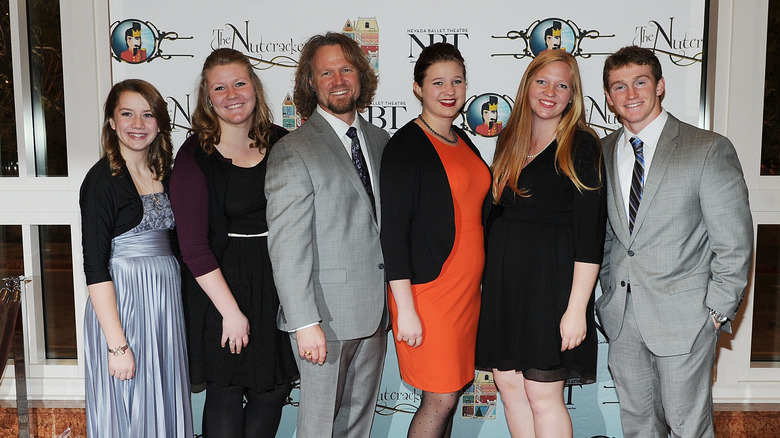 Denise Truscello/Getty Images
Kody Brown married his fourth wife, Robyn Brown, in 2010. Although for years, the reality star considered himself married to all four of his wives at the same time, he's only legally been married to Robyn since 2014. Robyn came into the marriage with three children from a previous relationship, son Dayton and daughters Aurora and Breanna. Kody legally adopted the three kids after marrying Robyn, and during their marriage, the couple also welcomed two children together, a son named Solomon and a daughter named Ariella. Over the years, Kody's other wives had expressed their feelings that he gave Robyn preferential treatment and favored her above his other spouses.
Meanwhile, some of Kody's children have publicly spoken out about their parents' lifestyle as well as their father over the years. Gwendlyn Brown has admitted it was hard for her to see Kody actively parent his youngest children with Robyn when she felt that he was absent for much of her childhood (via TooFab). Paedon Brown has also echoed those sentiments of not having enough time to build a solid relationship with his father. Meanwhile, Gabriel Brown says that Kody forgot his birthday and hasn't spoken to his dad since then, while Kody's daughter Ysabel claimed that his priorities were "a little screwed up."
It seems that the Brown family has a lot to work out if they ever want to be a unit again in the future.