Everyone Needs A Staple Summer Sweater - Here's What To Look For When Deciding On Yours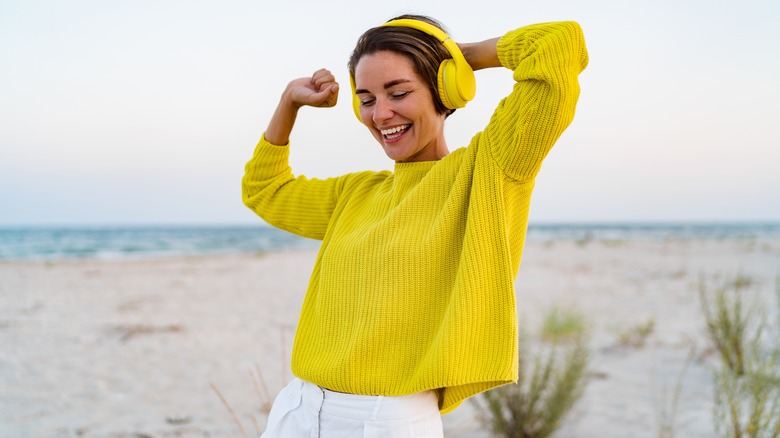 Maria Markevich/Shutterstock
Sweaters are probably the last thing on your mind as summer approaches. After months of layering and stepping out the door hoping for better weather only to rush back in to grab a cardigan, you probably want to leave your sweater behind this time. 
But, it's almost impossible to resist the allure of a cute summer sweater, especially since brands come out with striking designs just in time for the season. Also, if you live anywhere along the Atlantic Ocean or work at an office that blasts impossibly cold air through the air-conditioning, you know the value of owning a summer sweater that you can pull out of your bag and throw on to keep warm. What about those times when your friends invite you over for a late-evening backyard BBQ by the lake or you decide to go on a camping trip and the evenings are a little chillier than you expected them to be? There's always room for a sweater, no matter the season.
But the trick to finding the perfect piece for hotter weather lies in choosing the right fabric and fit, and how you style your favorite summer cardigan.
Go for lightweight fabric and loose silhouettes
Despite how chilly a summer day can potentially get or just how cute it might look, avoid anything that's heavy-duty wool. But you don't have to swear off wool altogether, according to fashion expert and creator of style blog The Dandy Liar, Aubrey Ballard. If the gauge is loose, then you're good. Speaking of gauge (which is basically the number of stitches per inch on a piece of knitwear), Ballard shared, "The larger the gauge, the more air the sweater is going to let in. One way to tell if a knit has a loose gauge is to hold it up to the light. If you can see light through the knit, then you are probably good to wear that puppy out to your favorite summer festival."
As for fabric, think lightweight, but steer clear of synthetic fibers. The last thing you want is irritated and/or sweaty skin. "This translates to silk or cotton blends with some wool if necessary — and absolutely zero polyester, acrylic, nylon, and so on," fashion editor and sustainability consultant Mary Fellowes explained to Marie Claire.
The great thing about a staple summer sweater is that it doesn't have to be long-sleeved, overly bulky, or even cover all of your skin. There are plenty of options to choose from — think anywhere from sleeveless sweaters and short-sleeved options to open-knit cropped cardigans and off-the-shoulder silhouettes. 
How to style a summer sweater
Since summer will naturally call for shorts, tank tops, and skin-baring numbers, look at your summer sweater as a perfect accessory to this style aesthetic. You don't have to compromise on staying cool in the hot weather as long as you pair your cardigan with everyday summer wear. Think an open-stitch cropped sweater over a short denim skirt or an off-the-shoulder cardigan with a flared floral beach dress. 
"For me personally, I love to wear lightweight sweaters and mix them in with shorts. [Summer sweaters] can also be a cool accessory just to tie across your body or your neck," added fashion stylist Jay Hines (via Marie Claire). And if you're thinking you have to ditch sweater vests for the summer, think again. Since they're made with less fabric than regular sweaters anyway, they are the perfect staple for the hot season. Pair them with just a bra over your favorite pair of jeans or pull them over a tank top and shorts if you're heading to the beach in the evening.
With plenty of designs to choose from, picking a summer cardigan that can easily accompany you into the other seasons of the year can be a fun exercise. Nordstrom's Jaida Puff Sleeve Sweater is a cute pick for the hot season, and it works well all on its own. The Cotton Summer Sweater Tank from Everlane is another fitting choice for your wardrobe.