Ivanka Trump's Hot Girl Summer Heats Up As Donald Remains Embroiled In Legal Trouble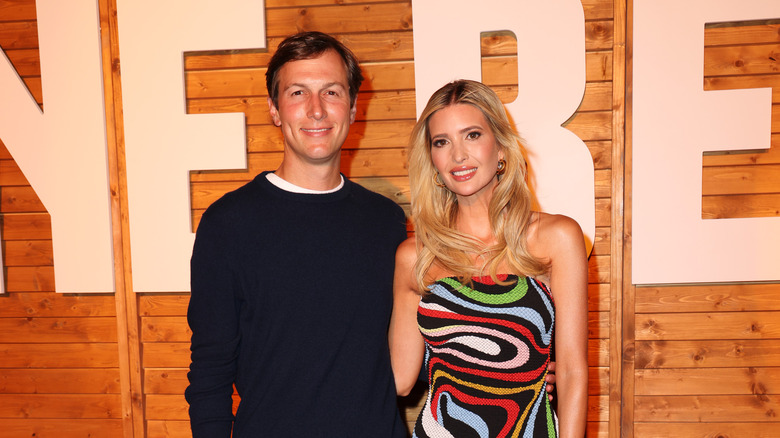 Alexander Tamargo/Getty Images
Former president Donald Trump is facing quite a litany of legal issues. Trump became the first president to be indicted on criminal charges, being charged with 34 offenses of falsifying business records in connection with a cover-up of payments made to Stormy Daniels in the run-up to the 2016 election. Over 30 federal charges followed; those are in regard to classified documents that he allegedly mishandled after leaving office. Amidst all of that, Donald is running for the presidency for the third time.
But this time around, his daughter Ivanka Trump won't be publicly involved in the campaign or his presidency if Donald wins. She told Fox News Digital that,"While I will always love and support my father, going forward I will do so outside the political arena." Getting away from politics seems to have been good for Ivanka and her family: "I am loving this time with my kids, loving life in Miami and the freedom and privacy with having returned to the private sector." Ivanka also seems to be loving life beyond Miami (and without her kids) if her Instagram pics are any indication.
Ivanka Trump's been traveling the world this summer
While Donald Trump may be facing some potentially serious legal issues, Ivanka Trump is living it up this summer. The former first daughter posted pictures on Instagram of her and husband Jared Kushner in Ibiza. It looks like they're having a fantastic trip, with her timeline featuring snaps of a restaurant with an idyllic Mediterranean view, views from a boat, and several clips of a DJ playing to a packed club. She and her husband were also spotted enjoying the Spanish sunshine on a yacht and chatting with DJ David Guetta, via Daily Mail.
This isn't the only vacay that Ivanka's been on this summer. Just a week before the Ibiza pictures, Ivanka posted a shot of herself at the beach wearing a black one-piece and carrying a surfboard with the caption: "Soaking up the Summer Solstice." Apparently she took surf lessons while visiting Costa Rica (per Daily Mail). And just a few weeks before that, she posted pictures from her and Kushner's trip to Greece. Ivanka and Jared really do seem to be living a lavish life as they have fun in the sun all around the world this season.