What Missy Elliott's Parents Really Did For A Living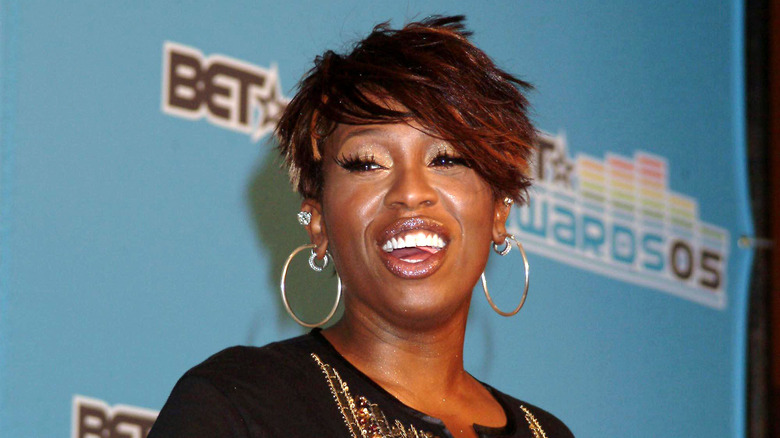 Everett Collection/Shutterstock
There are many ways to make it in the entertainment industry. Actors can work super hard at gigs in their own city and hope for a big break, while some people move to the entertainment capital of the country, Los Angeles, in order to heighten their chances. Models almost always have to move to New York to get discovered and sign with an agency, while singers release tons of covers and mixes on social media.
However, the cases of rags to riches are always few. A lot of the time, the stars we know and love had helping hands here and there, from either parents in the industry or relatives with industry connections. It's always a surprise to find out some of your favorite actors or singers are actually "nepo babies" and have famous relatives who ensured them a spot in the limelight — not taking away from their natural talents of course. However, one of the most notorious rappers and MCs out there, Missy Elliott, climbed her way to the top with regular parents who worked normal jobs for a living.
Missy's mom was a power company dispatcher and her father was a Marine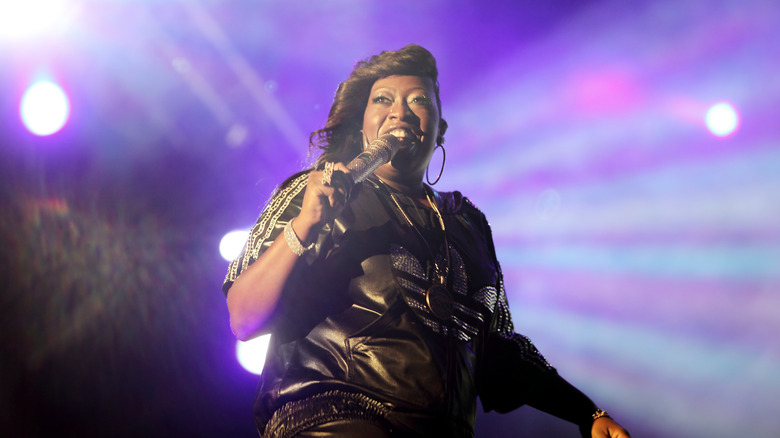 Nikola Spasenoski/Shutterstock
Missy "Misdemeanor" Elliott has definitely cemented her status as one of the most successful hip hop artists of our time, especially in the female category. Impressively, she didn't grow up in the lap of luxury but saw a lot of struggle. Her father, Ronnie Elliott, was a U.S. Marine, while her mother worked as a power company dispatcher. Incredibly brilliant as a child, Missy not only excelled in her academics but also found her passion for singing and performing.
When her dad left the Marines, life turned tragic for Missy Elliott and her mom as they faced financial problems as well as domestic violence at his hands, according to Biography. Eventually, the mother and daughter fled from their home and sought a safe haven with a relative. 
Although the hardship was more than what any child should have experienced, the "Get Ur Freak On" rapper said that it motivated her to help her mother come out of that situation. In a tweet responding to a fan asking what drove her to navigate a male-dominated industry, Elliott replied, "I seen many strong women in the industry be4 me that made it through & my mom was in an abusive relationship so I told her I would make it so I could get her out of that situation & I would make sure she'd never have to work again that's what really kept me going."
Missy's ambition landed her in two Halls of Fame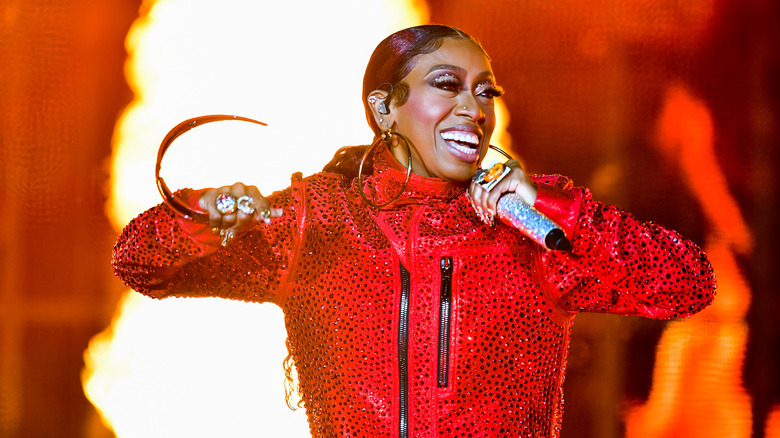 Aaron J. Thornton/Getty Images
Missy Elliott's determination to rise above her childhood situation surely paid off in full. The star is a multiple award-winning artist, having bagged four Grammys and two American Music Awards so far, amongst many other awards and accolades. Having written hits for other musical acts such as Beyoncé, Whitney Houston, Aaliyah, and Mariah Carey, the "Lose Control" singer was inducted into the Songwriters Hall of Fame in 2019, making history as the first female hip hop artist to achieve this.
In addition to this, Elliott was inducted into the Rock and Roll Hall of Fame as one of their 2023 inductees. The Hall of Fame praised Elliott's futuristic flow and gave her props for her contribution to women's rap. The star took to her Instagram to share the great news and express her emotional gratitude for the honor. She writes: "I want to say this is HUGE not for just me but for all my sisters in HIPHOP this door is now OPEN to showcase the hard work that many of us WOMEN contribute to MUSIC. I have cried all day because I am GRATEFUL."
Elliott's commitment to smashing down barriers for women in the entertainment industry makes her a legend in everyone's book.