Anna Duggar Was Unhappy About Jill And Amy's Shiny Happy People Confessions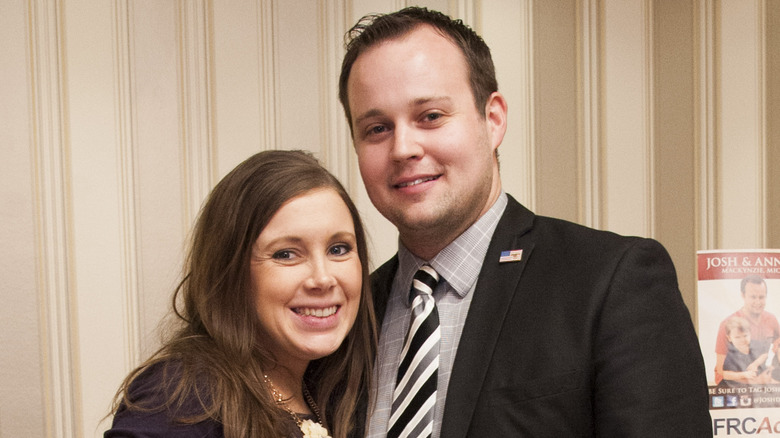 Kris Connor/Getty Images
In early June 2023, "Shiny Happy People: Duggar Family Secrets" premiered on Amazon Prime. The explosive docuseries features former "19 Kids & Counting" stars Jill Duggar Dillard and her cousin, Amy Duggar King, as they expose the Institute in Basic Life Principles (IBLP) and their famous family members, including Josh Duggar. With the release of "Shiny Happy People: Duggar Family Secrets," Jill's parents, Jim Bob and Michelle Duggar, released a note on their website condemning the series. Josh's wife, Anna, who he married in 2008 and shares seven children with, has a similar opinion, according to In Touch Weekly.
A source told the publication, "Josh's wife Anna isn't a fan of Jill. While she isn't saying much, I hear that she doesn't want to watch the documentary and thinks the people who participated are toxic." Josh and the entire Duggar clan were admonished when news leaked in 2015 that he had sexually abused some of his sisters in 2003 and it was revealed that his family tried to cover it up. Jill and her sister, Jessa Seewald, spoke with Megyn Kelly to diffuse the situation, but in the end, TLC canceled "19 Kids & Counting."
In "Shiny Happy People," Jill lamented the fact she did the interview. Amy also criticized the interview and how Jim Bob and Michelle tried to hide Josh's molestation scandal. Amy has spoken out against Josh multiple times. However, she has nothing but support for Anna.
Anna Duggar refuses to talk to Amy Duggar King
In 2022, authorities arrested Josh Duggar for having child pornography on his computer. A year later, he was sentenced to 12.5 years in prison. Despite this charge, his wife, Anna Duggar, asked the court for leniency towards Josh. This led Josh's cousin, Amy Duggar King, to post a heart-wrenching letter to Anna on Instagram, where she wrote that the best thing that Anna could do for her seven children would be to divorce Josh. Amy later told People that she asked Anna if she and the kids wanted to stay with her during Josh's trial, but received no reply.
Amy revealed to Entertainment Tonight that she has tried to contact Anna again and again to no avail. She explained, "And it might take a little bit for her to comprehend all this trauma ... so I don't know where she is, mentally. I don't know if she's getting help, I don't know if she's getting therapy, but you can't help someone who doesn't want to be helped. That is the sad realization that I had to come to."
However, a source explained to In Touch Weekly why Anna might not be keen to speak to Amy. They said, "Anna took [family members speaking out] as a betrayal and she's still not ready to fully forgive some family members."
Is Anna Duggar still devoted to her husband and the IBLP?
While her husband is in prison, Anna Duggar is said to be struggling with her situation. She was previously active on Instagram, but deleted her page shortly after Josh Duggar's sentencing. Furthermore, Anna reportedly has doubts about her marriage to Josh. A source told In Touch Weekly, "Divorce is not something she wants, but she'd be lying if she said she hasn't questioned her future with Josh." They added, "Anna married Josh for better or worse and it can't get any worse than this."
When he's released in 2032, People reports that Josh will have a parole officer for 20 years and will not be allowed to own a computer. Moreover, his visits with children will have to be supervised. Per In Touch Weekly, a source said that Anna is still, to an extent, involved in the IBLP. They noted, "Some say Anna needs to watch it ["Shiny Happy People: Duggar Family Secrets"] to get another wake-up call, but she's not ready. She's still trying to cope with what Josh did."