Queen Camilla Reportedly On The Outs With Kate Middleton While Still Shunning Meghan And Harry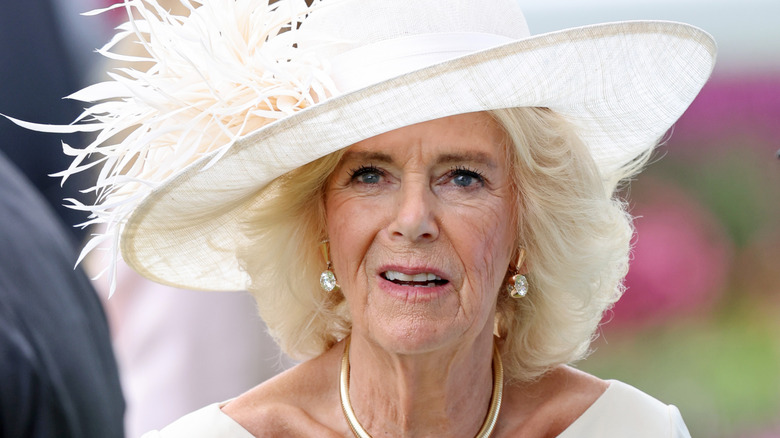 Chris Jackson/Getty Images
The rift between much of the royal family and Prince Harry and Meghan Markle, Duke and Duchess of Sussex, is no secret. Private conflicts came to light when the Sussexes shared many of their experiences in interviews, the Netflix docuseries "Harry & Meghan," and Harry's memoir "Spare." One person who didn't come off well in Harry's "Spare" was his stepmother, Queen Camilla. And while Harry denied that he wrote a scathing account of Camilla in "Spare," she definitely didn't come off great. He wrote about how he and his brother didn't want their dad to marry Camilla, and Harry's belief that she and her team leaked stories to the media and that Camilla had "sacrificed me on her personal PR altar," per Time.
However, it's not just Camilla's relationship with the Sussexes that's suffering. Camilla and Catherine, Princess of Wales, seemingly aren't in a good place either. Both Kate and Camilla are royal outsiders, having married into the famous family, but apparently Camilla didn't always approve of Kate as a match for William, per The Sun. There have also been rumors that Camilla is jealous of Kate's popularity with the public; Radar Online noted that a royal insider said Camilla was "consumed by jealousy" when it came to Kate. It's a sentiment seemingly shared by her husband. Prince Harry wrote in "Spare" about how King Charles wasn't happy when Kate and William got more attention than he did, via Daily Mail. 
With Camilla's new role as queen consort, tensions may be escalating between her and Kate.
There might be some hard feelings between Queen Camilla and Princess Catherine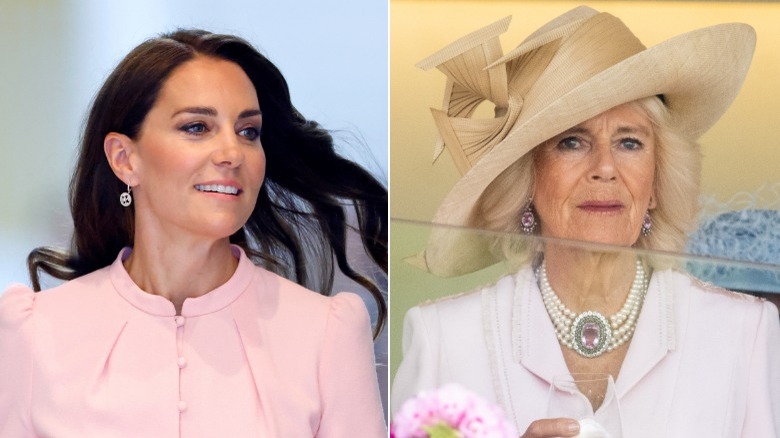 Max Mumby/Indigo, Samir Hussein/Getty Images
At the coronation of King Charles III, Queen Camilla was also crowned. And as they left Westminster Abbey, Catherine, Princess of Wales curtsied as the king walked past, but she didn't do the same for Camilla, per Radar Online. This was apparently down to a dispute over the guest list for the coronation, with a limited number of Middleton family members allowed to attend — just four, compared to Camilla's 20. Additionally, Camilla herself invited Rose Hanbury to attend the coronation. Rumors have swirled about an affair between Prince William and Hanbury, so that could explain some lingering hurt feelings between Camilla and Kate. However, besides Kate's coronation curtsy snub, there haven't been any other public signs of the tensions between the two women.
The falling out between Camilla and Meghan and Harry is more obvious. And apparently while at the Royal Ascot, the chatter amongst the royals and their guests reportedly included their relief that Harry and Meghan weren't there, according to OK! Magazine. Camilla is said to feel "uncomfortable" around Meghan and Harry, and considering the royal tea Harry has spilled about his stepmother, that may never change. 
There's a rumor that they had a 'blazing blowout' after Queen Elizabeth's death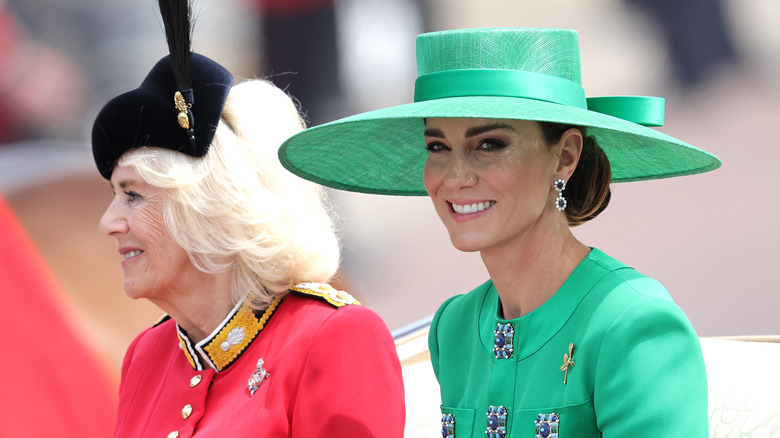 Chris Jackson/Getty Images
There may be another reason why Catherine, Princess of Wales, refused to curtsy for Queen Camilla at the coronation — according to a May 2023 Radar Online report, Kate was not too pleased with Camilla's behavior following the death of Queen Elizabeth in September 2022. Per Radar, "Camilla's lifelong dream of becoming queen had gone straight to her head. She started throwing her weight around, making it clear who was boss and demanding that everyone bow down to her." 
Apparently, Kate was "frankly disgusted" by this attitude from Camilla, and the tension that had been steadily growing between the two over the years turned into a full "blazing blowout." When Kate withheld that curtsy, that was a very "obvious insult," according to OK! Magazine. Per the outlet, it was a purposeful move on the princess' part to make her negative feelings toward Camilla public. 
Fans of the royals will have to keep looking out for subtle signals like these for updates on this rumored feud.