Chrissy Teigen's Name For Fourth Baby Carries Touching Tribute To Surrogate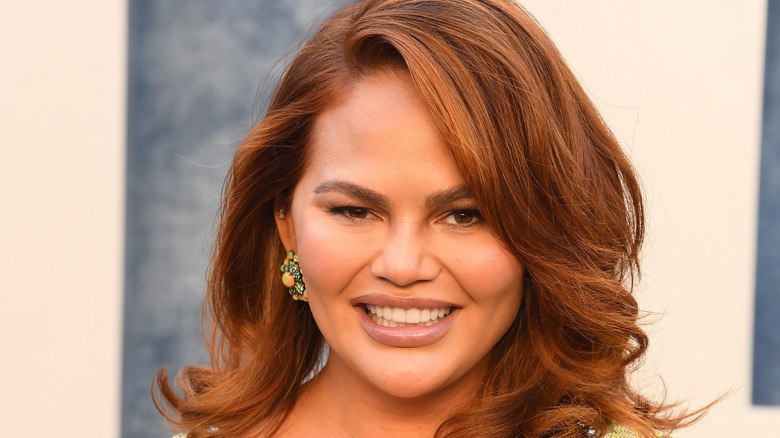 Steve Granitz/Getty Images
Chrissy Teigen and John Legend have announced that they have welcomed another baby to their family, bringing the total number of kids to four. Teigen hasn't been shy about the journey she's taken in building her family — Teigen has been open about her heartbreaking pregnancy loss in 2020. In an Instagram post about the arrival of their latest bundle of joy, it sounds like having four kids is a dream come true for Teigen. She wrote, "As a little girl, 2 glow worms and 2 cabbage patch dolls were perpetually in my arms."
Teigen knew she wanted more kids, and the couple ended up doing IVF, and Teigen got pregnant with their third baby Esti, who was born in January 2023. She hadn't been sure if she could go through a pregnancy again, so they'd also gotten in touch with a surrogacy agency.  And it turns out they did decide to go through with a surrogacy to welcome their fourth child. The baby — Wren Alexander Stephens — was born in June 2023, and Teigen and Legend touchingly chose a name that honored their surrogate, whose name is Alexandra.
Chrissy Teigen shared a close relationship with the surrogate who carried her fourth baby
Chrissy Teigen and John Legend chose the name Wren Alexander Stephens for their fourth baby with a middle name that was a tribute to the surrogate who carried him. Teigen posted her family's name choice and a tribute to their surrogacy journey on Instagram: "We want to say thank you for this incredible gift you have given us, Alexandra. And we are so happy to tell the world he is here, with a name forever connected to you." 
So sweet! It's clear that it wasn't a transactional relationship; Teigen wrote about how close she and Alexandra were during the pregnancy and it sounds like they'll stay close for years to come. Teigen's third pregnancy and Alexandra's even overlapped, and Teigen described their sweet bonding activities, like eating hot pot and watching "Vanderpump Rules" together while pregnant. 
Teigen included pics of the new baby — he's got a full head of hair! — as well as a sweet picture of her kissing Alexandra's pregnant belly. And while they're over the moon with happiness now, it sounds like the surrogacy journey wasn't always smooth. Teigen wrote, "The first embryo we tried with Alex didn't survive." Thankfully the second one did, and with the birth of Wren, as Teigen put it, "our hearts, and our home, are officially full."