Times Prince William And Kate Middleton Were Refreshingly Honest About Their Relationship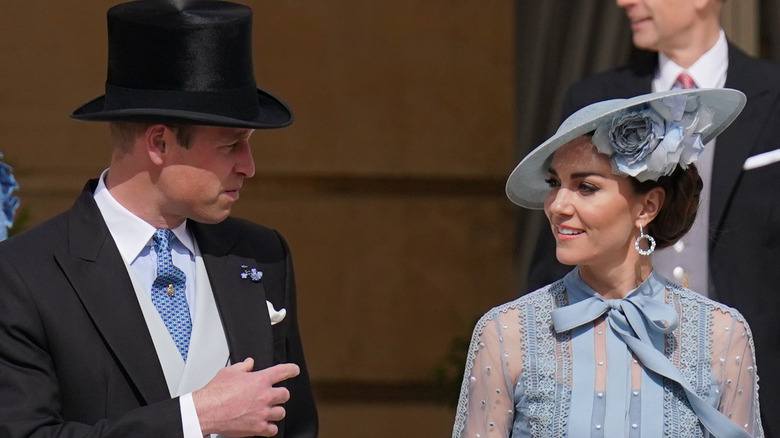 Wpa Pool/Getty Images
Prince William and Princess Catherine of Wales are one of the most famous royal couples in the world, but because of their positions and roles within the British royal family, fans know surprisingly little about what they are truly like behind closed doors. This is especially true when it comes to their relationship with one another.
The couple met and fell in love as college students in the early 2000s, and have been married since 2011. Since their fairytale wedding, the couple also welcomed three children: Prince George, Princess Charlotte and Prince Louis. Still, the couple rarely engages in any form of public displays of affection and tends to follow royal protocol when it comes to their private lives, meaning there really isn't a lot known about the inner workings of their romance.
Thankfully, while they do try to keep things mostly private, the royal couple has, on occasion, given fans an inside look that shows just how strong their bond is, whether it was through meaningful glances and light touches, outright confessions or small comments. Here's how they've refreshingly shared some more honest glimpses of their love story and lives today.
Prince William knew there was something special about Princess Catherine when he met her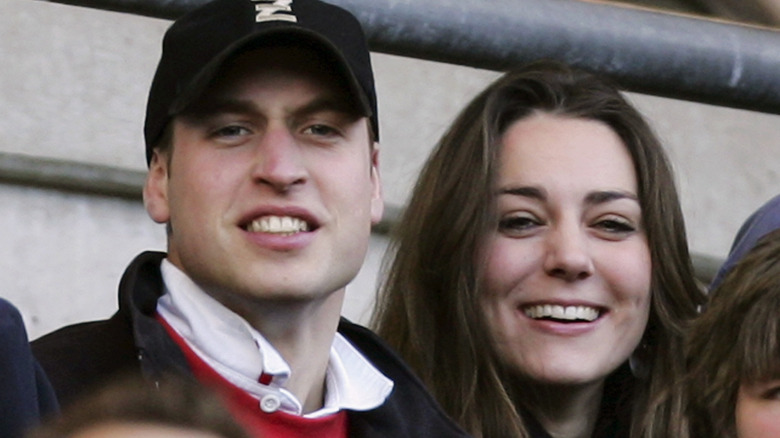 Richard Heathcote/Getty Images
After meeting at St. Andrews University in Scotland in 2001, Prince William and then-Kate Middleton became friends — but things didn't turn romantic right away, and they didn't begin to date until the following year. However, while it took time for romance to blossom, that didn't mean that Prince William didn't already know that she was going to be someone who potentially held a bigger role in his life.
"When I first met Kate I knew there was something very special about her. I knew there was possibly something that I wanted to explore there," he said in their post-engagement interview with Tom Bradby in 2010. "We ended up being friends for a while and that just sort of was a good foundation. Because I do generally believe now that being friends with one another is a massive advantage. And it just went from there."
Famously, things started to take that turn toward the romantic side when the future Princess wore a see-through dress at a charity fashion show, catching William's attention. They officially became a couple in 2002.
Prince William really tried to impress Princess Catherine in the beginning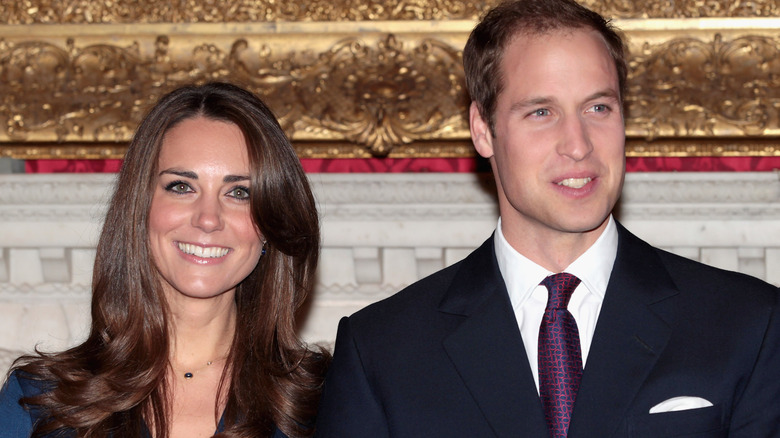 Chris Jackson/Getty Images
When Prince William and Princess Catherine finally started dating, they still both went through some awkward moments as they got to know one another better. In fact, Prince William has even gone on the record and admitted that he really wanted to make a good impression, and, sadly, being one of the most famous men in the world didn't mean he was always going to be a success at it.
During the Tom Bradby interview with ABC News, William went on to admit that as time went on in their romance, he became "lazy" about cooking, and recalled that it was also possibly due to a lack of success when he tried to impress her with his skills in the kitchen as his new girlfriend.
"When I was trying to impress Kate I was trying to cook these amazing fancy dinners and what would happen was I would burn something, something would overspill, something would catch on fire and she would be sitting in the background trying to help, and basically taking control of the whole situation, so I was quite glad she was there at the time," he recalled.
Princess Catherine once chided Prince William for acting like a teenager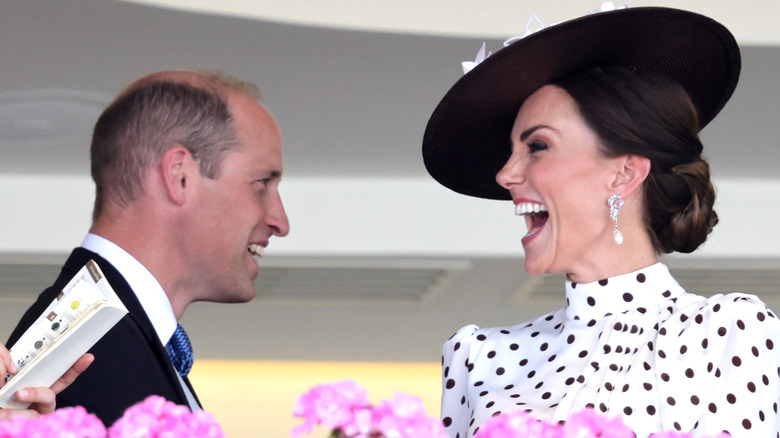 Chris Jackson/Getty Images
After a breakup in 2007 and eventual reconciliation, Prince William and Princess Catherine wed in 2011, and have seemed happy ever since. However, that doesn't mean that they don't poke fun at one another, nor are they immune from having issues and arguments.
It appears that there are times when the future king lets his behavior get the best of him, and he reverts to some of the ways he acted when he was a younger man. During a 2016 trip to a school, as they raised awareness for their Heads Together campaign, the Prince of Wales joked about acting like a teenager, saying, "Sometimes I still feel like I am 16, to be honest sometimes I still act like I am 16," according to Hello!
His wife wasted no time with a comeback, stating "I still think you're 16," in front of the crowd. Her husband was then forced to admit that he heard that from her often, indicating that there may occasionally be some discord behind closed doors, but they also seem to handle it with grace and humor.
Prince William praised his wife as she adapted to motherhood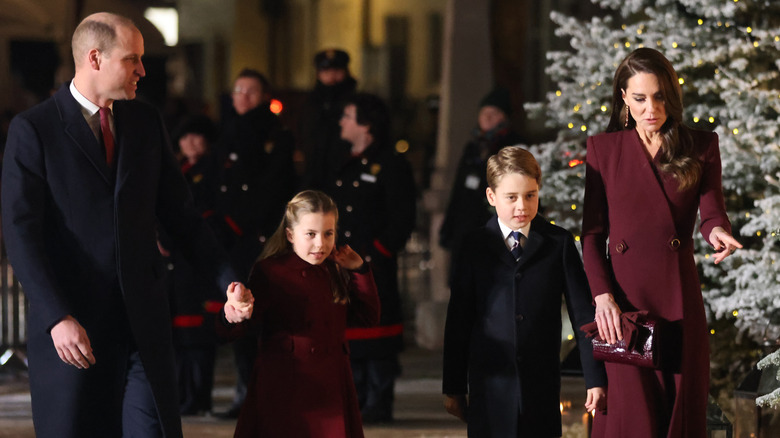 Wpa Pool/Getty Images
Like any couple that's been together for an extended period of time, Prince William and Princess Catherine have seen their relationship change and evolve over time. They went from friends to boyfriend and girlfriend, to being engaged and then married. They've seen their roles in the royal family evolve as well, especially as they acquired new titles with the death of Queen Elizabeth II. However, the biggest way their relationship and lives both evolved was by becoming parents.
Parenthood on its own is an adjustment, and that was also true for the royal couple. Not only did the princess struggle with Hyperemesis Gravidarum, a severe form of morning sickness, through all three of her pregnancies, but she and her husband both had to adjust as they welcomed more babies together. While Prince William admitted on "Talk Vietnam" in 2016 (via Us Weekly) that he struggled with the changes, his wife was handling the adjustment like a pro.
"It's been quite a change for me personally. I'm very lucky in the support I have from Catherine, she's an amazing mother and a fantastic wife," he said at the time. "I've struggled at times. The alteration from being a single, independent man to going into marriage and then having children is life-changing."
Princess Catherine revealed Prince William's most annoying habit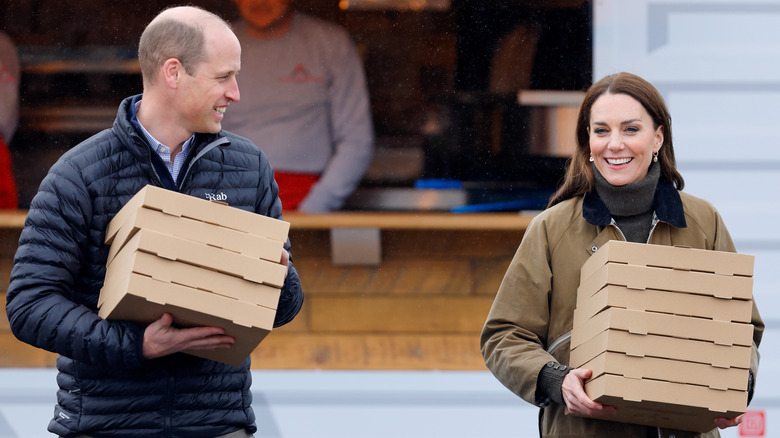 Max Mumby/indigo/Getty Images
While it would be easy to believe that members of the royal family are always super dignified and composed, and definitely don't have annoying habits that frustrate their significant others, that is most certainly not the case. When it comes to Prince William and his Princess Catherine, as it turns out, he has one very specific habit that grates on his wife's nerves.
According to the New York Post, during a visit to a Royal Air Force base in Cyprus, Greece, in 2018, the prince's attempt at humor when sharing advice on what not to do in the recreational area at the base led to his wife sharing that he potentially annoys her to a great extent when he eats pizza. While the princess is also known to enjoy pizza from time to time, her ire seemingly didn't come from her husband choosing to eat it, but rather, where he chose to stay inside their home.
"You're a nightmare with that," she reportedly said at the time, after Prince William advised those stationed there to "keep the pizza off the sofas."
Prince William shared Princess Catherine's guilty pleasure shows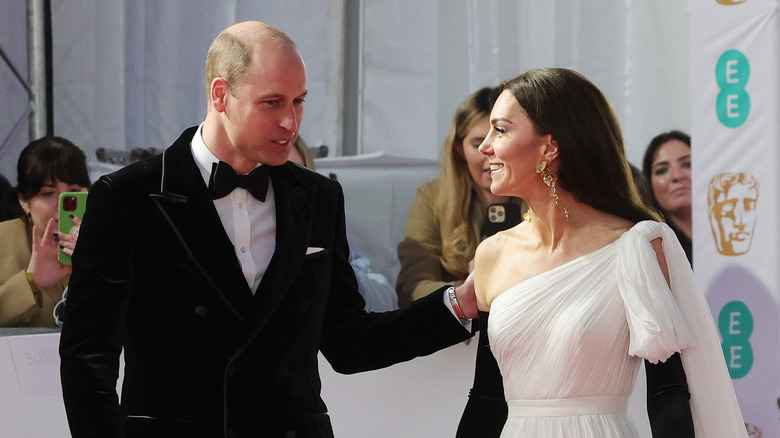 Chris Jackson/Getty Images
Having shared interests in entertainment can be helpful for couples who want to keep their bond strong through several years of marriage, and it appears that applies to the Prince and Princess of Wales as well. Not only did Prince Harry reveal in his memoir, "Spare," that the pair were "regular – nay, religious viewers" of "Suits" prior to meeting Meghan Markle for the first time, but there seems to be love for some reality television shows as well.
In 2019, while meeting with Shirley Ballas and Claudia Winkleman from "Strictly Come Dancing" at a charity gala, Prince William revealed that his wife was a "huge fan" of the show, and even admitted that his mother-in-law, Carole Middleton, also adores it. However, it appears he also let slip that at least sometimes, he may sit down with his wife to watch her guilty pleasure shows. "I have watched the show a couple of times," he admitted (via People).
Prince William's gift-giving strategy can sometimes be lacking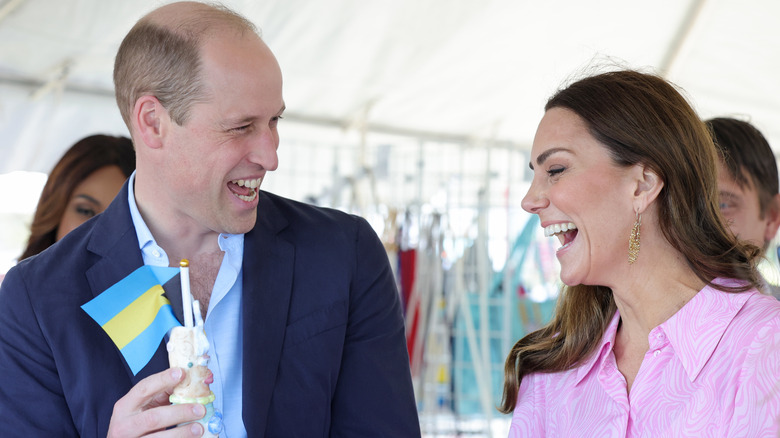 Chris Jackson/Getty Images
Everyone has different strategies when it comes to giving gifts to their significant other. Some may prefer flashier and more expensive presents, while others opt for more sentimental items. While it's not clear what gift-giving is like these days between Prince William and Princess Catherine, at the beginning of their relationship, the immense wealth that comes with being a royal didn't help the future king, at least in one instance.
In a 2020 podcast interview on BBC Radio Five Live (via Yahoo!), the prince admitted that his wife has never let him live it down that at one point early in their relationship, he wound up giving her a gift that she really didn't like–a pair of binoculars. He also went on to admit that he wasn't even sure what compelled him to purchase the item either.
"That was early on in the courtship that was — I think that sealed the deal," he said. "It didn't go well. Honestly, I have no idea why I bought her a pair of binoculars, it seemed like a good idea at the time."
Prince William and Princess Catherine may not be on the same page about a fourth child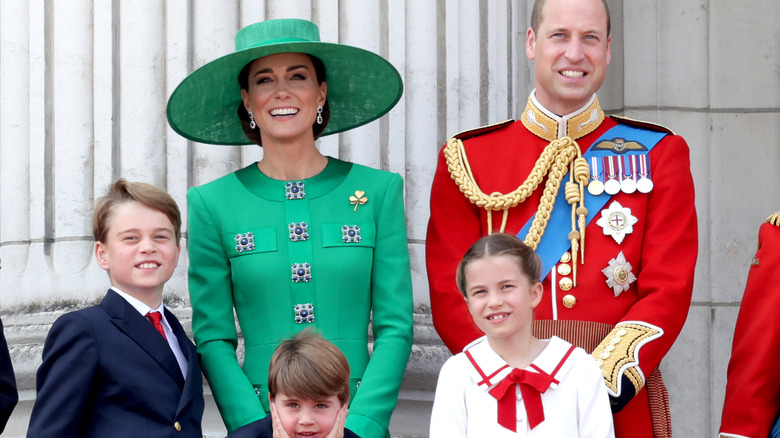 Chris Jackson/Getty Images
Though they seem to be in perfect harmony with one another in public, that doesn't mean that Prince William and Princess Catherine are entirely in sync when it comes to their daily lives — or the big decisions about their lives. While they still have a strong bond in their marriage after 12 years, they may not always be on the same page when it comes to the idea of expanding their family one last time with a fourth child.
Having welcomed their third child, Prince Louis, in 2018, it seems the couple is now officially done having children, as they never waited more than a few years between the births of all their kids (Prince George was born in 2013 and Princess Charlotte arrived in 2015). Rumors have persisted though that Catherine wants a fourth child, and fans are constantly wondering if she will get pregnant again. However, a comment she made while visiting Northern Ireland in 2019 seemed to indicate that William did not after she admitted to feeling "broody" while meeting a young baby. According to Hello!, after the baby's father inquired about another baby for her, she laughed the suggestion off but hinted the idea might scare her husband. "I think William might be slightly worried," she joked at the time.
Prince William called out Princess Catherine's body temperature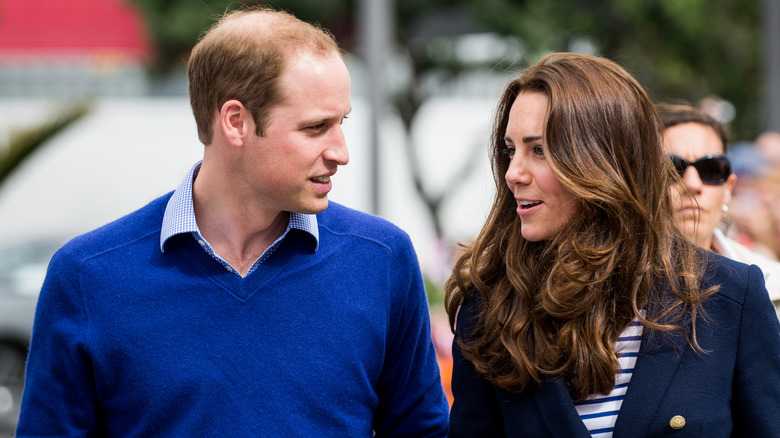 Shaun Jeffers/Shutterstock
It seems that a difference in body temperature is also a part of the Prince and Princess of Wales's marriage, though it doesn't seem to be causing any significant problems. In fact, admitting that his wife doesn't always feel a particular temperature also led to a sweet moment for Prince William.
Back in 2022, the couple visited Wales in honor of St. David's Day, and while they do try to refrain from sharing too much about their personal lives, William did share a sweet comment about his wife that gave a small glimpse into their romance. While starting out by sharing something that might not seem like a glowing comment, he quickly followed it up with a sweet remark–all related to his wife's body temperature. "[Kate] has the coldest hands ever," he told well-wishers at the time (via People). "They say, 'Cold hands, warm heart.'"
Prince William thinks his wife is still stunning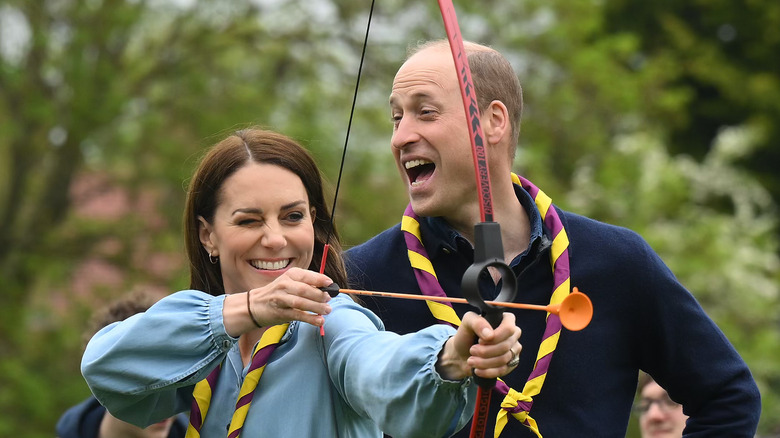 Wpa Pool/Getty Images
The spark is expected to wear off after being married or in a relationship for a long period of time, and that can easily translate into how one partner feels about the other's looks. However, this doesn't appear to be the case for Prince William and Princess Catherine, as he has gone on record to share that he still loves how his beloved of over 20 years looks.
During a joint appearance greeting well-wishers at an event in Birmingham, England in April 2023, William was caught on camera praising his wife and her celebrated fashion sense. After one woman, who the prince greeted, shared, "That's an amazing outfit Kate has got on," he was seen looking over towards his wife before replying with a smile and sharing how he felt. "She always looks stunning," he shared, indicating that the spark is far from gone as a result.
Princess Catherine admitted that falling in love with Prince William led her to accept royal life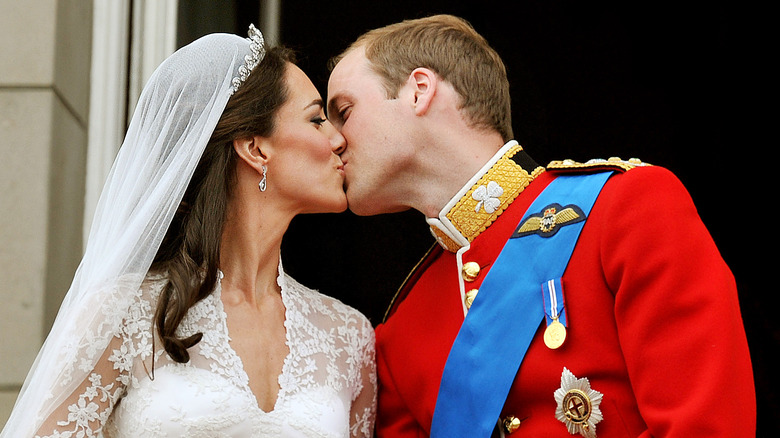 Wpa Pool/Getty Images
No one outside of the royal family who wound up marrying into it likely ever expected they would wind up there, and Princess Catherine was no different. She didn't set out to meet Prince William and become his wife when she opted to attend school at St. Andrew's. However, her life changed dramatically after they met and became a couple, and while she needed to adjust to the change in her status and fame as a whole, she was willing to accept it because of how deeply she felt about her eventual husband.
During an event in May at St. Katherine's School in Bristol, the Princess of Wales answered questions from female students, one of whom inquired if she had "wanted to be a royal," (via Cosmopolitan). The princess was refreshingly honest when she answered that she never expected her life would turn out that way. However, she also admitted she was willing to learn the ins and outs of becoming a member of the royal family because she was "falling in love" with Prince William, and doing so meant she was going to have to adjust to an entirely new world.
She went on to adapt beautifully and is revered as a highly-regarded member of the family today as a result. As it turns out, falling in love led her down the path she may have been meant for, even if she never expected it.