What Happened To Nearly Newlywed After Shark Tank?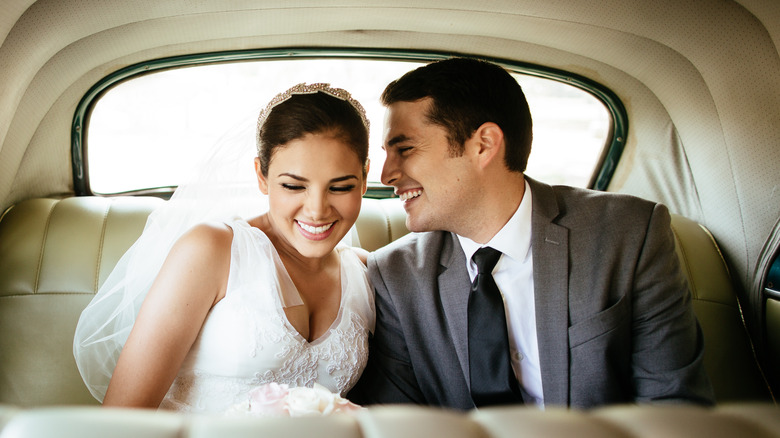 Aldomurillo/Getty Images
Weddings can be expensive. The venue, dress, dinner, cocktails, favors, and decorations are just a few things that rack up the bill. But one smart hack to planning a wedding on a budget is to rent your gown since you're probably only going to wear it once, like that high school prom dress.
Jackie Courtney set out to break the stigma that a bridal gown has to be expensive and that rentals or pre-owned dresses are something to be ashamed of. Her business, Nearly Newlywed, is an online boutique where brides-to-be can shop for their dream dresses at up to 90% off retail. Not only is Courtney the owner, but a customer too. On her website, she wrote, "I wore a Vera Wang gown that was worn by a bride in Atlanta. I resold it to another bride in NYC after my wedding, and she sold it to a bride in London. 4+ brides wearing a $7k dress instead of 4 new dresses at $7k each."
To get her company off the ground, Courtney pitched on "Shark Tank," hoping for a deal. However, none of the investors wanted to marry themselves to Nearly Newlywed.
Nearly Newlywed is a part of the 'no deal' Shark Tank circle
Jackie Courtney entered the tTnk asking for $35,000 in exchange for 10% equity in Nearly Newlywed. Her business aimed to save former brides and brides-to-be money by creating a platform they could buy and sell their wedding dresses, a concept that Courtney says was inspired by the overlooked truth that celebrities borrow their luxury looks for red-carpet events.
The bridal company would take 35-45% of each sale, and with little overhead, it was a hefty profit. However, with only four dresses sold in Nearly Newlywed's opening month, the Sharks were not impressed. Courtney had what Barbara Corcoran looks for in a person before investing, and the real estate mogul acknowledged Courtney's drive. However, Corcoran went out first.
Robert Herjavec, Daymond John, and Mark Cuban follow Corcoran's lead, leaving Kevin O'Leary to swim solo. The investor, ironically known as Mr. Wonderful, was interested in Nearly Newlywed, but not for 10%. O'Leary offered Courtney the $35k she was looking for but wanted 40% of the business. It was a steep ask that cut her valuation from $350,000 to under $90,000. Courtney couldn't part with that much of her company and left the Tank without a deal. But it was a blessing in disguise.
Nearly Newlywed is dominating the wedding industry
Sometimes you hear a lot of nos before you finally get a yes. Jackie Courtney can relate. The Nearly Newlywed founder admitted to Racked, "People said no one would ever buy a used wedding dress and no one would ever buy their wedding dress online." But boy, were they wrong.
This bridal-space entrepreneur couldn't hook any Sharks, but she did get a big fish. Courtney partnered with the popular Manhattan shop Kleinfeld Bridal. Yes, the one from TLC's "Say Yes to the Dress." Nearly Newlywed generates $5 million in yearly revenue and has won the WeddingWire Couple's Choice Award five times, landing the acclamation three years in a row, from 2021 to 2023.
With all the success, Nearly Newlywed is branching out from only dresses. Courtney told Fashionista, "Brides and women shopping on the site were asking a lot for other products." And as any excellent CEO does, Courtney listened to the customers. You can now find bridal party gifts, jewelry, and hair accessories on Nearly Newlywed from an array of designers. If your wedding bells are ringing, check out the Shark Tank alum on Instagram, Twitter, or its website.