The Best Colors To Wear To A Job Interview (And What They Mean)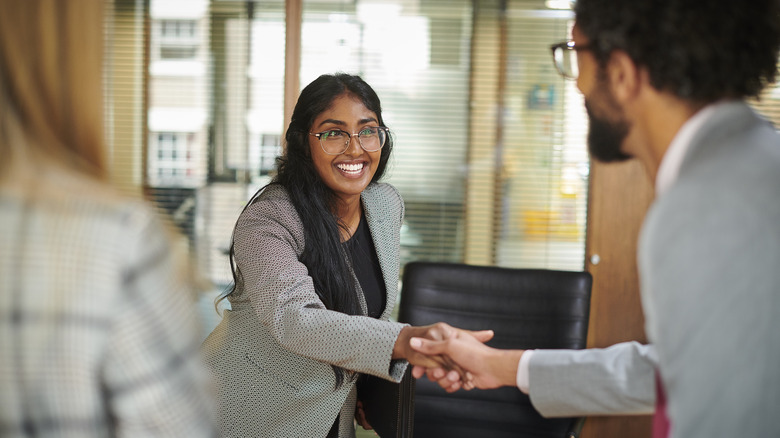 Sturti/Getty Images
Naturally, there is a lot on your mind when you're going in for a job interview. After all, first impressions matter. According to Forbes, you only have seven seconds to make a good first impression. With that statistic looming over your head, of course you're wondering how you sound when you speak, how your resume stacks up against the competition, how eloquently you answer questions, and how you look to your interviewer. That's a lot of pressure to put on a 15- to 60-minute conversation. 
To help relieve that pressure, picking an outfit that makes you feel confident is key to nailing your interview. And learning how others perceive you according to the colors you wear is handy knowledge to have when you're shooting for the stars to nab that dream job. Learning why orange is a no-go and why neutrals trump all can help you pick your outfit out accordingly and without a doubt. Choosing the right outfit with the right color will allow you to convey your personality and the type of worker that you are as soon as you walk through the door.
Blue is always in style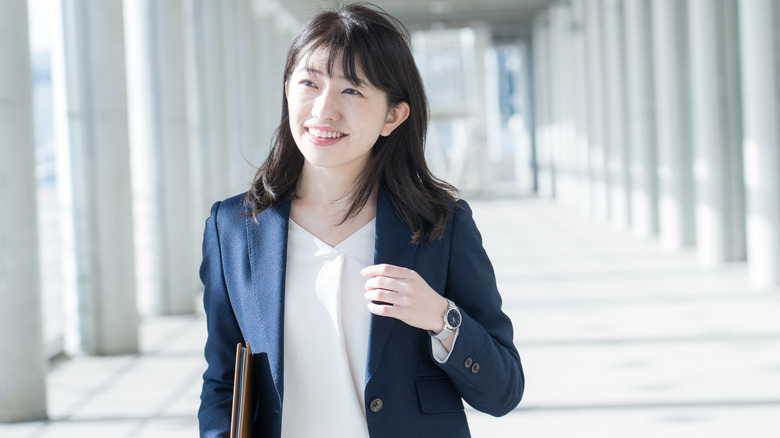 kitsune05/Shutterstock
If you're a fan of the color blue, then you're in luck. Blue is a go-to interview color for everyone. The color blue communicates that you are a steady, trustworthy person who exhibits calm orderliness. In history, blue has played a big part in representing certain qualities. For instance, in the Middle Ages, blue in your wardrobe signaled that you were rich and powerful.
If you're interviewing in a more corporate setting, classic navy blue is your safest choice. However, a cobalt blazer could be appropriate as well and show you are confident. If you're interviewing in a creative setting, then try choosing a blue such as turquoise or sky blue, which is a bit more young and fun. Also, be sure to pick a blue that looks good on you and your skin tone. Warm skin tones tend to look best in navy, teal, or periwinkle. Cool skin tones can almost always rock blues that are deeper and richer in color. 
Gray is here to stay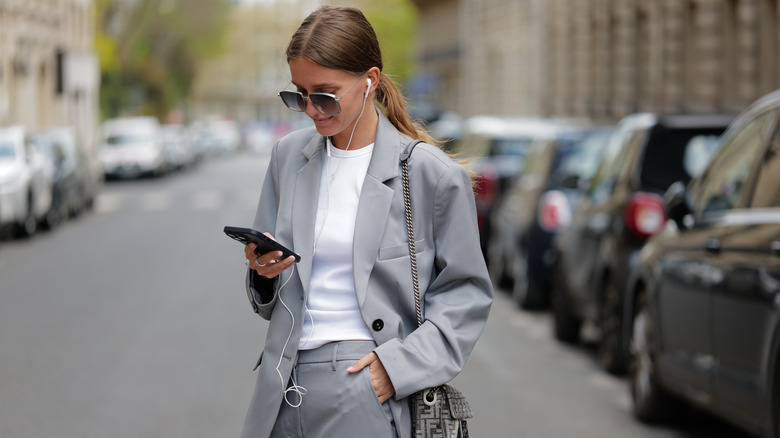 Edward Berthelot/Getty Images
The color gray may seem a bit boring, but it's traditional and works as a neutral that can be paired with most other colors. Gray symbolizes your ability to be rational and on point in problem-solving situations, which is a top quality that impresses interviewers. In color psychology, gray represents a balanced outlook and impartiality, which are also great problem-solving qualities.
Both dark gray and light gray are solid choices, so you can choose what appeals to you most. If the position you're applying for involves any sort of creativity or if you want to showcase your personality, dolling up your gray attire with pops of color works well. Bright colors such as red, green, purple, yellow, or blue can create a bold look within the limits of your logical and classic attire. Whether you pick a scarf, a handbag, or a button-down, your personality will shine through to your interviewer. 
White is always right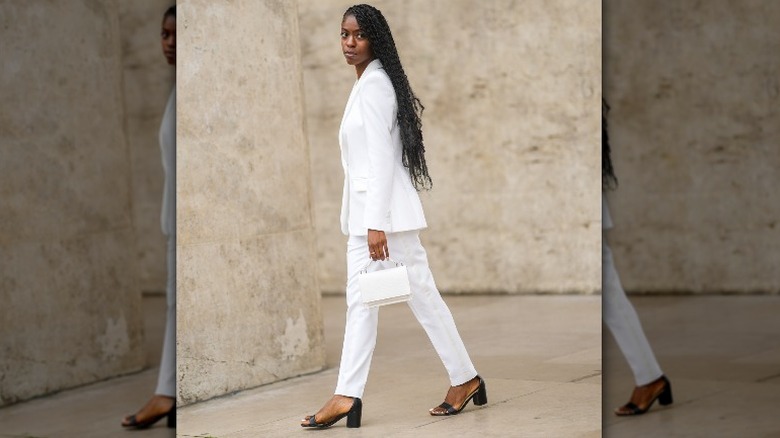 Edward Berthelot/Getty Images
The no white after Labor Day "rule" is outdated and should be completely erased from your mind, especially when it comes to interview attire. White is a basic color that should be utilized as a neutral in everyone's wardrobe throughout all seasons. The color white conveys that you are extremely organized and nit-picky when it comes to details. Also, logically, wearing white means you are probably a clean and careful person who is confident they won't spill coffee on their work clothes.
When it comes to wearing the color white, it's up to you if you want to wear all-white, such as a dress or pantsuit, or pair it with other colors. Of course, white pairs great with black and other neutrals, but staying away from brown is a good idea as brown carries a bit of a stigma as certain shades could make your outfit look boring or outdated. White also works great with bold bright colors, which is great for a job in entertainment, branding, or public relations because it gives you some personality before you even speak. If you're in an office setting, however, pairing white with pastels adds some taste without being too flashy.
Black is an office staple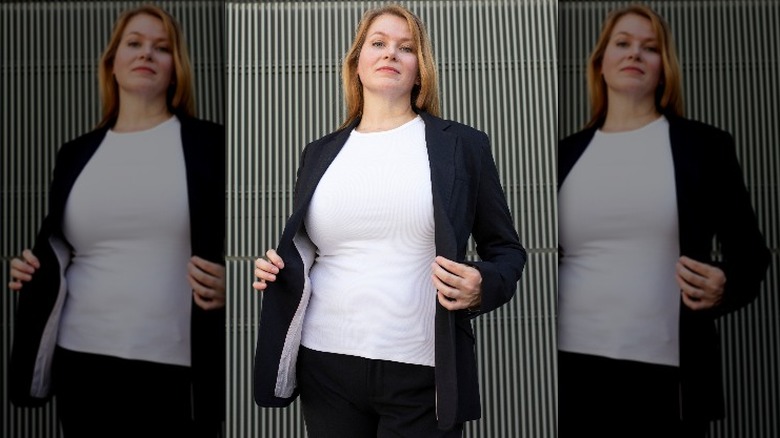 Rawpixel.com/Shutterstock
Most likely, you have some black attire in your closet, and that's great because it's one of the top choices for interview outfits. Black is a professional color that screams you're comfortable being in charge. Up for a supervisory position? Black is definitely your color. In the world of color psychology, black is often a color we associate with classiness and strength, which are also great qualities for a leader. 
Black conveniently can pair with any other color. If you want to keep it simple, a black shift dress that goes to the knee is a modest and classic choice. From there you can either pair it with a neutral blazer and heels or add some color depending on the field and position you're interviewing for. When applying for a more artistic role in a company, playing with colors could be beneficial. Kelly green, electric lilac, and cobalt blue are bold colors that are currently in fashion. 
Purple and yellow help you shine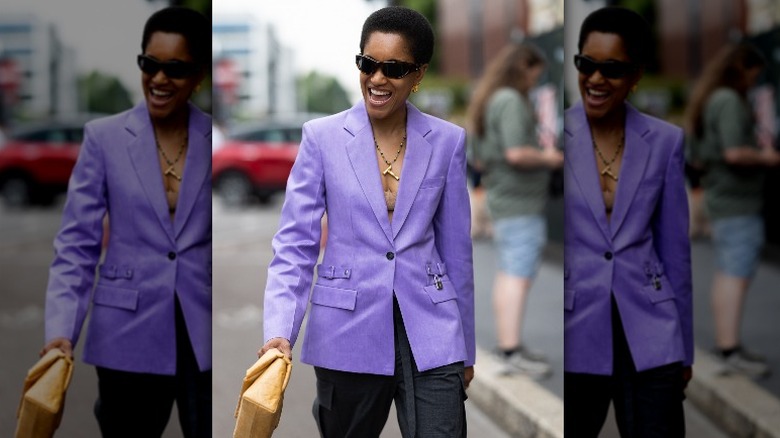 Valentina Frugiuele/Getty Images
A prospective role where personality and style count means it's time to break out the bright colors. Assuming that you're a creative, standout individual, and you're applying for a job in your comfort zone, wearing purple and/or yellow won't scare you! In fact, they should make you feel more comfortable, confident, and in your element compared to bundling yourself up in a navy blue pencil skirt and white button-down. 
Purple conveys your unique, imaginative personality. It shows you can think outside the box — after all, Prince made it his signature color for a reason. Yellow is also a positive color, as it's a welcoming hue that shows you have a bright outlook on life. Feel free to pair these colors together as they are complementary colors, meaning they are opposites and work well together. However, if one is enough for you, pair it with neutrals to let the color pop. Warm skin tones look amazing in mustard yellow and cooler skin tones look best in pale yellows. When it comes to purples, warmer tones of skin should opt for plum or aubergine and cooler tones should stick with lighter purples like lavender.