Taylor Swift Fans Think Her Ex Joe Jonas Referenced Her On Stage With This Lyric Change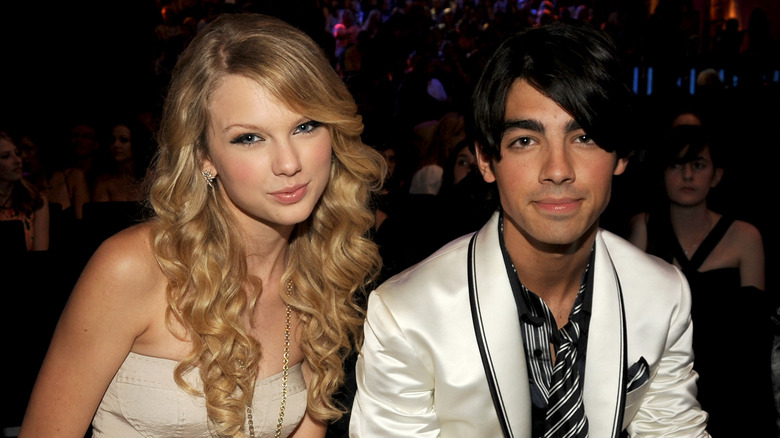 Jeff Kravitz/Getty Images
Musicians have a long history of taking digs at other people with whom they may have ongoing beef while performing onstage. The 2010s were full of chaotic callouts between our favorite big-name pop stars. For instance, look no further than the one moment from the 2015 VMAs that had social media going insane. Live onstage, Nicki Minaj called out Miley Cyrus, who was hosting that evening, for throwing shade at the Queen of Rap during an interview (via TIME). And of course, no one could ever forget the iconic feud between Taylor Swift and Katy Perry that lasted for years — although thankfully the two pop divas have since laid the drama to rest.
We're used to drama between celebrities, but who doesn't love it when a singer takes an onstage moment to squash arguments from the past instead of starting them? That's why fans are here for this sweet onstage moment when Joe Jonas switched up the lyrics to one of his most famous songs. Swifties are positive the switched-up lyrics are a sign that Taylor Swift and Joe Jonas are embracing a newfound friendship and burying the hatchet from their drama-riddled relationship.
This JoBro lyric that previously dissed Swift got a live rewrite
The Jonas Brothers' song "Much Better" has long been considered a not-so-subtle dig at Joe Jonas' ex, Taylor Swift. With lyrics like "I get a rep for breaking hearts / Now, I'm done with superstars / And all the tears on her guitar," it's kind of hard to believe the song isn't about the "Eras" singer.
But it seems like Joe is ready to move on from that particular era of his life and is becoming a supportive ex if his switched-up lyrics are any reflection of his current feelings towards Swift. During a live performance of the song, as seen in a clip shared by People, the middle Jonas brother proudly proclaimed, "Now I'm 'cool' with superstars."
It was a sight to see. Fans were ready to sing the original lyrics, but when they heard Joe put an emphasis on the word "cool" and drop "I'm done with superstars" altogether, you could feel the atmosphere in the stadium change. The audience cheered loudly for not only the changed lyrics but for the possibility that Joe Jonas and Taylor Swift are on better terms now.
After a painful breakup, the two have made amends
Kevin Mazur/Getty Images
The early 2000s were when many of today's biggest music stars were just breaking into the music scene. One of them was, of course, Taylor Swift. With her powerful vocals, killer sense of fashion, and highly relatable breakup songs, she was always destined for greatness. Also breaking into the scene at the time was the boy band The Jonas Brothers, comprised of siblings Kevin, Joe, and Nick. Both had their dedicated fan bases, and many fans were thrilled to bits when Taylor Swift began dating Joe Jonas.
But, as often happens with young love, things didn't work out for the couple. Swift and Jonas eventually split up and went their separate ways. And, as artists sometimes do, the broken relationship would become an inspiration for both musicians' future songs. Genius labels "Much Better" as Jonas dissing Swift and praising his next girlfriend, Camilla Bell. When Swift released her song "Better Than Revenge" a year later, the pop sensation didn't hold back on what she thought of his new love interest.
Since then, Jonas and Swift have moved on and, as Joe's lyrical change suggests, they're pretty cool with one another. In an interview with ITV, shared by Entertainment Tonight, Joe goes further than just changing his lyrics when he stated that "it's all good" between him and Taylor now. We absolutely love seeing these two thriving in their current, drama-free era.