The Truth About Taylor Swift And Katy Perry's Iconic Feud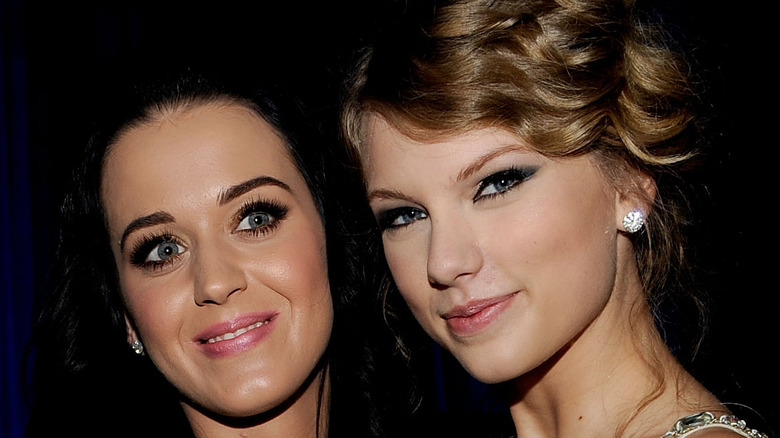 Larry Busacca/Getty Images
It's hard to believe that, once upon a time, pop sensations Taylor Swift and Katy Perry were at the center of a heated celebrity feud. Nowadays, there doesn't appear to be any bad blood between the singers. But, what is the history of Swift and Perry's iconic fallout? 
According to Glamour, the feud began back in 2013 when three backup dancers jumped ship from Swift's "Red" tour and ended up joining Perry's "Prismatic" tour instead. The move reportedly angered Swift, who believed Perry had essentially stolen the dancers behind her back. 
Following the release of her hit single "Bad Blood," the lyrics and video of which referenced a feud between herself and another female pop star, Swift explained to Rolling Stone that the fallout in question had to do with business. "She basically tried to sabotage an entire arena tour," she said. "She tried to hire a bunch of people out from under me."
Shortly after the release of "Bad Blood" and Swift's Rolling Stone interview, Perry responded with a cryptic social media post referencing the hit 2004 comedy "Mean Girls." On Twitter, she wrote, "Watch out for the Regina George in sheep's clothing." Keep reading for more on their iconic feud.
The pair's feud lasted for several more years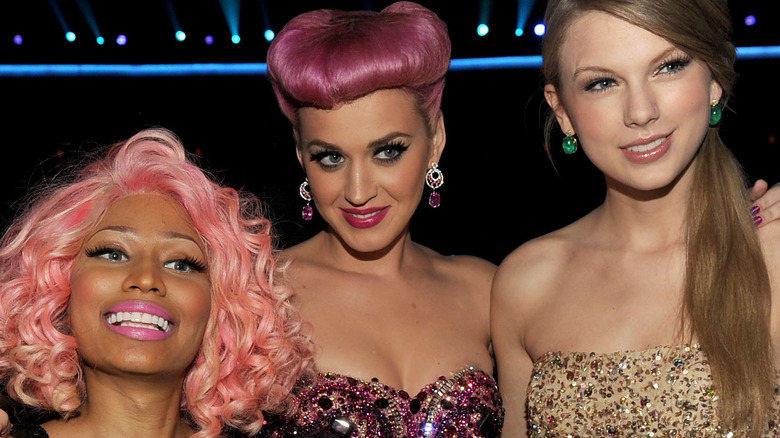 Kevin Winter/ama2011/Getty Images
According to Glamour, the feud intensified in 2015 following a separate falling out between rapper Nicki Minaj and Taylor Swift. The fallout occurred when Minaj missed out on an MTV VMA nomination for Video of the Year and accused the network of only celebrating women with "slim bodies."
Writing on Twitter soon after, it appeared that Swift believed Minaj's comments were directed at her. "I've done nothing but love & support you. It's unlike you to pit women against each other. Maybe one of the men took your slot," Swift tweeted. In response, Katy Perry appeared to take Minaj's side in the VMA beef and reignited her feud with Swift in the process. Perry tweeted: "Finding it ironic to parade the pit women against other women argument about as one unmeasurably capitalizes on the take down of a woman."
A couple years later, in 2017, the Perry-Swift feud was still going strong when the "California Girls" hitmaker accused Swift of trying to assassinate her character during an interview with NME (via Entertainment Weekly).
Are Katy Perry and Taylor Swift friends today?
During an appearance on the Thrive Global Podcast in June 2017, Katy Perry showed the first signs of wanting to patch things up with Taylor Swift, telling host Arianna Huffington: "I forgive her, and I'm sorry for anything I ever did, and I hope the same from her."
Per Glamour, Perry went on to send Swift an actual olive branch in May 2018 on the first night of her "Reputation" tour. In an Instagram story shared at the time, Swift wrote, "So I just got to my dressing room and found this actual olive branch... This means so much to me. Thank you, Katy." The following year, Swift returned the favor when she had cookies delivered to Perry with the phrase "Peace at last" written in icing. 
Certifying the end of their years-long beef, Perry eventually made an appearance in Swift's music video for the 2019 single "You Need To Calm Down." Promoting the video on Instagram, Perry posted a photo of the pair sharing a hug, with an accompanying caption that read, "this meal is BEEF-free."