Ellen DeGeneres' Coming Out Was A Historic Moment For Hollywood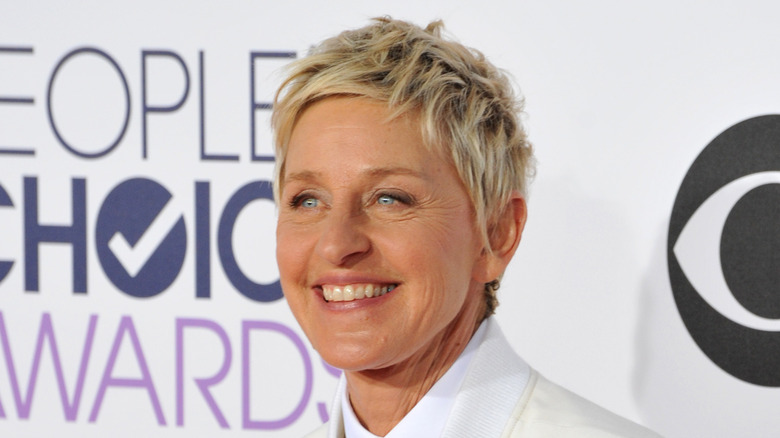 Featureflash Photo Agency/Shutterstock
The stress and anxiety that often accompanies coming out to your friends or family members is something that those in the LGBTQIA+ community are all too familiar with. Risking familial relationships and friendships in order to live a life that's authentic to who you are is courageous and commendable.
Of course, the risk of coming out is heightened when you are someone with a public platform. The more people who feel like they know you, the more opinions you will receive about your lifestyle choices. While the entertainment industry was much more bigoted even just two decades ago, it typically reflects the opinions of society at large. The fear of public backlash often kept many celebrities in the closet.
While coming out today may seem easier than it once was, there are still many challenges that those who are not in the LGBTQIA+ community don't experience. Although there has been progress made over the years toward a more equal and inclusive society, it's important to look back and recognize those who paved the way. Ellen DeGeneres is an amazing example of this because her decision to come out was so historic.
Ellen DeGeneres was told her career would be over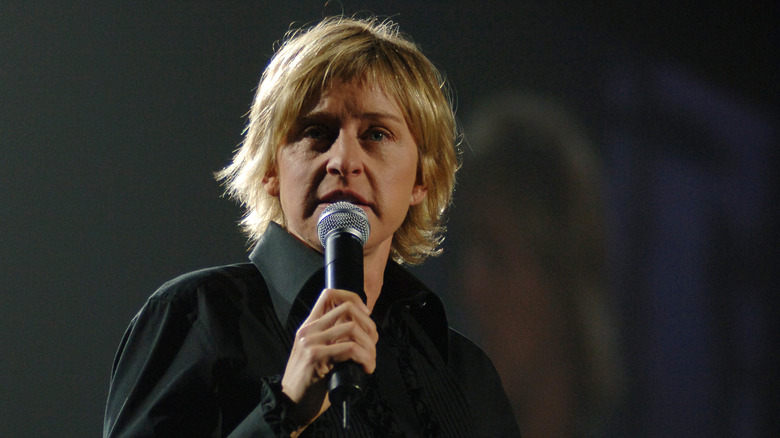 Denise Truscello/Getty Images
In the late 1990s, DeGeneres was the star of ABC's sitcom "Ellen," and she decided to come out on that show by making her character a lesbian. According to People, it was the first time a non-straight person appeared as the main character in the network's history. The discrimination and hate following this announcement were multifaceted.
Despite those close to DeGeneres already knowing the truth, the viewers who watched her show across the country had no idea. Since this was before the time of social media, the exposure came through magazine covers and interviews with Oprah Winfrey, where one critic told DeGeneres that people who are gay "don't have to shove that in [their] face!" It wasn't just viewers who didn't want to know the truth about Ellen DeGeneres' dating history. Even television executives had concerns about this topic being so prevalent, especially after the episode of "Ellen" was intentionally not being aired in some areas and advertisers began distancing themselves from the show by removing their commercials. The show was ultimately canceled a year later, which blindsided DeGeneres.
The talk show host reflected on this time in her life in a 2022 episode of "The Ellen DeGeneres Show," explaining that she was warned about how exposing her sexuality could impact her career. Unfortunately, DeGeneres, admitted that those naysayers were right for a period of time, revealing that "for exactly three years, [she] lost [her] career."
Being your authentic self is worth it in the long run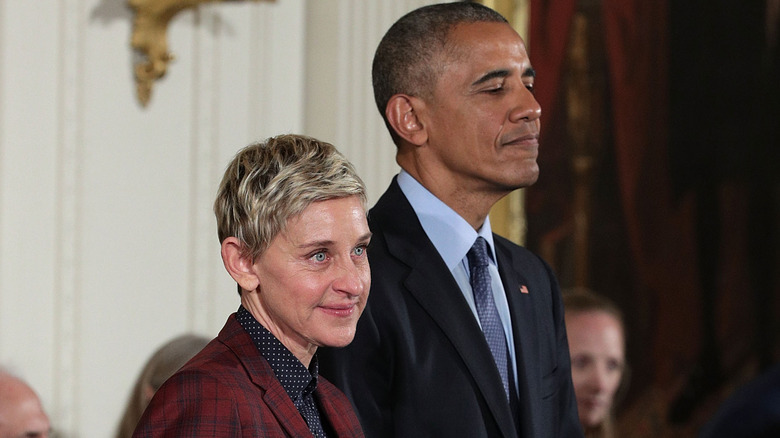 Alex Wong/Getty Images
Ellen DeGeneres' secrets to a happy life are centered around the main goal of authenticity. For years, her motto has revolved around being her truest self and accepting others as they do the same. This doesn't mean the road has been easy for her. The years after her sitcom was canceled were difficult. DeGeneres opened up to Jerry Seinfeld on Netflix's "Comedians in Cars Getting Coffee," explaining that she was "bitter and sad and angry" that simply being gay caused her to lose everything.
Although this turned into a period of growth for the comedian, where she was really able to find herself, she was also at "rock bottom," telling Out that she was "out of money, with no work in sight." However, DeGeneres' journey shows that if you just give things time, you can build a beautiful life. She eventually landed her talk show hosting gig with NBC in 2003 and paved the way for gay rights in Hollywood.
According to a 2015 Variety study, DeGeneres was largely responsible for changing Americans' perception of gay people and their mindset surrounding gay rights. DeGeneres also said in a 20/20 interview that she came out to be a light for confused teenagers who are suicidal because they are gay. Interestingly, President Obama was also a major ally during his 2012 re-election campaign and even awarded DeGeneres with the Presidential Medal of Freedom in 2016 for her bravery all those years ago.