HGTV's Erin And Ben Napier Own The Famous Jeep From This Is Us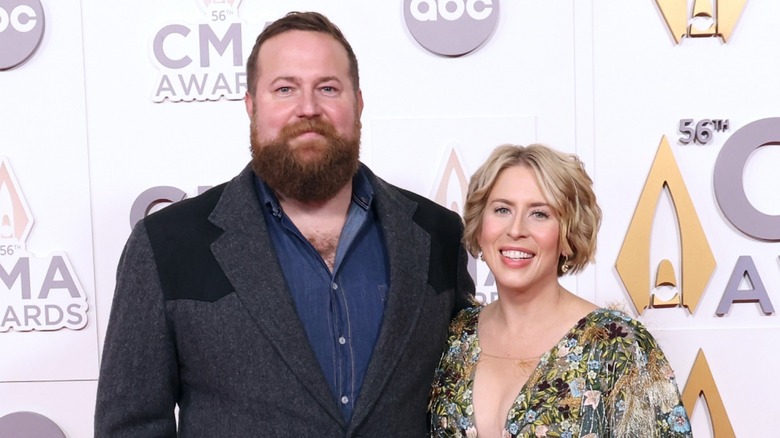 Taylor Hill/Getty
Of all the memorable, heart-wrenching symbols in NBC's "This Is Us," the Pearson family's Jeep Grand Wagoneer is among the most iconic. In the season two episode titled "The Car," viewers see Jack Pearson (Milo Ventimiglia) purchase the Jeep in the early '90s after watching Kate, Kevin, and Randall playing in it at the car dealership. Viewers then watch the Pearsons have many other adventures in the car throughout the episode, such as a trip to a Weird Al concert, contentious driving lessons with Kevin and Randall, and — sadly — the drive to Jack's funeral service.
"This Is Us" ended in 2022 after six seasons. Although the show is over, the Pearson's Jeep Grand Wagoneer lives on. In fact, there is not one but two identical Jeeps that were used on the show to represent the family car. Chris Sullivan, who transformed to play Toby on "This Is Us," bought one of the Jeeps in June 2022. The other one went to some familiar faces from HGTV.
The Napier family own the second Jeep Grand Wagoneer from 'This Is Us'
Erin and Ben Napier are most known for their HGTV show "Home Town" and its various spin-offs, including "Home Town: Ben's Workshop" and "Home Town Takeover." Chris Sullivan is friends with Erin and Ben, and he was a guest on "Ben's Workshop" in 2021 when the two men built a table together. Chris even snuck the name of Erin and Ben's second daughter on Toby's list of potential baby middle names in an episode of "This Is Us."
The friendship between Chris and the Napier family is how they got to buy the extra Jeep Grand Wagoneer after "This Is Us" aired its final season. In an Instagram video from August 2022, Chris, his wife Rachel Sullivan, Erin, and Ben all showed off their cars. Ben thanked Chris and Rachel for letting them know about the extra Jeep, and he and Erin tried to decide if they should name theirs Jack or Rebecca after the Pearson patriarch or matriarch.
Chris pointed out that one family can use the name Jack and the other can use the name Rebecca for their Pearson-approved vehicles, but "Which is which?"
This is not Erin's first Jeep
The iconic "This Is Us" Jeep is not the first Jeep that Erin and Ben Napier own. In March 2017, Erin posted a photo on Instagram of her vintage blue Jeep Grand Wagoneer that she and Ben had restored, named after her grandmother Ouida. In a blog post about the new and improved Ouida the Jeep on the Laurel Mercantile website, Erin said, "With a total investment much less than a brand new SUV, this car is still the nicest thing I've ever had. ... What is it about old cars that make me feel so good? So HAPPY?" Hopefully, the Pearson's Grand Wagoneer brings them as much joy as Ouida brings Erin.
When Chris Sullivan — who once had no idea he was nominated for an Emmy for his role in "This Is Us" — was asked by Entertainment Weekly in May 2022 about what he took from the show's set, he told them about his purchase of the Pearson's Jeep. He told the outlet how his goal was to make the Wagoneer his day-to-day family car. He continued by saying he loves vintage cars and that the Wagoneer "is the only kind of vintage automobile that has ever sparked my wife's interest." Sullivan hinted that he had plans for the second Jeep and wanted to buy it too — perhaps he planned to sell the car to friends Erin and Ben all along!