Chelsea Clinton Once Made Oprah LOL By Wearing The Wrong Shoes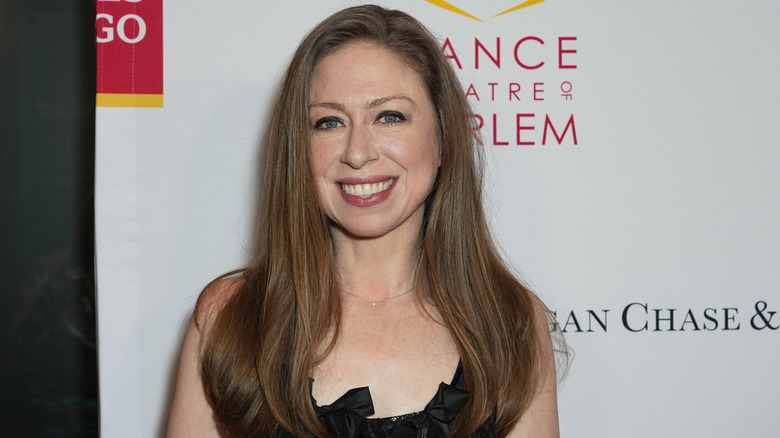 John Nacion/Getty Images
Prominent figures like Oprah Winfrey and Chelsea Clinton are no strangers to professional, serious environments, but that doesn't mean they're immune to the rogue wardrobe blunder or fit of giggles while there. Such was the case at the inauguration of Maryland Governor Wes Moore in January 2023, where the two celebs sat together.
Clinton shared details of the day on Twitter, describing an early morning rush from her gorgeous NYC home to Annapolis via Penn Station. The mother of three did what many of us have done while zooming around in the wee hours of the morning to get ready for a long day: she got ready in the dark, donning black tights and heels before heading on her way. As Clinton put it in a reply to her original tweet, she was able to get ready without waking her husband, Marc Mezvinsky, or their kids. Score!
However, when Clinton sat down next to Winfrey at the ceremony, she soon realized that an innocent wardrobe malfunction was more noticeable than she hoped — less of a score, but a funny anecdote nonetheless.
A new mismatched fashion trend?
Chelsea Clinton tweeted that, while she was getting ready for Wes Moore's inauguration, she grabbed two black heels — but they were not the matching pair she thought they were. She added a photo for proof, displaying two heels that, in all fairness, were the same color and finish. However, one was pointy-toed while the other was a rounded peep-toe. 
Clinton wrote that she noticed her mistake while she was in Penn Station, and with no time to go back home and change, she forged on, hoping the mismatched heels wouldn't be easily noticed. That idea fell to the wayside, though, when she sat down next to Winfrey, who noticed immediately. 
Winfrey replied to Clinton's tweet, "Yes and I'm still laughing out LoUD for real cause I thought at first it was some crazy new fashion thing that I hadn't heard of. I was thinking WHO designed this concept?" (Are any of us really surprised at Oprah's keen eye for details? She is Oprah, after all.)
Wardrobe blunders happen to the best of us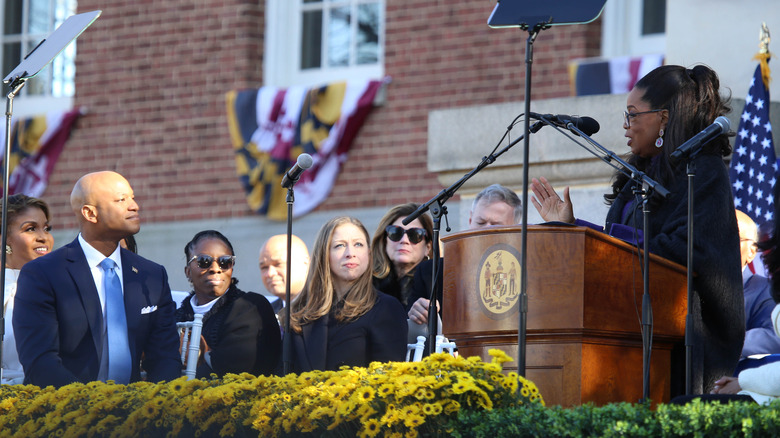 Brian Stukes/Getty Images
The interaction between the two continued with Chelsea Clinton responding, "You were so kind to think so!! And even kinder when you realized it was just an oops...!!" While exact details of what Oprah Winfrey said to Clinton at the inauguration weren't shared, the down-to-earth interaction between the two celebrities is a reminder that not even the rich and famous are exempt from simple mistakes like mismatched shoes. 
Indeed, other Twitter users were quick to share similar experiences, including a flight attendant who tweeted that she had to wear mismatched shoes for three days while working a trip and didn't notice until she heard the shoes making different sounds with each step as she walked down the concourse. Other users, like physician Dr. Taison Bell added a GIF of a smirking Winfrey with the caption, "Of course it was Oprah with the quick head-to-toe check." 
Overall, it sounds like the interaction was a moment of levity in an otherwise stately ceremony for the first Black governor of Maryland and only the third Black governor ever to be elected in the U.S. And who knows? Maybe Clinton will start a round-and-pointy-toe shoe trend after all.